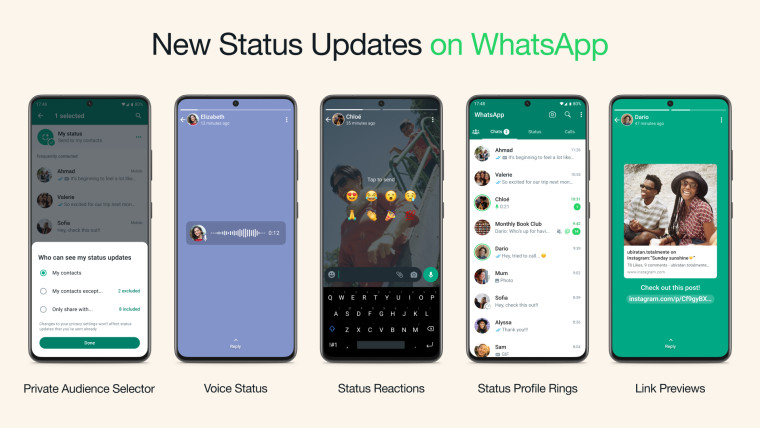 Introduced in 2017, WhatsApp Status is now getting additional features as the company's latest announcement suggests. Status on WhatsApp enables users to post GIFs, photos, videos, text, and more for a maximum of 24 hours for others to see.
There are five new features WhatsApp Status is getting. One of them is the "Private Audience Selector," which allows individuals to select their preferred privacy settings by deciding who views their status. Before posting a new Status, users can update their privacy settings, while their "most recent audience selection will be saved and used as the default for your next status."
WhatsApp is also bringing "Voice Status", which lets users record and post voice messages of up to 30 seconds on Status. The company suggests that the capability could be ideal for sharing updates "especially if you feel more comfortable expressing yourself by talking rather than typing."
Users are also getting "Status Reactions" which are a quick way to react and respond to statuses from other users. WhatsApp noted:
"This was the #1 feature users wanted, following the launch of Reactions last year. You can now quickly reply to any status by swiping up and tapping on one of eight emojis. You can of course still reply to a status with text, voice message, stickers and more."
The fourth feature is the "Status Profile Rings for New Updates." Whenever an individual posts a WhatsApp Status, a ring will form around their profile picture. The ring will be visible in chat lists, contact info, and group chat profiles. Lastly, the company is adding a "Link Previews on Status". With this capability, a preview of the link the poster wishes to add will be displayed on the WhatsApp Status.
According to Meta, these capabilities will roll out globally in the following weeks to everyone.