The Recommended section within the Windows 11 Start menu has always been like the drain filter for your sink, catching files and photos before they swirl away to the depths of your hard drive. Well, now Start will collect even more: websites, adding to its collection of digital detritus.
Let's just be clear: Some people may find the Recommended section of Start to be useful — or just Start in general. I've always had a love-hate relationship with it: I find it's much easier to simply type the Windows key + the name of the app I wish to launch, and go from there. Others may simply tap the Windows key to open the Start menu and click their preferred app. That's fine.
But in general, I've never found Start all that useful, except for hunting down an app I've forgotten the name of.
Unfortunately, the new changes are coming to Start, like it or not. Windows Insider build 22621.2359 adds the new changes to Start. And it's part of the Release Preview Channel, meaning that Microsoft is on the cusp of rolling it out to the community at large.
Here's what Microsoft has to say about the new feature — which, fortunately, you can turn off.
"This update introduces websites to the Recommended section of the Start menu," Microsoft says. "These websites will be personalized for you and come from your browsing history. This gives you quick access to the websites that are important to you. You can remove any website URL from the Recommended section using the shortcut menu. To turn off the feature, go to Settings > Personalization > Start. You can adjust settings for all recommended content on the Start menu on this Settings page. Commercial customers can manage this feature using a policy."
To be fair, it's good of Microsoft to highlight that this new feature can be turned off. If you haven't already, take a moment to dig through the Start personalization features that Microsoft highlights above: The Show recently opened items in Start, Jump Lists, and File Explorer is the toggle to turn off the entirety of the Recommended section.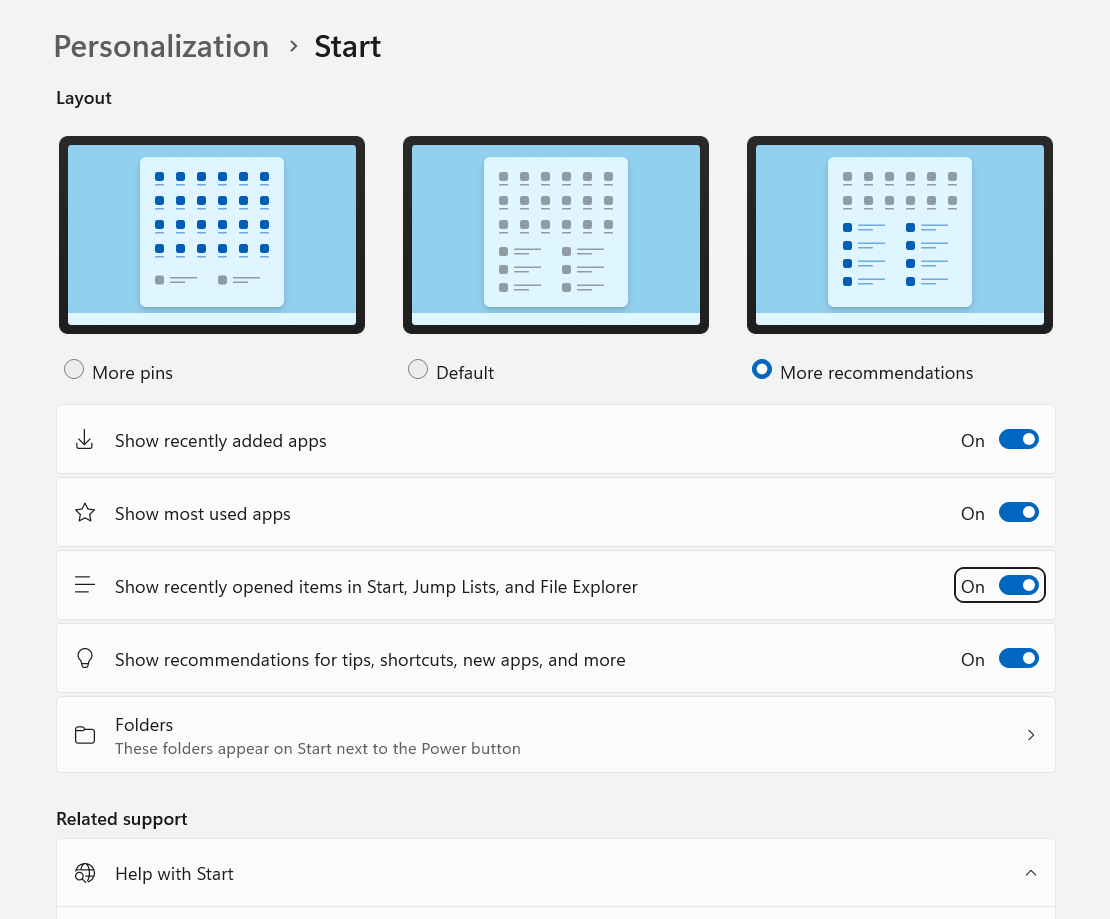 Mark Hachman / IDG
It doesn't seem likely that Microsoft will let you pick and choose which file types to include in Recommended — you'll just have the option to turn the whole thing on and off.
Will 'recommended' websites force you to use Edge?
Of course, there's another angle: Edge. Microsoft doesn't say whether it will preserve your browser choice when opening up the Recommended sites, and the company has come under fire for sneakily encouraging you to use Edge. In fact, Microsoft rolled out changes in 2021 to allow you to switch to a third-party browser, then do it in one click, and then, in August, preserve browser choice when using a Windows system component. It's worth noting that the latter change was released in the Insider Dev Channel, and only applies to EU users — U.S. users will be directed to Edge, instead. Are these new Recommended sites considered to be a system component? We don't know.
Most browsers maintain a persistent history of tabs you've visited, with the option to re-open recently closed tabs. Maybe Microsoft is trying to be helpful, but it seems like they're overthinking it.
If you're fed up with the Start saga, you can always use the Start personalization options listed above, or consider the use of a third-party solution like the Start11 app. Either way, the saga continues.