The Mac mini is Apple's least flashy Mac, way too easy to ignore in the sea of overpowered MacBook Pros and Airs. However, this tiny desktop computer is the most affordable modern Mac you can buy without feature or performance compromises. Thanks to the latest M2 upgrade, the Mac mini is now even more affordable and powerful. The base model features the new Apple M2 processor and a price tag reduced by $100.
If you are thinking about purchasing a Mac mini, this article will help you compare the latest generation with its M1-powered predecessor and the 2018 Intel-based model. Although all three models look visually identical, many significant changes are lurking inside the metal chassis.
Here are the key changes summed in a list:
New chips: the Apple M2 and Apple M2 Pro with more CPU and GPU cores.
More RAM: up to 24GB of unified memory in M2 variants and 32GB in M2 Pro (M1 tops at 16GB). Note that the M1 and M2-based Mac minis use unified, non-upgradeable memory, while the 2018 Intel-based variant allows upgrading its DDR4-SODIMM RAM.
More storage: up to 2TB of non-removable storage in M2 and up to 8TB in M2 Pro (M1 tops at 2TB).
Better Media engine: the Mac mini now supports ProRes video, ProRes RAW, and ProRes encode/decode capabilities.
Better display output: the Mac mini now supports up to three displays in M2 Pro variants and up to two displays in M2. The M1-based Mac Mini supports a single display output with a resolution of up to 6K.
Better connectivity: Wi-Fi 6E and Bluetooth 5.3
Better ports: two or four Thunderbolt 4, optional 10Gb Ethernet, plus a new high-impedance 3.5 mm audio jack.
Lower Price: the base model now starts at $599 instead of $699.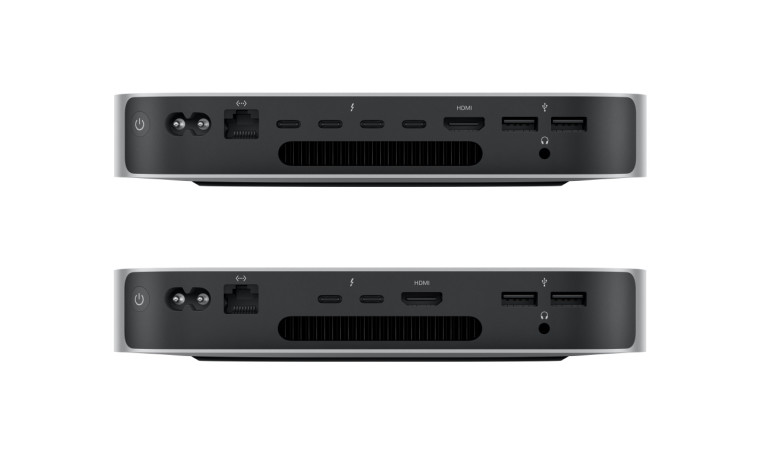 And here is the detailed specs comparison:
2023 Mac Mini (M2/M2 Pro)
2020 Mac Mini (M1)
2018 Mac Mini (Intel)
Dimensions

1.41×7.75×7.75 inches
2.6 lbs (M2), 2.8 lbs (M2 Pro)

3.56×19.7×19.7 cm
1.18 kg (M2), 1.28 kg (M2 Pro)

1.4×7.7×7.7 inches, 2.6 lbs (2.9 Intel)

3.6×19.7×19.7 cm, 1.2 kg (1.3 kg Intel)

Processor
Apple M2
Apple M2 Pro
Apple M1
Intel Core i3-8100B
Intel Core i5-8500B
Intel Core i7-8700B
CPU Cores
8 Cores (M2)
10-12 Cores (M2 Pro)
8 Cores
4-6 Cores
GPU Cores
10 Cores (M2)
16-19 Cores (M2 Pro)
8 Cores
Intel UHD 630
Media Engine
HW-accelerated H.264, HEVC
ProRes and ProRes RAW
Video encode/decode engine
ProRes encode/decode engine
HW-accelerated H.264, HEVC
Video encode/decode engine
–
RAM
8-24GB unified memory (M2)
16-32GB unified memory (M2 Pro)
8-16GB unified memory
8-64GB
Storage

256GB-2TB (M2)
512GB-8TB (M2 Pro)

256-2TB SSD
512GB-2TB SSD
Display output
Two displays (M2)
Three displays (M2 Pro)
One display up to 6K
Three displays (up to 4K)
Wireless
Wi-Fi 6E
Bluetooth 5.3
Wi-Fi 6
Bluetooth 5.0
Wi-Fi 5
Bluetooth 5.0
Ports

2x Thunderbolt 4 (M2)
4x Thunderbolt 4 (M2 Pro)
2x USB-A
1x HDMI
1x Gigabit Ethernet
Optional 10Gb
1x high-impedance Audio Jack

2x Thunderbolt / USB 4
2x USB-A
1x HDMI
1x Gigabit Ethernet
1x Audio Jack

4x Thunderbolt 3
2x USB-A
1x HDMI
1x Gigabit Ethernet
Optional 10Gb
1x Audio Jack

Colors
Silver
Space Gray
Base Price
$599
$699
$799
Apple's M2-based Mac mini is now available for preorder on the official website. Shipping begins on January 24, 2023.