At a glance
Expert's Rating
Pros
Fastest PCIe 4.0 SSD to date
DRAM facilitates excellent random performance
Synergy low-level Windows driver improves random performance further
Cons
Inconsistent pricing on web
Our Verdict
Best-bar-none PCIe 4.0 performance highlights the P44 Pro from Solidigm. It's also the only SSD we're aware of with a low-level Windows driver that further speeds up random operations. It's also priced nearly as low as HMB designs (despite having DRAM on board), making it a heck of a bargain.
Best Prices Today: Solidigm P44 Pro NVMe SSD
$39.99
Soligim's P44 Pro is the fastest PCIe 4.0 NVMe SSD overall that we've tested. It's also especially adept at random operations, making it a great choice for an operating system drive. Random ops are even faster after you install Solidigm's own Synergy Windows driver. Yes, Solidigm (née Intel) provides a top-notch NVMe driver. You don't see that every day.
Further reading: See our roundup of the best SSDs to learn about competing products.
Solidgm P44 Pro design and features
The Solidgm P44 Pro is the first NVMe SSD we've seen for a couple of months with DRAM onboard (1MB per gigabyte) for caching. The host memory bus (DRAM-less) designs that have proliferated and dominated our coverage have made great strides performance-wise, but DRAM cache still makes for quicker random performance.
The P44 Pro sports the common 2280 (22mm wide, 80mm long) form factor and is available in 512GB, 1TB, and 2TB flavors. Pricing seems to be all over the place. I found the small fry for as low as $40, the 1TB for $67, and the 2TB for $110 on Newegg, while current pricing on Amazon is slightly higher (for 512GB and1TB) to dramatically higher for 2TB. For what it's worth, Solidigm quoted me $40, $60 and $110, respectively, so shop carefully and be patient — those prices are sure to show up.
The quoted prices aren't the absolute lowest for NVMe SSDs these days, but they are remarkably low for honest-to-goodness onboard DRAM primary cache.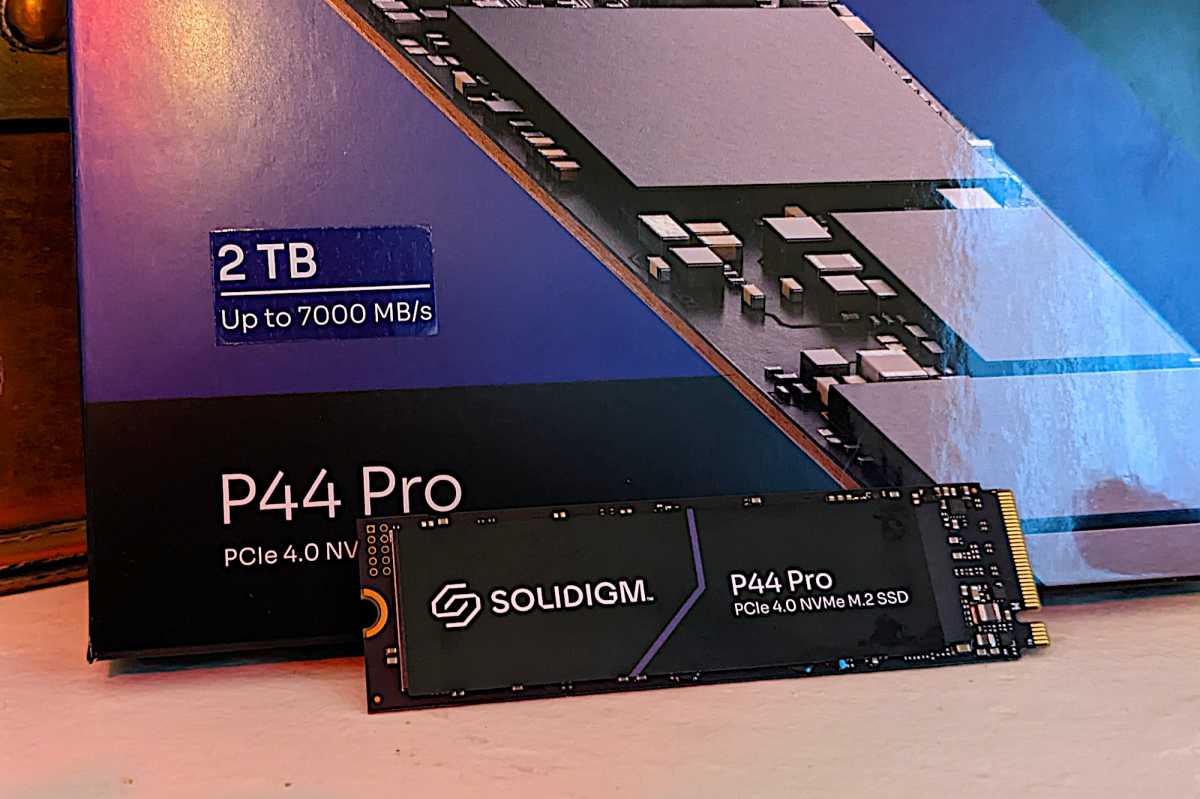 Solidigm warranties the P44 Pro for five years with mitigating TBW (terabytes that may be written) ratings of 500 for the 512GB, 750 for the 1TB, and 1,250 for the 2TB. Those aren't the largest we've seen, but they're workable and represent far more data than the average user will write over the better part of a decade.
How does the P44 Pro perform?
We of course tested the P44 Pro with both the standard Windows driver and Solidigm's Synergy driver, then measured the results against several similarly priced PCIe 4.0 SSDs.
While not the fastest in every CrystalDiskMark 8 test, the P44 Pro was easily the fastest overall of the drives shown. In fact, it finished fourth among all the SSDs we've tested — behind only the three PCIe 5.0 SSDs on our charts (Crucial T700, Seagate FireCuda 540, and Gigabyte Aorus Gen 5 10,000).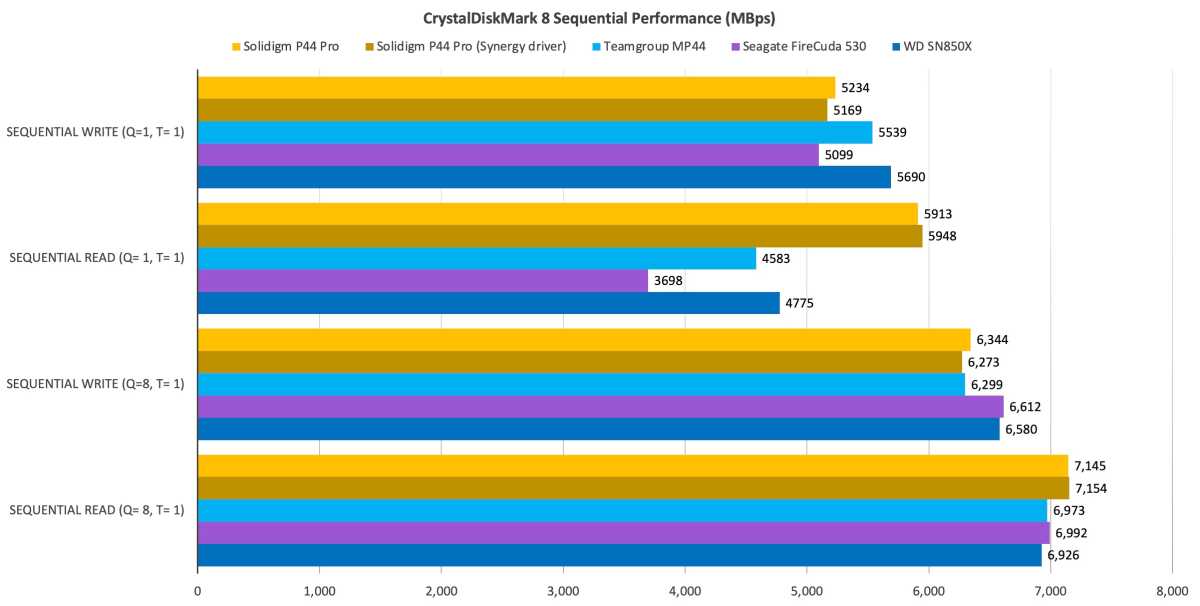 As you can see below, the P44 Pro is very fast with random operations, and gets even faster when you install the Solidigm Windows driver.
The P44 Pro was also very fast at our 48GB transfers, tying the Teamgroup MP44 for fastest time in the group. The Synergy driver may or may not have affected this test — it's too close to call. Note that even our smaller files are considerably larger (32KB to 3MB) than what would be considered one of the random operations the Synergy driver excels at.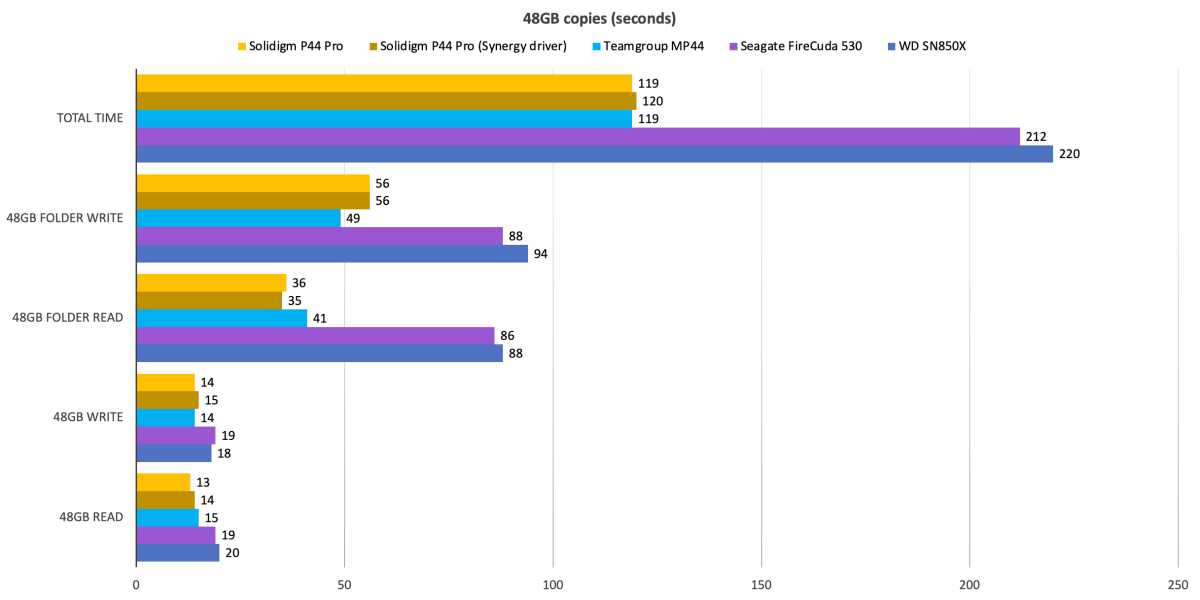 While still around 40 seconds slower than the fastest 450GB write we've seen (read our Sabrent Rocket Q4 and Crucial T700 reviews), the P44 Pro was still very fast. Note that the synergy driver seemed to lower sequential throughput slightly in favor or random performance. But the decrease is tiny, and within the margin of error for these tests.
Note that the latest TLC NAND has seen a sharp increase in performance over previous generations. When employed as secondary cache (SLC mode), it can be written at well over 3GBps, and even in TLC/3-bit mode the speed only drops to around 1.5GBps. The only time you'll see severe drops with the latest NAND is when the controller must do housekeeping to free up space.
Compare that with the drops of previous-gen NAND to 500MBps, and generations before that to 100MBps or less, and you can see why you want a late-model SSD for your system. This modifies our advice on buying double the capacity you need. That still holds true if you want top performance all the time, but 1.5GBps is hardly a tragic write rate for an SSD.
Should you buy the Solidigm P44 Pro?
If I were looking for a PCIe 4.0 SSD as my main storage, the Solidigm P44 Pro is the drive I'd opt for. You can save a buck or two with an HMB design, but the uptick in random performance from the P44 Pro's DRAM cache is well worth the extra coin in my book. Sold!
How we test
Internal drive tests currently utilize Windows 11, 64-bit running on an X790 (PCIe 4.0/5.0) motherboard/i5-12400 CPU combo with two Kingston Fury 32GB DDR5 4800MHz modules (64GB of memory total). Both 20Gbps USB and Thunderbolt 4 are integrated to the back panel and Intel CPU/GPU graphics are used. The 48GB transfer tests utilize an ImDisk RAM disk taking up 58GB of the 64GB of total memory. The 450GB file is transferred from a Samsung 990 Pro 2TB which also runs the OS.
Each test is performed on a newly formatted and TRIM'd drive so the results are optimal. Note that in normal use, as a drive fills up, performance will decrease due to less NAND for secondary caching, as well as other factors.
Caveat: The performance numbers shown apply only to the drive we were shipped and to the capacity tested. SSD performance can and will vary by capacity due to more or fewer chips to shotgun reads/writes across and the amount of NAND available for secondary caching. Vendors also occasionally swap components. If you ever notice a large discrepancy between the performance you experience and that which we report, by all means, let us know.