A representative of Timekettle sent me the Fluentalk T1 Handheld Translator to check out, it's an innovative little device that claims it can make communication across languages easier than ever before for a price tag of around $299.99 depending on where in the world you buy it.
Below are the specs of the device:
Model Number: Fluentalk T1
Size: 4.59 x 2.30 x 0.01 in (116.8 * 58.6 * 11.2mm)
Weight: 0.25 lb (115g)
CPU: Quad-core ARM 14nm 2.0GHz
Storage: (RAM) 3 GB (ROM) 32 GB
Operating System: Android 10
Screen Size: 4.0″Oncell 540*1080
Camera: 8 megapixels
Microphone: Multi microphone
Speaker: Dual speakers
Charging: Type-C 5V⎓1A
Battery: 1500 mAh
Connectivity Technology: WiFi/Nano-sim/E-sim(built-in)
Wireless Network Technology: 2G/3G/4G LTE
Continuous Translation Time: 3.5h
Standby Time: 96h
Charging Time: 210 minutes
Design
The device itself reminds me of smartphones before they got big and bezel-less, weighing just 115 grams and measuring 11.7 cm by 5.8 cm with a thickness of just 0.8 cm you can stuff this in your pocket, or shove it in your bag and it won't weigh you down. The battery life of the Fluentalk T1 is claimed to be up to 3.5 hours of continuous use on a single charge. However, it does not shut itself off, so if you forget to do that it will just run down the battery.
In the box
Timekettle Fluentalk T1
Instructions Manual
Wrist band (removable)
USB charging cable
SIM card removal tool
One of the standout features of the Fluentalk T1 is its ability to translate between 40 different languages in real time. This means that you can have a conversation with someone who speaks a different language without having to pause and wait for the translation. This feature alone makes the device really handy for anyone who frequently interacts with people from different countries. It's also possible to translate 13 languages offline for those times the device can't get online. However, on our device only four languages were preloaded in offline mode, those were English to Chinese, Spanish, Russian and German.
In conversation mode, you still have to set the language the two people are speaking on the device before you start. Unfortunately, there's no language detection function. Even in "listen mode" you have to set a language to translate into your native language.
In addition to this, from the moment you power up the device to use, you are gifted 24 months of free data to download languages or update the device. After the two years, users can add their own data SIM or connect via WiFi or simply purchase a new digital "Fish card" which is the digital currency that Timekettle uses throughout its language products.
Usage
The device is easy enough to use, with a simple interface that lets you tweak the brightness, screen timeout (default set to 1 minute) and Font size, which can go in four steps from small to Largest. Despite my sausage fingers, it was simple enough to use the touchscreen, the buttons are well placed and easy to press even with the smaller tap areas than I'm used to on a 6.7-inch smartphone display. The device also has a built-in microphone and speaker, which allow you to hear and be heard clearly enough during conversations.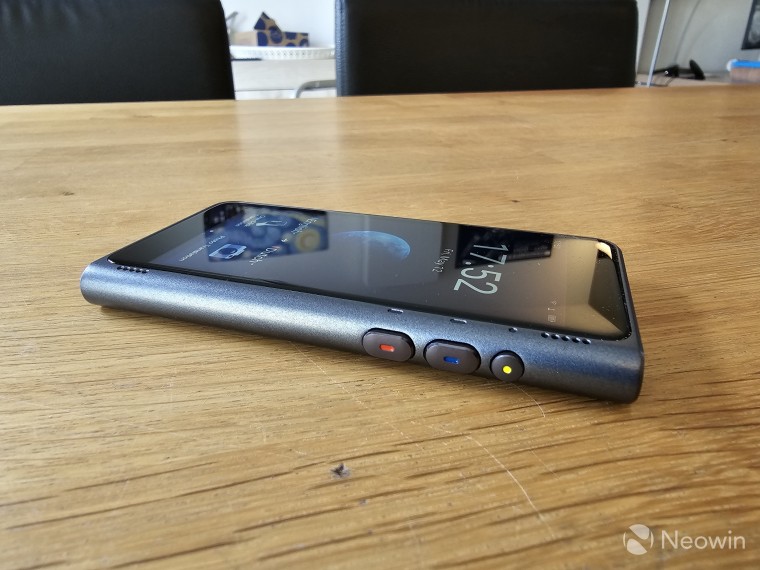 I speak Dutch as well as English, but that's it as far as multi-lingual goes. I tested it on myself and confirmed that it translated quickly and accurately, it did not need any voice training as some devices and apps do. My neighbor is Spanish and I tested it out on him too and was able to confirm it worked well enough for our purposes.
On the right side of the device, the top button powers the device and screen on or off, and the two buttons below activate the microphone for the language set respective to the button.
Another feature of the Fluentalk T1 is its ability to translate text as well as speech. This is especially useful when you need to quickly translate a sign, menu, or other written material. Simply point the device's camera at the text, and it will be translated on the screen.
It also includes a Voice Memo function which can record for an unspecified amount of time, and for an unspecified amount of times, which I guess leaves that up to the 32 GB of included storage space. Finally, it also includes an SOS setting, which is essentially a list of emergency service numbers for the respective countries supported on the device. Initially, I thought it would be a way to contact the emergency services of the country you're in seeing as it supports SIM + data modes, but alas, no such luck here. Most (if not all?) phones can call emergency services without a SIM, so it feels like a missed opportunity to further justify the relatively high price of it.
Overall, the Timekettle Fluentalk T1 Handheld Translator is a handy device that can make communication across languages easier and more efficient on the go if you can set it to the country's language you are visiting. However, most of the features can also be achieved on a modern smartphone in a (free) app of your choosing. Google Translate is usually included with stock Android and offers conversation mode, and point and shoot for text translations, but sometimes a dedicated device is the way to go and with that said you can't really go wrong with this device.
Right now the Timekettle Fluentalk can be purchased on Amazon with free delivery and returns for $299.99 in the U.S. and £299.99 in the U.K. which is around the median price it can be bought online.
As an Amazon Associate when you purchase through links on our site, we earn from qualifying purchases.
Pros
Offline mode
Free data for 24 months
Lightweight
Cons
No auto off
No screen record
A Smartphone can achieve it too