At a glance
Expert's Rating
Pros
Rock-solid stability
The only (?) dock with RGB lighting
Cons
Average to slightly poor performance
Lack of dedicated display ports
A higher price tag than what rivals charge
Our Verdict
The Razer Thunderbolt 4 Dock Chroma is a surprisingly robust Thunderbolt 4 dock, marred only by the lack of display ports and a price tag that's aimed at the gamer market.
The Razer Thunderbolt 4 Dock Chroma might be the only Thunderbolt 4 dock on the market that boasts RGB lighting. But that doesn't stop it from excelling in other areas, though with a price tag that's a little high for our tastes.
As you might expect, the Razer Thunderbolt 4 Dock Chroma trades a bit of utility for aesthetics. While some other docks include informative labels describing the ports and even their capabilities, Razer's dock doesn't. It's up to you to read the manual and determine that there are three 10Gbps USB-A ports, three upstream Thunderbolt 4 ports, a downstream Thunderbolt 4 port, gigabit Ethernet, a 3.5mm audio jack, and an unspecified SD card reader.
And, of course, the undercarriage RGB lights. After all, it don't mean a thing if it ain't got that bling, right?
Further reading: See our roundup of the best Thunderbolt docks to learn about competing products.
What are the Razer Thunderbolt 4 Dock Chroma's specs?
Let's focus on the functionality first. Razer's Thunderbolt 4 Dock features the three upstream Thunderbolt connections, which makes it, somewhat weirdly, more of a dock for the Macintosh market. While we're seeing more and more displays include USB-C inputs, Apple-branded displays emphasize them more than the broader ecosystem of Windows monitors. All that means is that you may have to order some USB-C to Thunderbolt cables to connect the dock to any existing displays on your desk. (The linked cables are rated for 4K60 connectivity, which not all cables are.) There's also a 2.62-foot Thunderbolt 4 cable to connect your PC.
Otherwise, the dock includes three 10Gbps USB-A ports, an SD (UHS-II) card reader, gigabit Ethernet, and a 3.5mm headphone jack. The 135W power adapter supplies a rated 90W of power to the laptop, which we couldn't push past 76.5W in our tests. Each USB-A port produced 2.46W, sufficient to charge a phone, albeit slowly.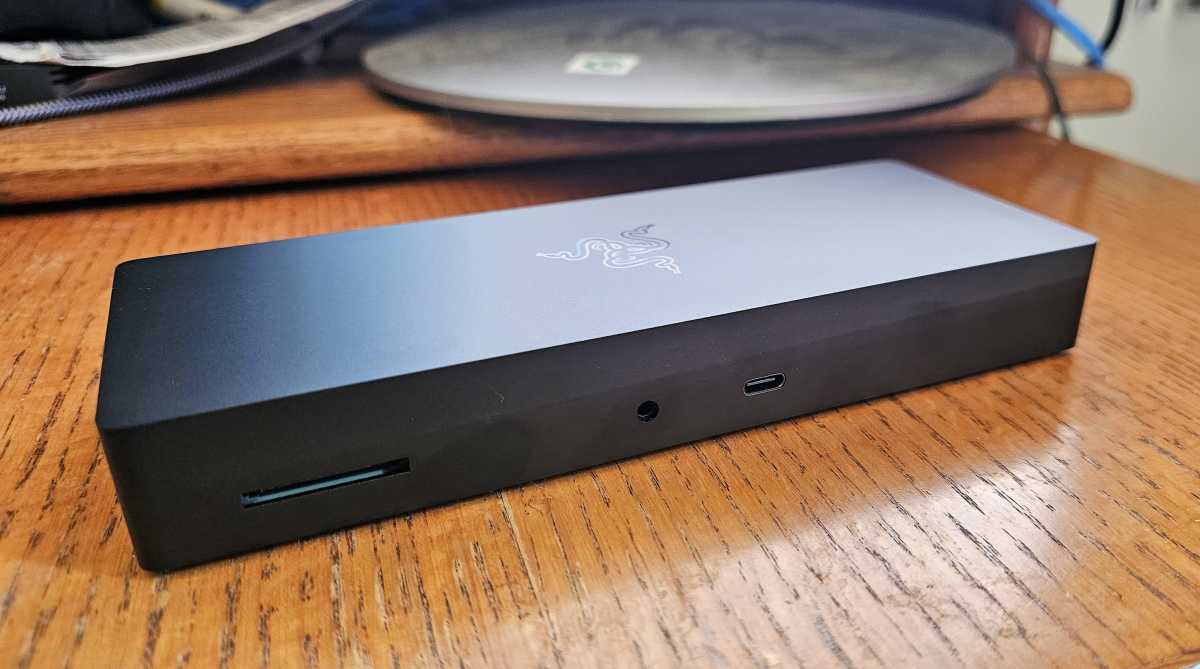 Mark Hachman / IDG
For fast-charging a phone, you'll want to connect your phone's USB-C power cable to the "extra" Thunderbolt port. That port produced 10.86W, enough to fast-charge a smartphone. Razer says that the Thunderbolt 4 Dock Chroma is rated for two 4K displays at 60Hz, which it indeed supports.
Physically, Razer's dock is made out of a jet-black hunk of metal, which tends to attract fingerprints readily. Heat won't be a problem, although the dock does get moderately warm. Again, nothing is labeled, save for the snake-like Razer logo at the top. (The logo does not light up.) The dock is of about average size for a Thunderbolt dock, measuring 7.5 inches by 2.9 inches, and about an inch thick. Razer says it weighs about 0.75 pounds.
We normally don't think of Thunderbolt docks as portable (unless they're specified as such) but the relatively small size of the associated power brick and dock mean that you could possibly bring it on the road. (The power brick is actually smaller than the dock itself.) That's not always the case.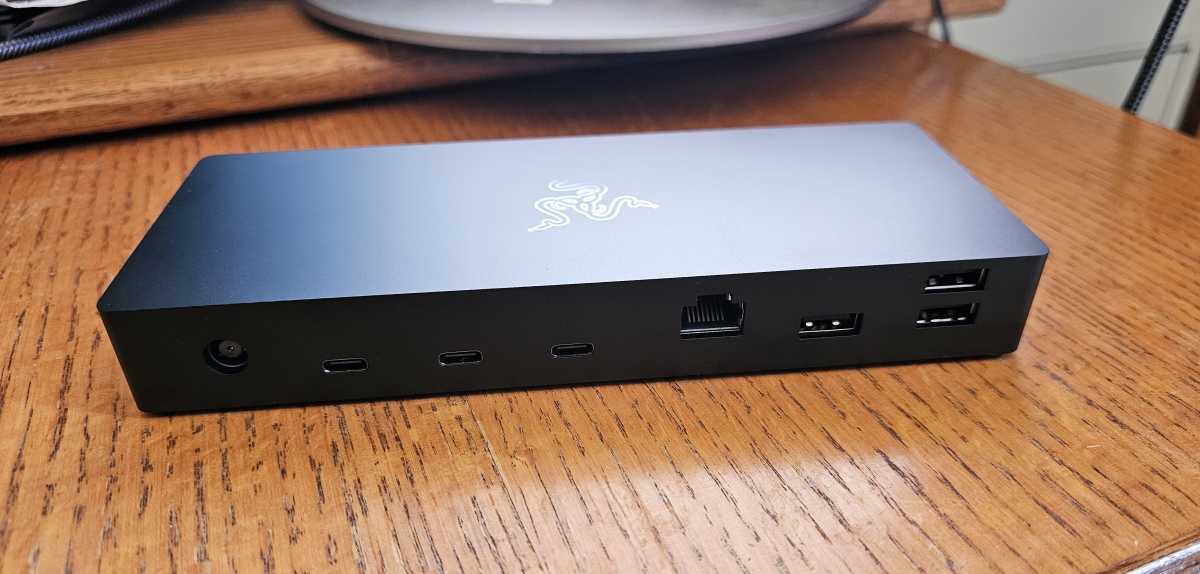 Mark Hachman / IDG
Underneath, though, is where the magic happens. If you own a desktop PC with RGB lighting, you'll be happy to know that that Razer's Dock Chroma has an RGB strip that can cycle through the spectrum in a variety of different patterns that you can specify, potentially coordinating with other Razer hardware via the Razer Synapse app. (Synapse doesn't appear to be necessary for the dock to operate, but the app will load once you install the dock.)
I already own a Razer DeathAdder mouse, one of the few lefty gaming mice. Its RGB pulses on and off, and the Synapse app doesn't allow me to control it. With Razer's Dock Chroma, you can choose very sedate patterns via the Synapse app to either very gently cycle through the color spectrum, or select more aggressive "wave" or "fire" patterns. You can also create your own patterns with the related Chroma software. Synapse also adjusts the volume of the audio that's routed through the dock's 3.5mm jack.
Finally, the Synapse app also controls the brightness of the RGB lighting — so, yes, you can dim it to zero and effectively turn off the RGB lighting entirely.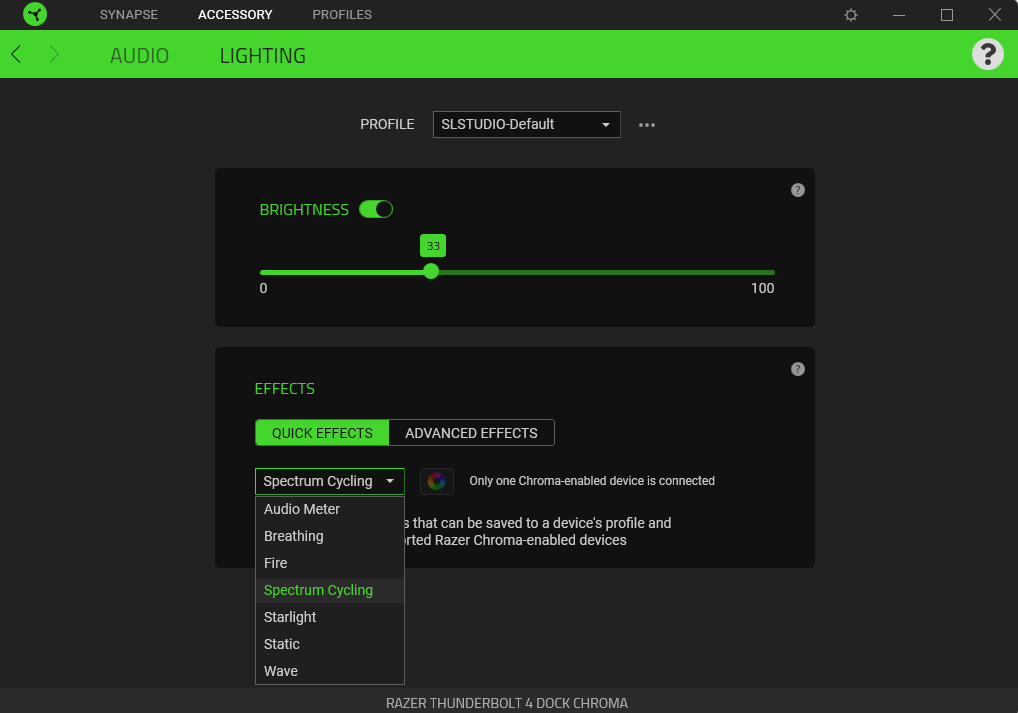 Mark Hachman / IDG
How does the Razer Thunderbolt 4 Dock Chroma perform?
Razer's dock gave me no problems at all from a stability standpoint, with no random monitor disconnects. It was simply rock solid. The RGB controls worked as expected, and the Chroma software properly adjusted the lighting and volume, too.
Using the PCMark storage benchmark connected to an external SSD, the Dock Chroma's available storage throughput was 124.79MB/s, about on par with other docks though a bit slower. The benchmark score, 817, was also slower than other docks produced.
On the other hand, my streaming test was rock-solid, with hardly any dropped frames. That test is performed by itself (streaming a 4K60 video over the dock's Ethernet jack), and noting any dropped frames. The dock was also nearly perfect (4 frames dropped out of 10,000) when streaming video while performing the storage test over the same Thunderbolt connection. That's a good indication that you'll be able to transfer data in the background while using the dock for other tasks.
The Razer Thunderbolt 4 Dock Chroma isn't just a flashy dock aimed at gamers who are willing to pay extra for some RGB bling — and receive a poor experience in return. However, the price tag should give you pause. For those willing to pay the extra money, though, the Razer Thunderbolt 4 Dock Chroma certainly earns our endorsement.