At a glance
Expert's Rating
Pros
Excellent typing feel
Premium design and build
Works with Windows or Mac
Customisable software
Cons
Very expensive
You'll need a wrist rest
Keys not backlit
Our Verdict
If you have a wedge to spend on a premium mechanical keyboard, the OnePlus Keyboard 81 Pro is worth considering, thanks to its excellent build and comfortable typing feel. But at this price, the keys should be backlit.
Best Prices Today: Keyboard 81 Pro
$239
OnePlus has long made solid Android phones. But now it's trying its hand at different products by collaborating with other tech companies.
The Keyboard 81 Pro is the first product of this new initiative. It's a mechanical keyboard that's OnePlus branded but made in partnership with Keychron, the brand of choice for many mechanical keyboard nerds.
And the model I tested offers excellent build quality and a smooth, quiet typing experience.
If you don't mind keys that aren't backlit and don't need to carry your keyboard around with you when travelling, the 81 Pro is a fine choice.
Design & build
Heavy aluminium body
Lovely keycap material
Useful kickstand
RGB lights, not backlit
There are two versions of the 81 Pro (so named for its 81-key layout), each with different grey tone key caps and different key switches.
I reviewed the pricier 'Summer Breeze' version, which has mostly light grey keycaps made of 'marble-mallow' material that's new for this keyboard, and uses quiet linear switches that OnePlus says it developed with Keychron.
Henry Burrell / Foundry
The 'Winter Bonfire' version uses PBT keycaps in a darker grey, alongside louder, optimised tactile switches (also co-created with Keychron) that I haven't tried.
Keychron fans may note that the layout of the keyboard bears resemblance to the Keychron Q1 Pro, though the overall design and keycaps are very different.
Essentially, the keyboard is a huge chunk of silver aluminium with two-tone grey keys, a transparent dial in the upper right, and two red keys – an escape key with the OnePlus logo on it, and the enter key.
An adjustable bar kickstand on the underside of the keyboard, used for lowering or raising the typing height, feels very luxurious. But the whole product is premium and very well put together.
OnePlus has designed the keyboard to be flipped and stood up when not in use, revealing the company's 'Never Settle' motto underneath. Rubberised contact points prevent the keyboard from sliding around or scratching your desk, though at a whopping 1.87kg (yes, it's that heavy) this thing ain't going anywhere.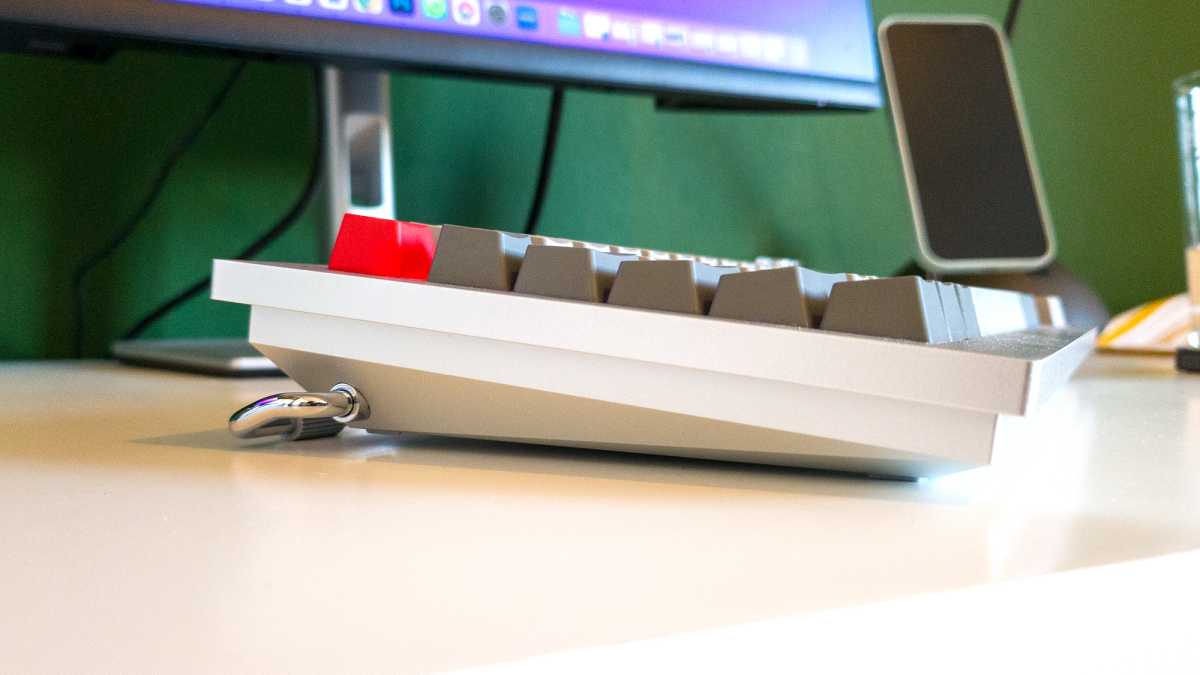 Henry Burrell / Foundry
In fact, it's so heavy that this really is a set and forget keyboard. If you like throwing your 'board in a backpack to carry around or to the office, this is not the keyboard for you..
RGB lighting under each key can be programmed to several different modes, from a sweeping rainbow to one that stays unlit but then sprays light outwards from each key as you type before fading away (my personal favourite).
The effects are cool, but a drain on the 4,000mAh battery. Of course, that's only an issue if you're using the keyboard wirelessly, rather than plugged in using the lovely braided USB-C to C cable in the box. It takes five hours to fully charge, but once at 100% and with the lights turned off, I got over one whole working week of wireless use.
However, I feel that for this price you might expect backlit keys, which these are not. OnePlus does at least provide swappable Windows or Mac keycaps with all the necessary tools, and you can use either layout on either operating system (it also runs on Linux, Android, and iOS devices).
Henry Burrell / Foundry
Keyboard feel and typing experience
Quiet actuation
Comfortable for long sessions
Needs a wrist rest
The Summer Breeze model has a very quiet action that I really like. The keys only make a soft thunk noise, even when you are typing quickly. There's also very little of that plasticky clack sound, so you could definitely use this in a busy office without annoying anyone.
Pairing those marble-mallow caps with the quiet switches is a great combination, and adds to the ultra-premium feel of the product.
I found my personal best comfort when typing with the kickstand raising the board slightly – it's fully adjustable at any angle. But I did need to use my own wrist rest, as attempting to type without one quickly led to wrist ache.
Even so, I made quite a few typing errors, but that's probably more because I usually use the virtually flat Logitech MX Keys Mini.
I tested the keyboard with a Mac, and the dial in the top right corner is preset to control volume when turned and toggles sound on or off when pressed. It's a neat touch.
As well as the kickstand and swappable keys that don't require soldering, the keys are remappable using the VIA app. It works on any Chromium-based browser (see how to use it on the Keychron website) and is effective, but can be confusing.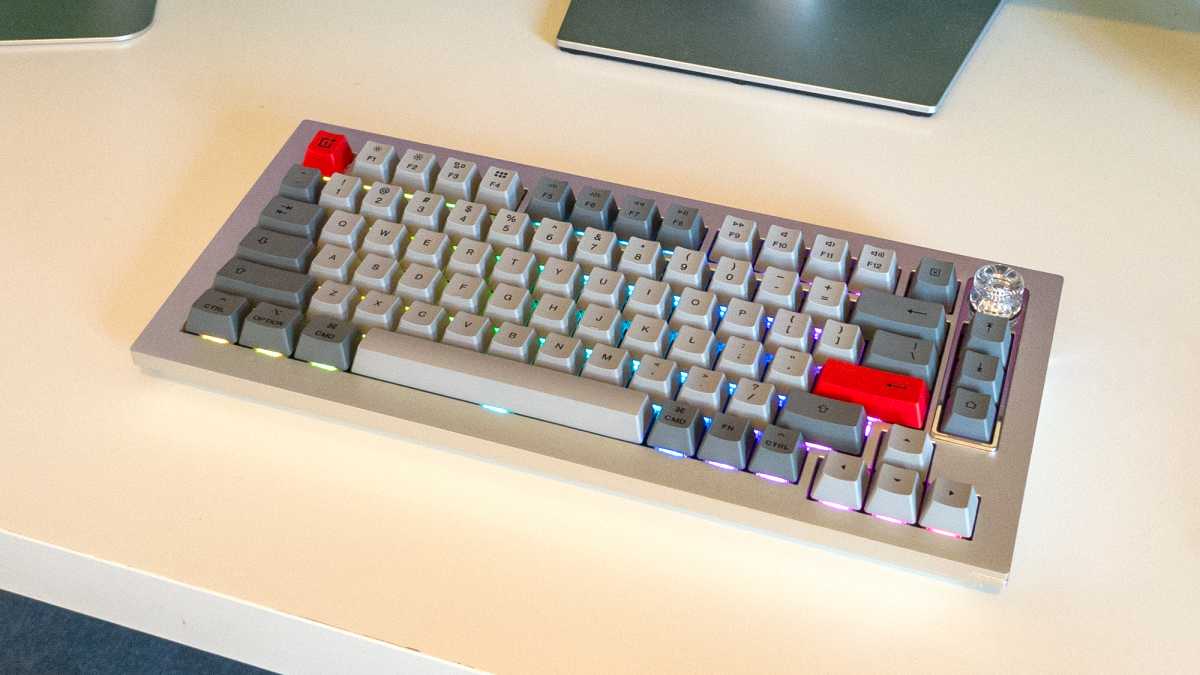 Henry Burrell / Foundry
Price & availability
The OnePlus Keyboard 81 Pro costs $219/£249 for the Winter Bonfire version or $239/£269 for the Summer Breeze version I used and reviewed here.
You can buy it now from OnePlus US or OnePlus UK.
All entries in our best keyboard round-up are more affordable, with the Logitech MX Mechanical ($149.99/£149.99) the most obvious alternative. Keychron itself also makes a similar mechanical keyboard in the Q1 Pro ($199/£169).
Verdict
If you have the cash and want a premium mechanical keyboard with an excellent typing sound and feel, the Keyboard 81 Pro is a good choice. Collaborating with Keychron has worked out well for OnePlus, and the former's usual quality shines through here.
The impressive aluminium build and excellent key switches are both highlights, while the marble-mallow keycaps feel lovely and avoid the click-clack plastic feel.
But this is a keyboard to put on your desk and never move, given it weights nearly 2kg. And at this price you might balk that the keycaps are not backlit. I ended up turning the pretty but functionally useless RGB lights off as they sapped the battery life, too.
But for pure typing pleasure, this is an excellent keyboard that can be used on any modern computing platform and comes with all the accessories you need.
This review originally published on techadvisor.com.