At a glance
Expert's Rating
Pros
Competitive pricing
Respectable CPU performance
Solid GPU performance in older titles
Numerous ports, including USB-C and Ethernet
Cons
Design doesn't stand out
Mediocre keyboard and touchpad
Disappointing display
USB-C port is data-only
Our Verdict
The MSI Katana GF66 is a competent but unremarkable budget gaming laptop that can handle most modern titles. It's hard to recommend at MSRP, but sales may help its fortunes.
Budget gaming laptops often struggle to stand out. Packing a competent CPU and GPU into a machine priced around $1,000 or less is difficult and most laptops in this category make similar compromises. The MSI Katana GF66 12UD doesn't buck this trend, but solid performance can make it a wise choice when the price is right. This particular rig offers strong performance, plentiful connectivity options, a reasonable price point, and more. Let's get right into it.
For more options, check out our roundup of the best gaming laptops available today.
MSI Katana GF66 12UD: Specs and features
The MSI Katana GF66's specifications are typical for a high-performance yet budget gaming laptop. It cuts costs with the Intel Core i7-12650H CPU, which has six performance cores and four efficiency cores, and an Nvidia RTX 3050 Ti GPU. 
CPU: Intel Core i7-12650H
Memory: 16GB DDR5
Graphics/GPU: Nvidia RTX 3050 Ti
Display: 1,920 x 1,080 144Hz
Storage: 512GB PCIe Gen4 M.2 solid state drive
Webcam: 720p
Connectivity: 1x USB-C, 3x USB-A, 1x HDMI, 1x Ethernet, 1x 3.5mm combo audio, 1x AC barrel plug
Networking: Wi-Fi 6, Bluetooth 5.2
Biometrics: None
Battery capacity: 53 watt-hours
Dimensions: 14.13 x 10.20 x 0.98 inches
Weight: 4.96 pounds
MSRP: $1,049.99
MSI still has the budget to deliver 16GB of RAM, a 512GB solid state drive, and a 1080p 144Hz IPS display. These specifications are what I'd personally consider the bare minimum for any modern gaming laptop, and they help the Katana provide acceptable (though not outstanding) performance.
While this laptop is listed at $1,049.99 on Amazon, pricing can vary significantly between retailers, with some offering similar models as low as $799.99. Shoppers should be careful to stick with the latest configurations: variants with outdated Intel Core 10th-gen and Core 11th-gen processors are still sold by third-party sellers on Amazon and other retailers.
MSI Katana GF66 12UD: Design and build quality
IDG / Matthew Smith
MSI's Katana GF66 12UD's is simple and understated. The MSI logo is small enough to be easily overlooked, which could be a plus for those who prefer a laptop that seems unbranded. The black-and-red color scheme cuts against this, however, increasing the laptop's aggression. MSI's design is definitely a step behind Lenovo and Dell, which offer more elaborate and detailed aesthetics. 
The laptop's size is typical for a 15.6-inch laptop, at 14 inches wide and 10 inches deep. The Lenovo Legion 5i, Dell G7 15 and HP Victus 15 are similar in size. MSI undercuts the competition slightly on weight, however, dipping just below 5 pounds. Many alternatives in this price bracket weigh a half-pound to a pound more.
Build quality is best described as functional. The plastics used look and feel basic, but the chassis and display lid allow minimal flex. I'd once again place budget laptops from Lenovo and Dell above the MSI, as they make better use of mixed material textures. Still, the Katana's quality is good for the price, and on par with Acer Nitro and Asus TUF laptops. 
MSI Katana GF66 12UD: Keyboard and trackpad
IDG / Matthew Smith
The MSI Katana's keyboard is spacious and easy to use, with a numpad included for convenience. The numpad has half-sized keys, however, which can make it difficult to use for more than an occasional entry into an Excel spreadsheet. The overall size of the keyboard could be larger, as there's about a half-inch of space on either size, but it's comparable to other budget laptops.
Key travel is long, but the feel is vague and springy. Gamers who like a more tactile experience will be disappointed. There's noticeable flex in the keyboard, which contributes to the springy key feel. The typing experience is not as good as Lenovo's Legion laptops but similar to other budget gaming laptops including Dell's G7, Acer's Nitro, and Asus' TUF series.
Keyboard backlighting is standard, though only available in red. The backlight offers three brightness levels. The highest is easy to see in a lit room, while the dimmest is only visible in a room with the lights off. 
The touchpad is cramped, measuring only 4 inches wide and 2.5 inches across. It feels small, and multitouch gestures can be difficult to execute due to the limited space available. There's plenty of wasted space on the laptop's palmrest that could be used for a larger touchpad. Bad touchpads are common on budget gaming laptops, and the Katana isn't an exception.
MSI Katana GF66 12UD: Display, audio
IDG / Matthew Smith
Every MSI Katana GF66 12UD has a 15.6-inch 1080p IPS display with a 144Hz refresh rate. This is typical for a budget laptop, but not all 1080p displays perform the same—and, unfortunately, the Katana's display ends up near the bottom of the pile.
Brightness is a problem. The display reaches only 254 nits, which isn't high enough to allow comfortable use in a brightly lit room. Gamers are likely to play in a space with dim lighting, of course, but the dim screen can be annoying in day-to-day use. 
The contrast ratio is better, reaching a maximum ratio of 1240:1. That's comparable to many laptops sold at a variety of price points and better than some more expensive laptops I've tested, such as the Acer Predator Helios 300. The contrast ratio is high enough to provide an acceptable sense of depth and realism, but it's not stunning.
Color performance is disappointing. The display can handle just 65 percent of the sRGB color gamut and 48 percent of DCI-P3. That's an extremely restrained color gamut, and it leads to a dull, muted experience that lacks the vibrance and punch gamers expect.
Motion performance is decent. Quick camera pans in 3D games lead to noticeable blur, but the image is far more legible than on a laptop with a 60Hz IPS display. Fast-moving objects have only slight motion blur behind them. G-Sync support isn't listed in the laptop's specifications and wasn't available in Nvidia's settings, so gamers must play with an uncapped framerate or use V-Sync. 
While the MSI Katana's display isn't great, it's (again) typical of a budget gaming laptop. Many competitors, such as the HP Victus 15 and Acer Nitro, have an identical display in their entry-level configuration. Lenovo's Legion 5i has an edge, however, offering a slightly better 165Hz display with 300 nits of brightness in its current entry-level configuration.
The built-in speakers are mediocre, with a modest maximum volume and lack of bass to fill out the sound stage in music and games. To their credit, however, they mostly avoid serious distortion when playing music at high volume, providing a crisp and clear experience. 
MSI Katana GF66 12UD: Webcam, microphone, biometrics
MSI bundles a basic 720p webcam into the Katana. It's not great. The image looks soft and serves up muted, faded colors. Any significant swing in lighting can confuse the webcam, causing big swings in exposure. It's fine for a Zoom call, but that's about it. 
Microphone quality holds up better, picking up my voice well without allowing background noise from a space heater to creep into the audio. Recorded audio sounds a bit tinny, but that's true of nearly all laptop microphones. 
The MSI Katana doesn't offer biometric login or other biometric features.
MSI Katana GF66 12UD: Connectivity
IDG / Matthew Smith
A healthy mix of ports line the MSI Katana's flanks. This includes one USB-C port, three USB-A ports (two of which are USB 3.2), HDMI, Ethernet, and a 3.5mm combo audio jack. 
The USB-C port is data only, however, which means it can't handle DisplayPort video or charge the laptop. I confirmed this by testing the laptop with a USB-C monitor that provides Power Delivery, as well as a USB-C power brick. This is disappointing. The Dell G7 15 offers DisplayPort Alternate Mode and the latest Lenovo Legion 5 adds support for up to 135 watts of USB Power Delivery. 
Wireless connectivity includes Wi-Fi 6 and Bluetooth 5.2, which is typical for a budget gaming laptop. I would prefer to see Wi-Fi 6E, the latest available Wi-Fi standard, which can be found in some competing budget laptops. Most people don't own a Wi-Fi 6E router, however, so its absence isn't a major issue.
MSI Katana GF66 12UD: Performance
The MSI Katana GF66 12UD I tested had an Intel Core i7-12650H processor, Nvidia's RTX 3050 Ti, 16GB of RAM, and a 512GB solid state drive. A variety of Katana models are available at online retailers, but this is the most common variant of the 15-inch Katana. A less expensive configuration with Intel Arc A370M graphics exists but comes equipped with a less powerful processor and less RAM, and stock appears limited. 
I tested the laptop at the Balanced power setting. MSI asked that I test the laptop at the Extreme Performance setting, but I found this simply turns the fans up to their maximum setting and leaves them there. It's as annoying as it sounds and not how I expect most owners would use the laptop. I also found the Extreme Performance mode had a negligible impact on performance in most situations.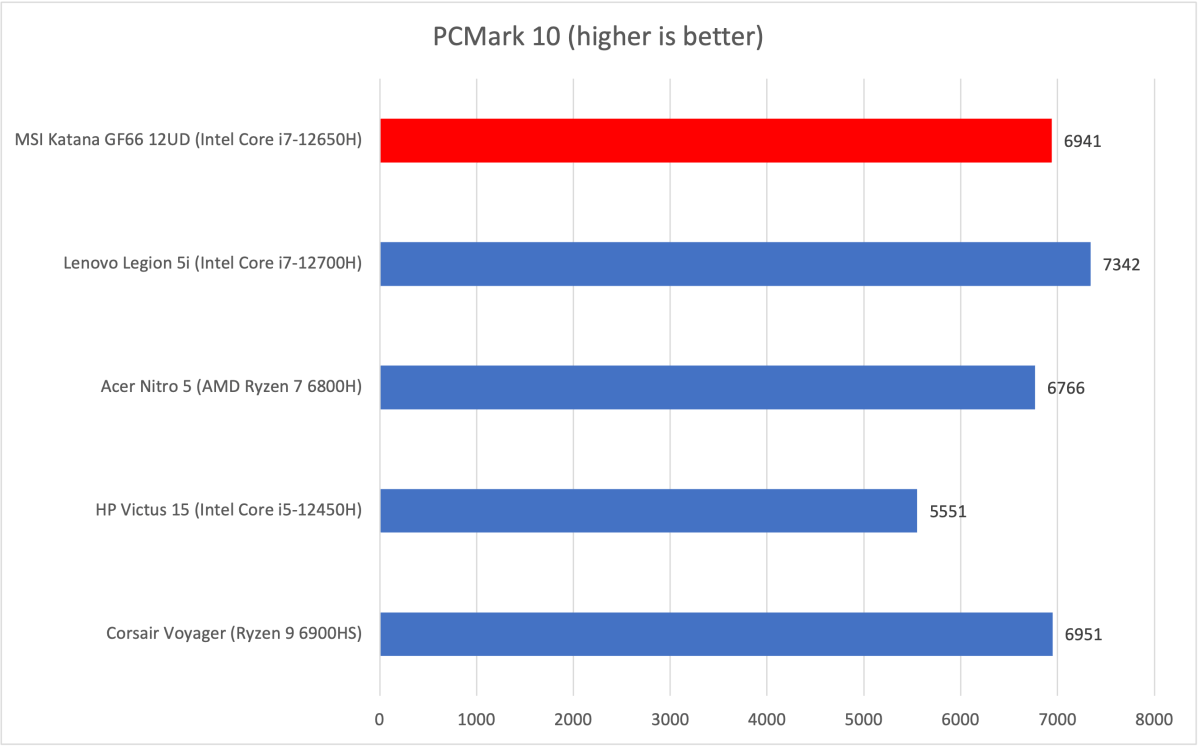 IDG / Matthew Smith
The tests start with PCMark 10, a benchmark that attempts to test a system's overall performance through a variety of scenarios that mimic-real world use, but which tends to lean towards relying on CPU performance. The MSI Katana scores a respectable 6,941. This essentially ties the Ryzen 7 6800H and Ryzen 9 6900HS in the Acer Nitro 5 and Corsair Voyager, and is just a hair behind the Lenovo Legion 5i with Intel Core i7-12700H. This is a solid start.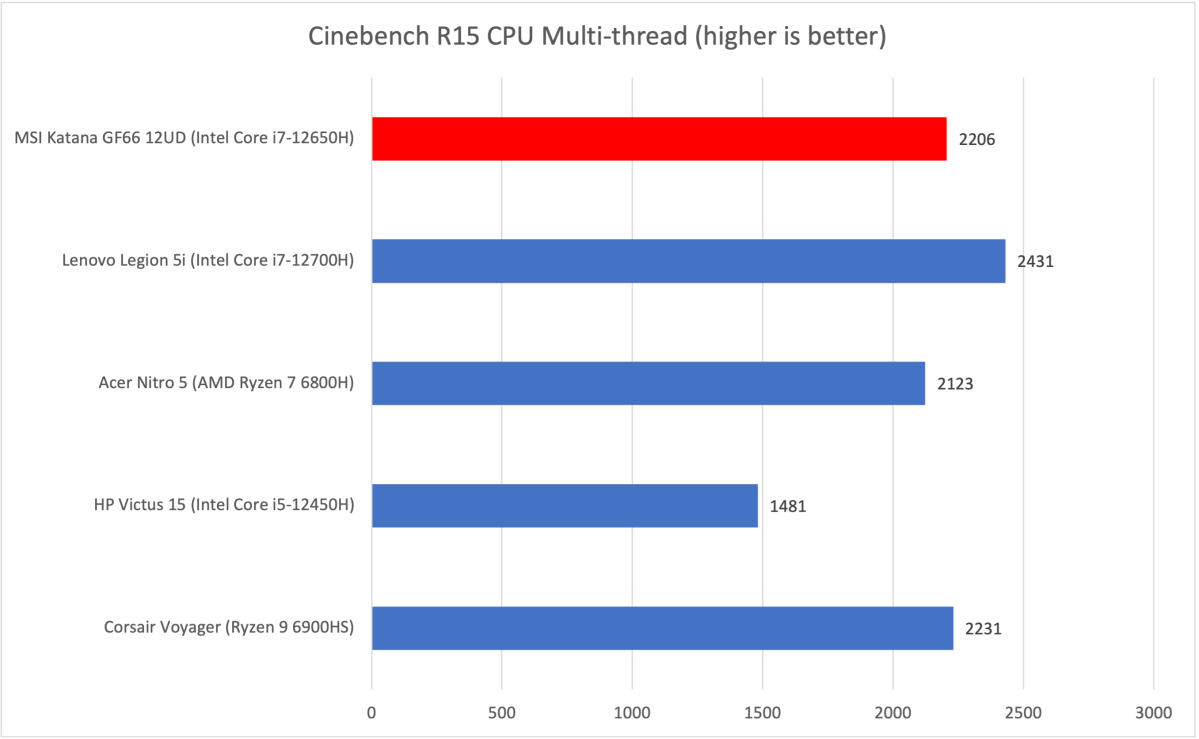 IDG / Matthew Smith
It's a similar story in Cinebench R15, where the Katana maintains its third-place finish. This is a great result for a laptop that's sold for just $1,050, and shows that sticking with the Intel Core i7-12650H, rather than the more expensive Core i7-12700H, doesn't tank performance.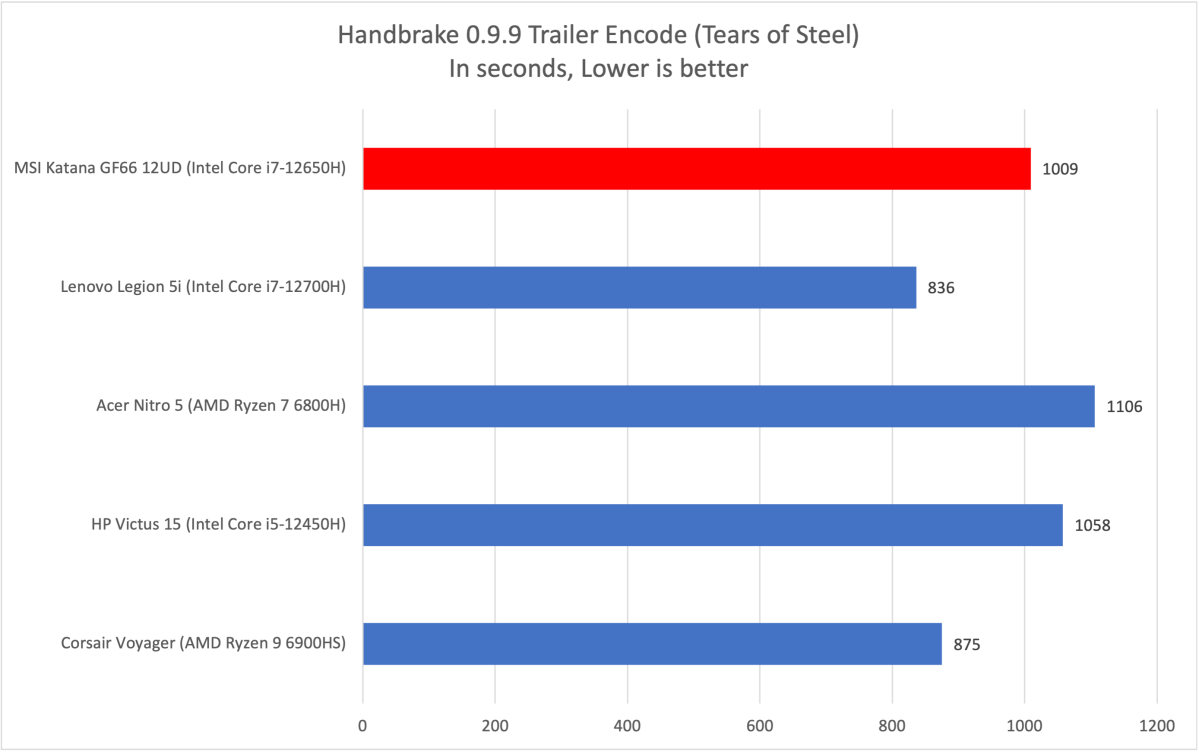 IDG / Matthew Smith
There's no big surprise in Handbrake, another CPU-heavy workload, as the Katana once again slices its way to a third-place finish. The fastest processors (Intel's Core i7-12700H and AMD's Ryzen 9 6900HS) manage to extend their lead in this benchmark, but the Katana's performance remains admirable for a budget machine.
The focus now moves on to GPU benchmarks. The Nvidia RTX 3050 Ti in the Katana I tested has a maximum graphics power of just 60 watts, which is much lower than most gaming laptops with RTX 3060 or Radeon RX 6800M hardware. Unsurprisingly, this proves a drag on performance.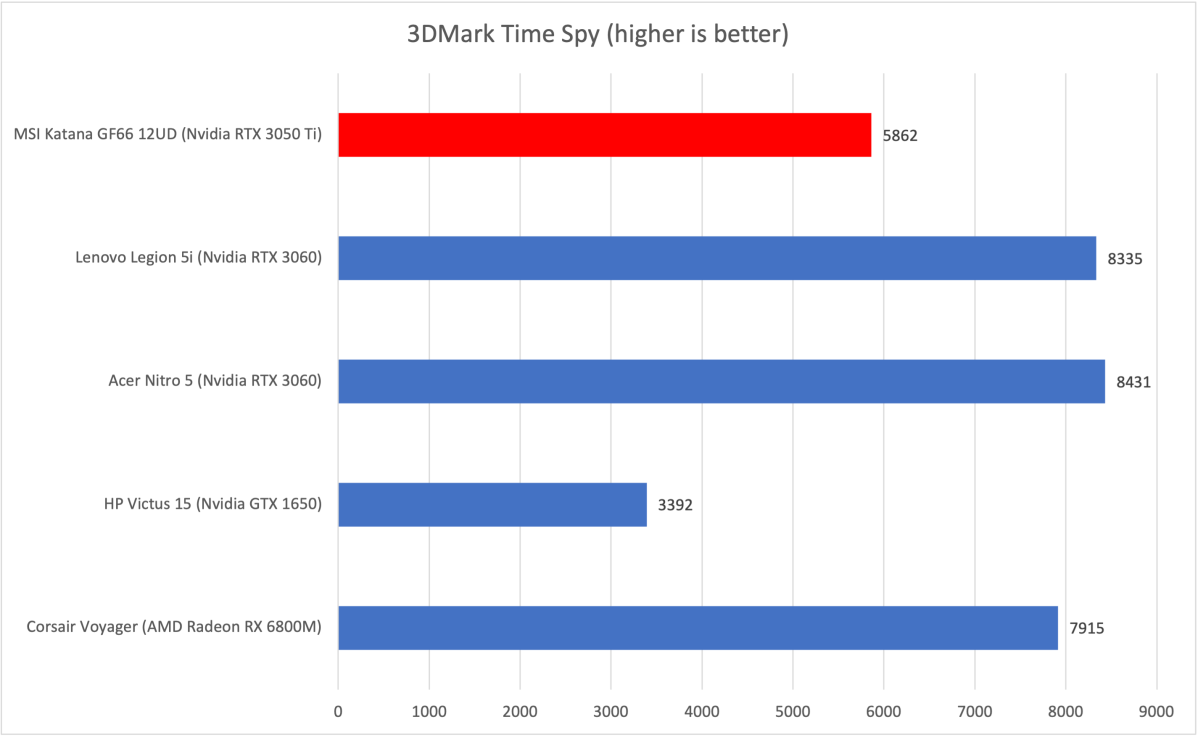 IDG / Matthew Smith
The MSI Katana's 3DMark Time Spy score of 5,862 earns it a fourth-place finish, and the gap between competitors has widened. Choosing the MSI Katana with RTX 3050 Ti results in performance about 30 percent less than an RTX 3060 alternative. However, the RTX 3050 Ti opens up a big lead over the older Nvidia GTX 1650 in the HP Victus 15.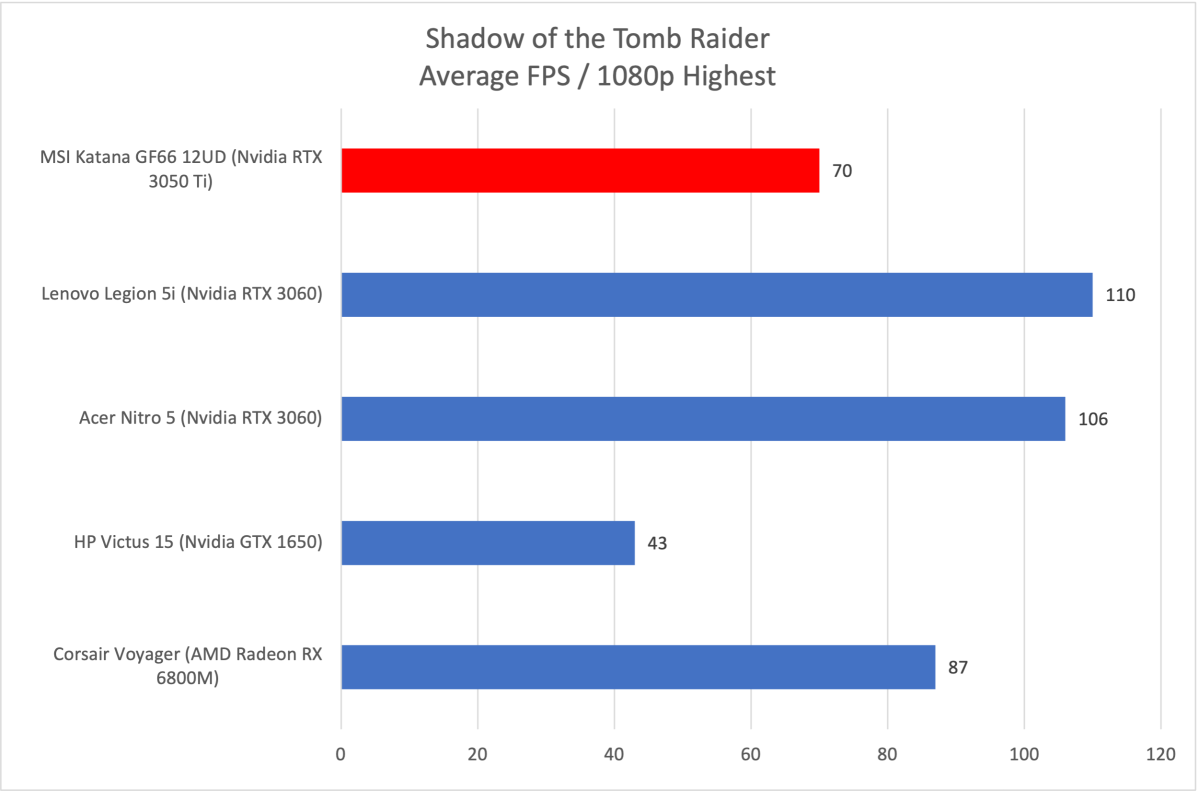 IDG / Matthew Smith
Trends continue in Shadow of the Tomb Raider, with the Katana again taking a fourth-place finish. It does manage to achieve 70 frames-per-second, however, which providing a smooth experience in real-world gameplay. The same can't be said of the less expensive HP Victus 15, which dips well below 60 FPS.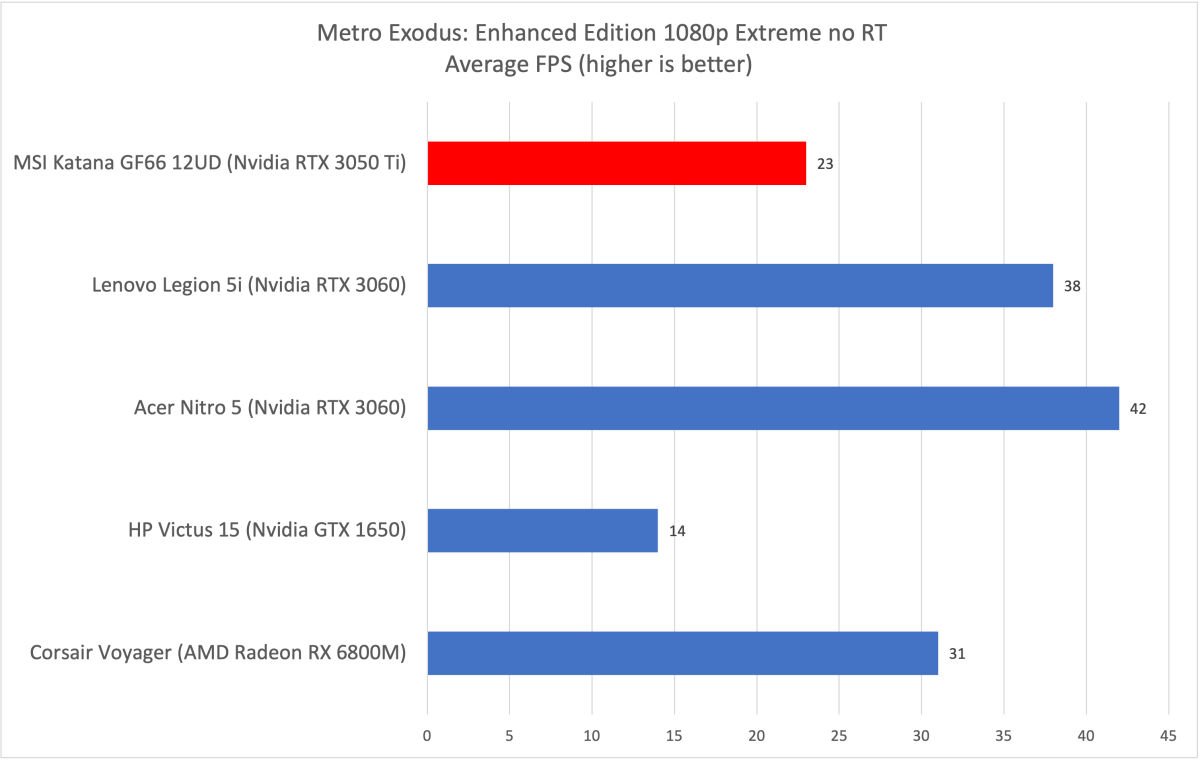 IDG / Matthew Smith
Metro Exodus is a rough test for the Katana, as it averaged just 23 frames-per-second at Extreme detail and with ray tracing turned off. That's better than the GTX 1650 in the HP Victus 15, but also not playable. A 30 FPS experience is possible by turning down detail to Ultra (this boosts the average to 42 FPS), and the game still looks great at this preset. 
I also gave the MSI Katana a spin in Cyberpunk 2077 with ray tracing turned on and DLSS turned off. It averaged just 14 frames-per-second, which isn't playable. Playable performance was only possible with DLSS set to its Performance mode and ray tracing quality turned to Medium, and even these compromises netted an average of 36 FPS with a few brief detours into the teens.
Clearly, the Katana is not a powerhouse, but it lands in a comfortable spot for its price. And price, really, is the story here. The performance gaps between GTX 1650, RTX 3050/RTX 3050 Ti, and RTX 3060 laptops are large, but the difference in price is often just a couple hundred dollars. Even a small reduction in price will greatly improve the Katana's value—so keep an eye out for sales. 
MSI Katana GF66 12UD: Battery life
The MSI Katana GF66 12UD has a 53 watt-hour battery. That's not large for any laptop, never mind a 15-inch gaming laptop with discrete graphics, and it leads to lackluster battery life.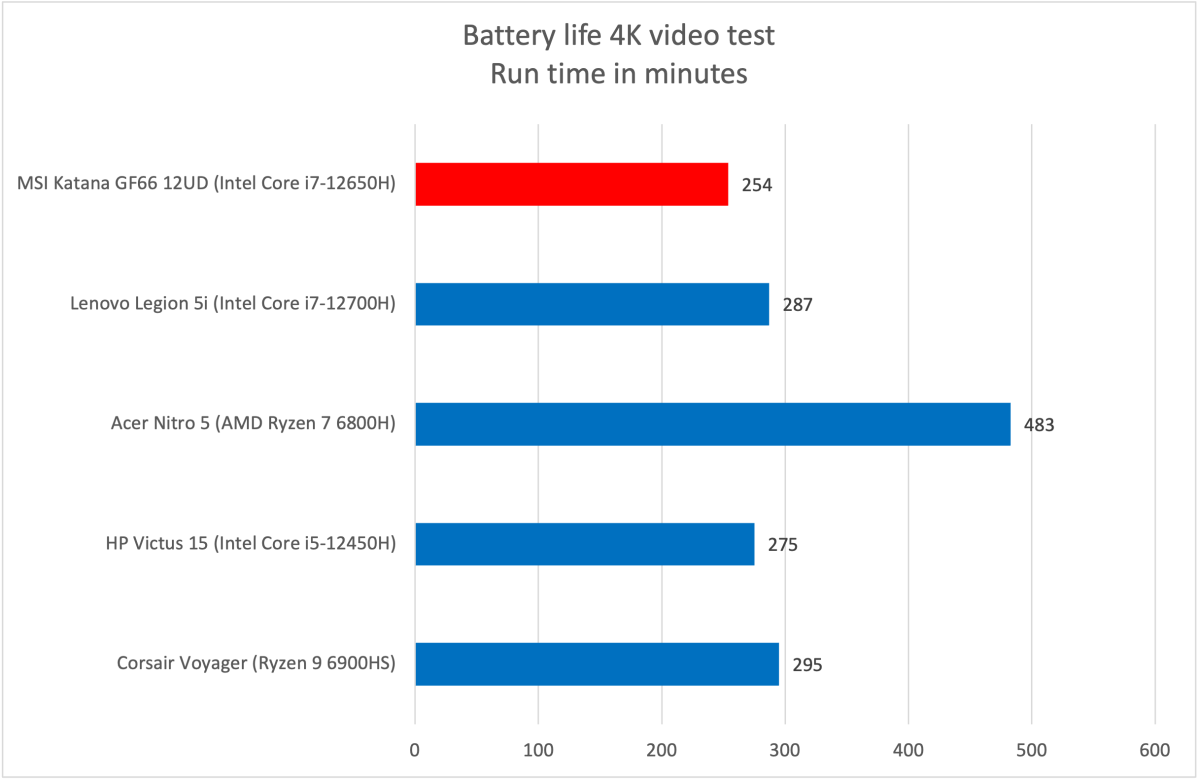 IDG / Matthew Smith
I measured 4 hours and 14 minutes of endurance while playing a 4K file of Tears of Steel on repeat, which isn't a particularly demanding workload. Playing game will drain the battery far more quickly. 
There is a silver lining: this result, though unimpressive, is about average for a gaming laptop. Most gamer laptops struggle to break five hours of endurance. The Acer Nitro 5 is an exception in this case, as the model we tested was a 17-inch laptop with room for a much larger 96 watt-hour battery.
MSI Katana GF66 12UD: Conclusion
MSI's Katana GF66 12UD is a thoroughly average budget to mid-range gaming laptop. It's fast enough to handle most modern titles at 30 to 60 frames-per-second, especially if you're willing to compromise on detail settings. It also packs strong processor performance. 
The laptop's most serious flaws are found in details such as the display, keyboard, and touchpad. These shortcomings are shared with many inexpensive gaming laptops. However, the Katana's price of $1,050 puts it up against some alternatives that can do better. The Lenovo Legion 5 and Dell G17 15 are two examples.
So, should you buy it? My advice is simple: look for a sale. The Katana would make a lot of sense under $1,000, and it's a steal under $800. Microcenter, for example, currently offers a model with an even better Core i7-12700H processor for $799.99.