At a glance
Expert's Rating
Pros
Clean audio
TRS, RCA, and Bluetooth connectivity
Capable of very loud volume
Easy access to aux input and headset output jacks
Cons
Audio will sound a little hollow to some ears
Audio distortion at higher volumes
Our Verdict
Monoprice delivers a solid set of speakers in the DT-3BT. Its sound profile won't be to everyone's taste, but many folks will find it a hassle-free option for upgrading your desk's audio output—and easy way to listen to your devices.
Monoprice may not be a household name, but for decades it has quietly sold tech gear that rivals brand-name goods in quality—in a fashion. Rather than undercutting more expensive brands by pumping up a few key features then dramatically paring back others, items with Monoprice's label go for a solid but no-frills approach.
The Monoprice DT-3BT firmly upholds that philosophy. At $100, these 50W desktop speakers offer an understated appearance and clear audio, and blend in well with a typical computer desk setup. They also focus more on function, rather than control over audio tuning. You get Bluetooth 5.0 support in addition to TRS and RCA jacks, allowing you to use them with a wide array of devices.
Each speaker measures 5.5 x 8.0 x 5.9 inches (140 x 204 x 150mm) and weighs 3.5 pounds (1.6kg) each. No wood tones here; the all-black coloring is meant to blend into the background. Inside are 3-inch woofer drivers and 0.75-inch tweeter drivers. All the action lives on the primary speaker—on the front, you'll find a comfortably sized volume knob, along with separate 3.5mm jacks for auxiliary input (e.g., a compatible smartphone or tablet) and headphone output, plus two status lights for power and Bluetooth status. On the back are RCA and 1/4-inch TRS inputs, outputs to connect to the secondary speaker, and buttons for power and Bluetooth pairing.
Note: Go to our ongoing roundup of the best budget computer speakers to learn more about competing products, what to look for in budget computer speakers, and buying recommendations.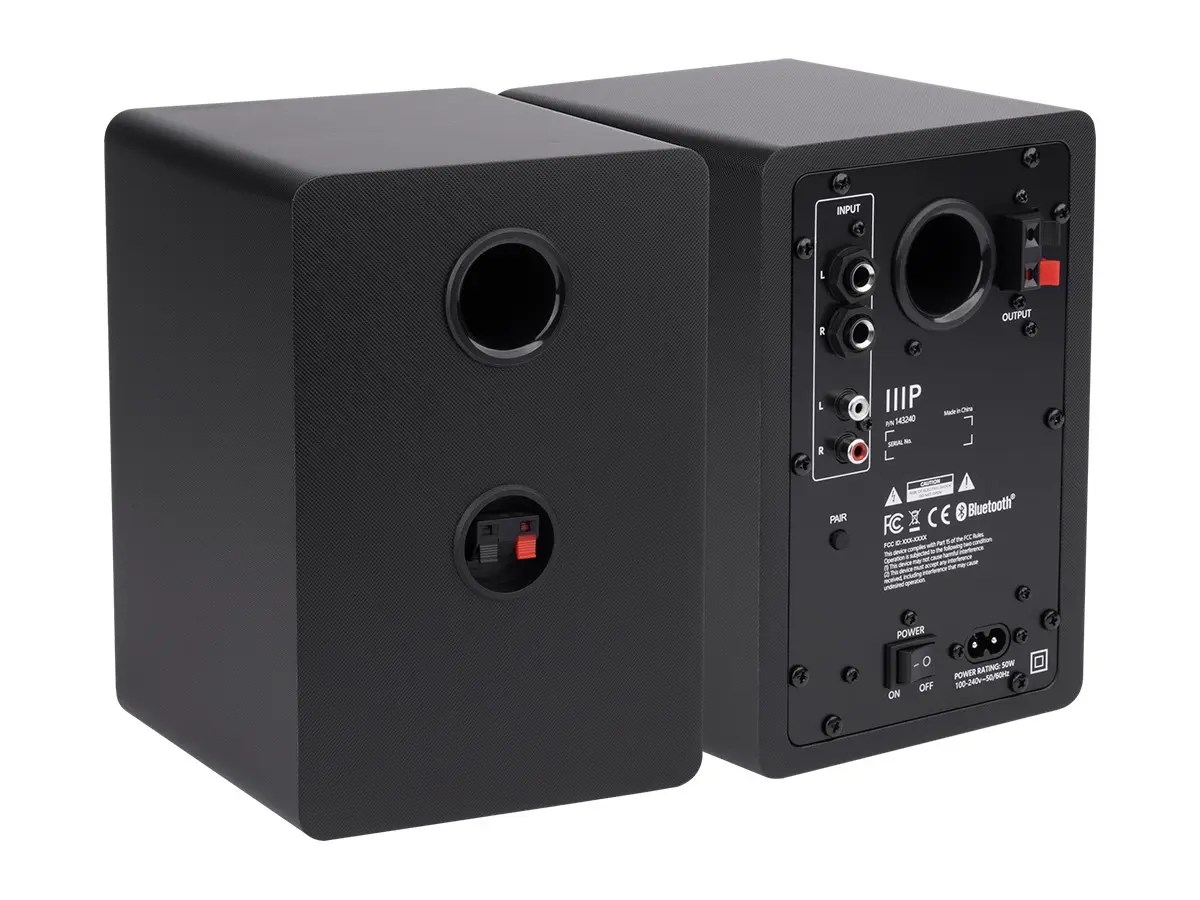 Monoprice
For setup, you simply connect the primary speaker and your PC using the color-coded RCA-to-3.5mm cable, and then link the primary and secondary speakers using the color-coded speaker interconnect cable. You'll also need to plug the primary speaker into a polarized 2-prong outlet for power.
Compared to rivals, the DT-3BT puts more emphasis on higher- and lower-end frequencies—right in line with Monoprice's other audio products. Some ears will find this sound profile to have a pleasing focus on clarity and crispness, while others may think it's a touch hollow. Either way, you can hear elements in layered music distinctly, when they otherwise get overshadowed or lost with warmer speakers.
And you can listen to those songs at extremely high volume (though with some distortion), if you so choose. These speakers can easily fill a smaller living room. I usually kept the knob at well below the quarter mark (figuratively speaking) for daytime listening, and cut it even further during later hours. And since you can play from different devices simultaneously, there's no real effort needed to switch between them. You just start playback from the desired piece of gear.
Should you buy the Monoprice DT-3BT?
As speakers go, $100 may not seem like much—audiophiles can easily blow thousands on gear without blinking. But if you're on a budget, that amount can feel like a splurge. The Monoprice DT-3BT's feature set makes it feel worthy of its price tag. The speakers have straightforward setup and controls, immediately work out of the box with multiple audio sources, and boast clear audio. Those into the DT-3BT's sound profile should be well-pleased with them.