Laptops may have risen in dominance, but the desktop PC space is no less vibrant for it. Things have only gotten more interesting in recent years, with the divide between mass-produced prebuilts and highly personalized DIY builds softening. And as of late, system integrators are blurring those lines further by drawing from popular DIY trends. Take for example boutique vendor Maingear, known for its luxurious custom PCs—it's just announced a second line of gaming rigs in this vein.
Called the Revolt Series, this run of small form factor PCs is all based on the Hyte Revolt 3, a mini-ITX case that generated a lot of buzz when it launched back in 2021. At 18.4 liters, the Revolt 3 fits a considerable amount of hardware inside—while still being portable enough to easily cart from place to place. (It even has an old-school carrying handle!) Unsurprisingly, this line of gaming PCs is being marketed toward eSports players, though the performance is really whatever you want from the machine. The $1,500 base model sports an Intel Core i5-13400F and Nvidia GeForce RTX 4060, while the $4,550 top-end variant offers an air-cooled Core i9-13900K and RTX 4090.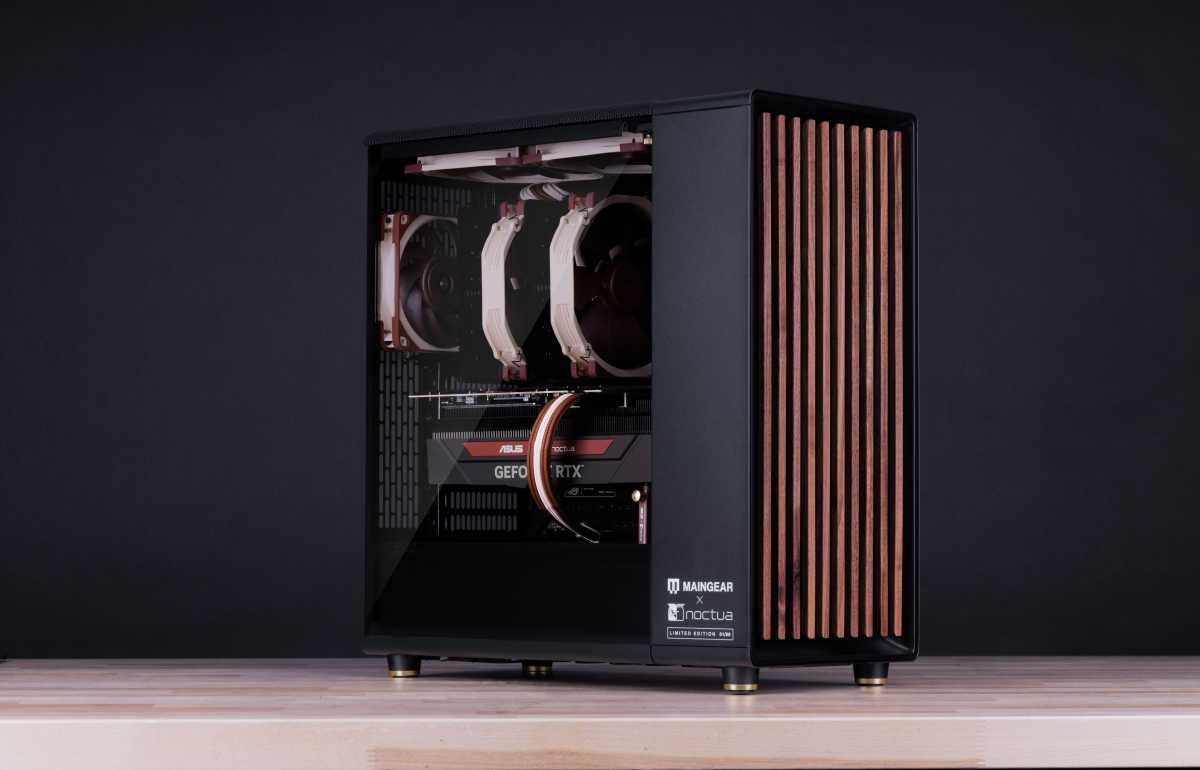 Maingear
This unveiling comes just two weeks after the company launched its inaugural North Series, a set of gaming PCs centered around the stunning Fractal Design North, a mid-tower ATX case that sports minimalist wood paneling at its front. It also released its first limited-edition system in the form of the $4,699 Noctua North, which stuffs as much Noctua gear as possible into a sleek build. Inside are the signature brown-and-tan fans, the famed NH-D15 dual-tower CPU air cooler, and an Asus GeForce RTX 4080 OC Noctua Edition graphics card, along with an Intel Core i9-13900K. It's the PC you get when you really love earth tones but dislike distracting fan noise.
Maingear isn't the only system integrator offering popular cases as options for its PCs—for example, iBuyPower lets you configure a machine with the Fractal Design North. But Maingear's unique take is that its new Series and limited-edition PCs are being treated as drops—special, "ever evolving" releases. They're meant to sell out or be replaced by something new.
If a preconfigured system isn't to your liking, you can always check out the DIY side of the field. Vendors on that side of the aisle have been continually simplifying building. Whether you're new to PC building all together or something more complex like custom water cooling, there's a kit out there for you (e.g., NZXT BLD or Corsair Hydro X). Between these and the new angle on prebuilts, the distinction between a machine built for you and one you assemble yourself is all but disappearing—which is a great thing.