At a glance
Expert's Rating
Pros
Easy-to-use touchscreen
Unique tilt stand
Excellent USB-C connectivity
Good contrast ratio
Cons
Expensive for its size and resolution
Image quality is good, but not amazing
No Adaptive Sync or HDR
Our Verdict
Dell's 2424HT fuses touchscreen functionality with great connectivity in an alluring but expensive home office display.
Windows' touchscreen support has improved radically since the bad-old-days of Windows 8, and while it's still not a replacement for a mouse in all situations, it works well with modern apps and websites (which tend to have a mobile-friendly design). Unfortunately, those who prefer a desktop PC often can't take advantage of Windows' touch functionality—but Dell's 2424HT touchscreen monitor makes it an option.
Further reading: See our roundup of the best home office monitors to learn about competing products.
Dell 2424HT specs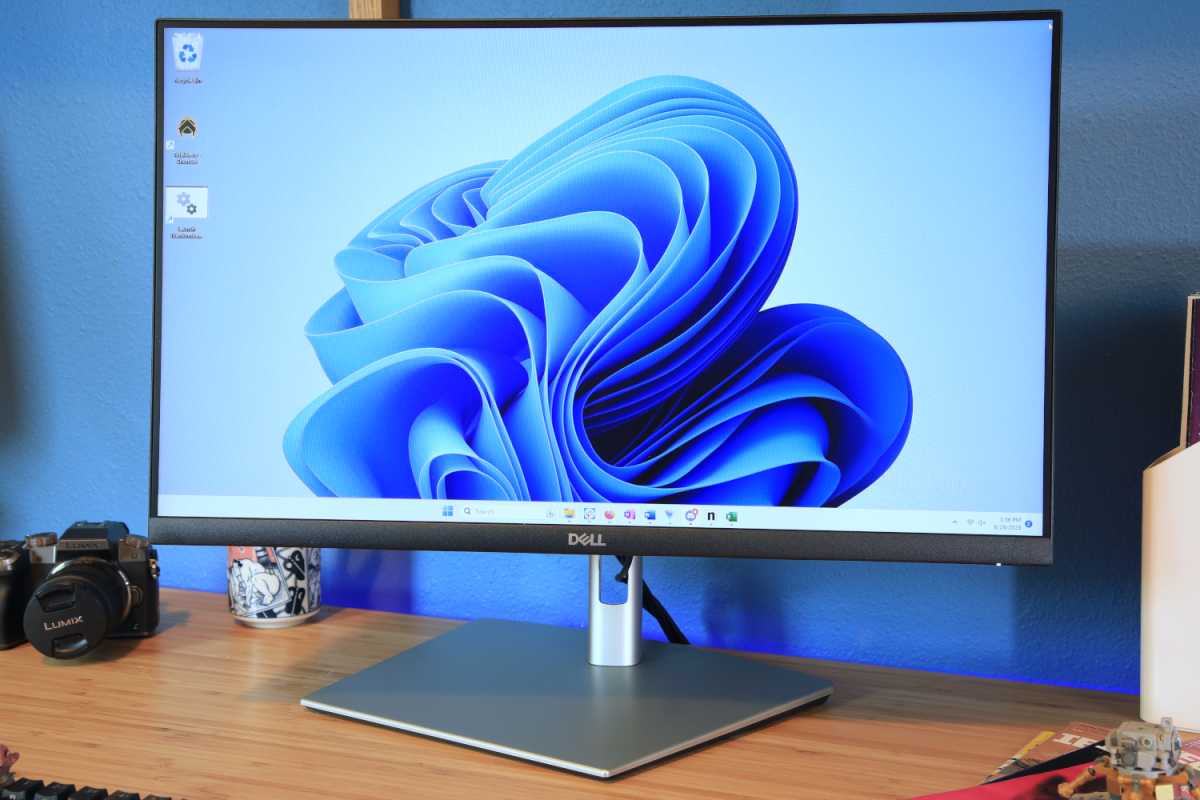 Matt Smith
The Dell 2424HT has a 24-inch IPS touchscreen with a resolution of 1080p. This is an unusual feature for a 24-inch monitor: A variety of touchscreen displays are available, but most are smaller portable monitors. Dell also adds significant USB-C connectivity and Gigabit Ethernet, which is a nice bonus.
Display size: 24-inch widescreen
Native resolution: 1920×1080
Panel type: IPS edge-lit touchscreen
Refresh rate: 60Hz
Adaptive Sync: None
HDR: None
Ports: 1x HDMI, 1x DisplayPort, 1 USB-C 3.2 Gen 1 with DisplayPort Mode and 90-watt USB Power Delivery, 1x USB-C 3.2 Gen 1 with 15-watt USB Power Delivery, 3x USB-A 3.2 Gen 1, Ethernet (RJ-45), 3.5mm audio-out
VESA mount: 100x100mm
Speakers: None
Price: $519.99 MSRP
There's another point that leaps out: the price. Dell's MSRP is a steep $519.99 — expensive for a 24-inch office monitor with 1080p resolution. The price is understandable, given the 2424HT's unusual features, but it's well beyond the $300-or-less pricing of comparable displays.
Dell 2424HT design
The Dell 2424HT doesn't immediately stand out from a typical office monitor. It has slim bezels, a matte-black rear panel, and silver metallic stand, all of which strike a reserved, professional tone.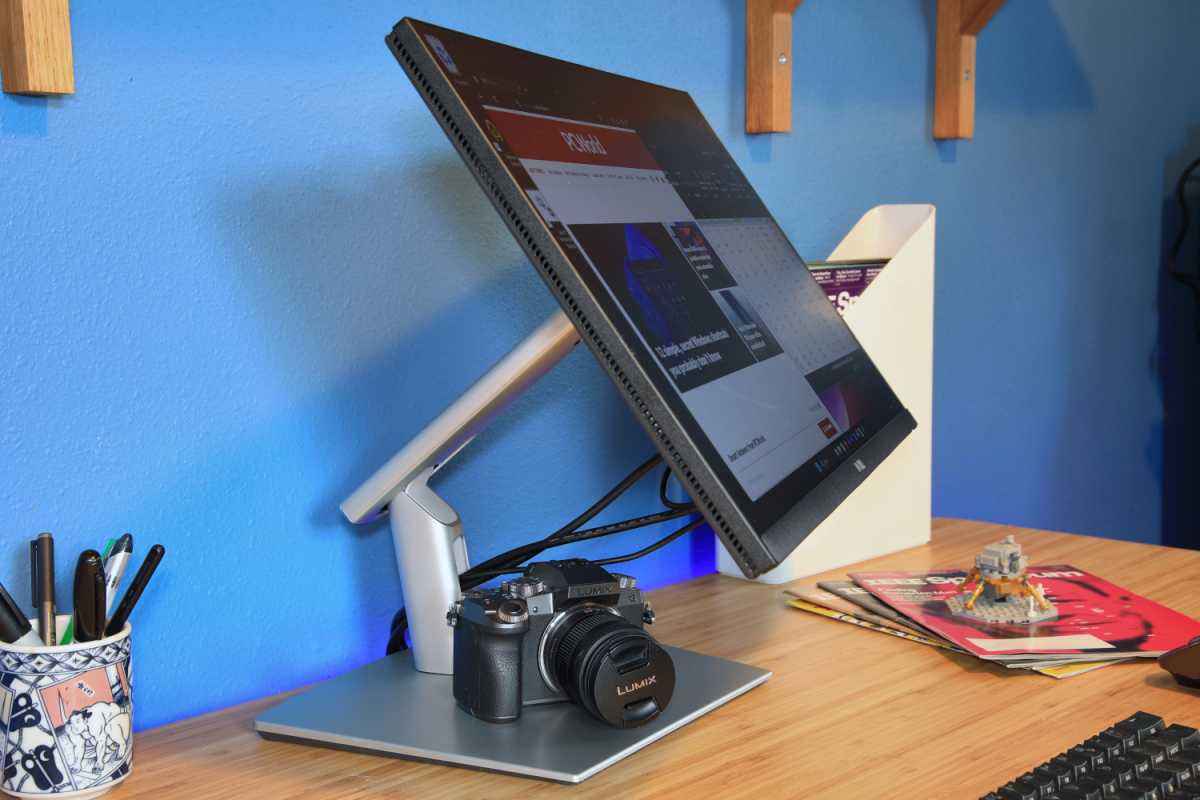 Matt Smith
Take a closer look at the stand, however, and you'll notice something odd. The stand isn't a straight, rigid neck but instead sits at an angle with pivot points on both the bottom and top of the stand neck. This makes it possible to tilt the monitor forward for easy touchscreen access. There's even a pair of rubber bumpers concealed along the lower lip. They help the monitor grip the surface of your desk when it's in full tilt, which prevents unwanted movement while the touchscreen is in use.
Cable management is an issue, though one Dell has largely solved. The monitor includes a cable guide on the rear of the monitor and a second guide in the base of the stand neck. Together, these guides keep cords controlled while the monitor tilts forward and back. Routing the cables through these guides can prove a bit annoying, though.
It's a smart design, but not without disadvantages. Adjusting the stand's height also means adjusting how far the display sits from you, which can be limiting. The maximum height is a bit low and may prove a problem for tall users.
The monitor supports a 100x100mm VESA mount, so third-party stands and arms are an option. Most stands won't work well with the Dell 2424HT's touchscreen, since few offer significant touch adjustment, but an easy-to-use monitor stand like the Herman Miller Flo could pair well with this monitor.
How is the Dell 2424HT's touchscreen?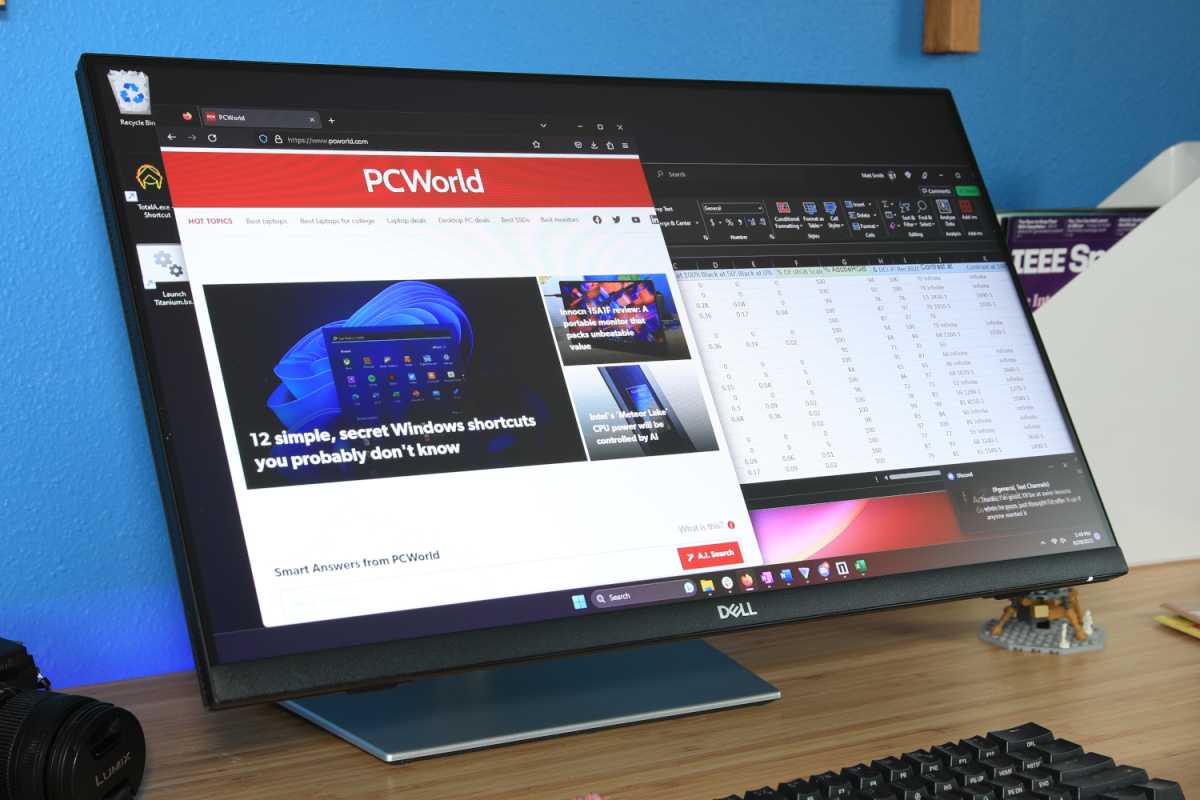 Matt Smith
The Dell 2424HT's standout feature is, of course, the 10-point multi-touch touchscreen. It's easy to miss the touchscreen if you don't know it's supported. Most touchscreen monitors have a glossy panel, but this display has a semi-gloss coat that looks identical to a non-touch office monitor.
Once in use, however, the Dell 2424HT's touchscreen doesn't disappoint. It responds quickly to input and provides a smooth, pleasant surface for navigating across the display. The 2424HT doesn't require special drivers or software to function, though owners have the option to install Dell's Display Manager (which provides access to many monitor features within Windows).
You will need to connect to the monitor's USB-C port to use the touchscreen, but the USB-C connection doesn't need to be the active video input. You can use the touchscreen over HDMI or DisplayPort as long as USB-C is connected, too.
I don't have much else to say about the touchscreen, and that's a compliment. It worked precisely how I expected straight out of the box with zero complications.
However, shoppers should respect the monitor's intent. This is an office monitor for people who want a touchscreen—not a cheap Wacom graphics tablet substitute for digital artists. The monitor doesn't ship with a stylus and doesn't officially support any active or passive stylus, including Dell's own models.
Dell 2424HT connectivity and menus
While the touchscreen is the headliner, the Dell 2424HT also packs significant USB-C connectivity including a USB-C input with DisplayPort Alternate Mode. This input drives three USB-A downstream ports, an additional USB-C port, and a Gigabit Ethernet (RJ45) port for wired network connectivity.
A hidden panel tucked on the monitor's left side provides quick access to one of the downstream USB-A ports and the only downstream USB-C. The Dell 2424HT is a good option if you own a laptop with USB-C, as you can use the monitor to extend the laptop's connectivity while simultaneously charging the laptop.
The Dell 2424HT's connectivity is a major improvement over most alternative touchscreen monitors. Several alternative 24-inch touchscreen monitors, such as the Viewsonic TD2423D, Philips 242B9T, and Dell 2418HT, are available at a more affordable price (usually $300). These monitors lack USB-C, however, so they're not a useful USB hub. They also lack Power Delivery for charging devices and Gigabit Ethernet for adding wired network connectivity.
Additional video connectivity is provided by one HDMI and one DisplayPort input, for a total of three video inputs. A 3.5mm audio-out port rounds out connectivity. You may need it, as speakers aren't included.
The Dell's 2424HT menu system, meanwhile, is more mundane. It uses a single power button alongside a joystick control for navigating the on-screen menu. The joystick control is speedy and responsive, but its image quality options are limited.
How is the Dell 2424HT's SDR image quality?
The Dell 2424HT is the perfect example of a monitor you might buy without much thought about its image quality. It's built to view documents, spreadsheets, and websites — not high-resolution photos, 4K HDR movies, or PC games. But that doesn't mean Dell has ignored image quality.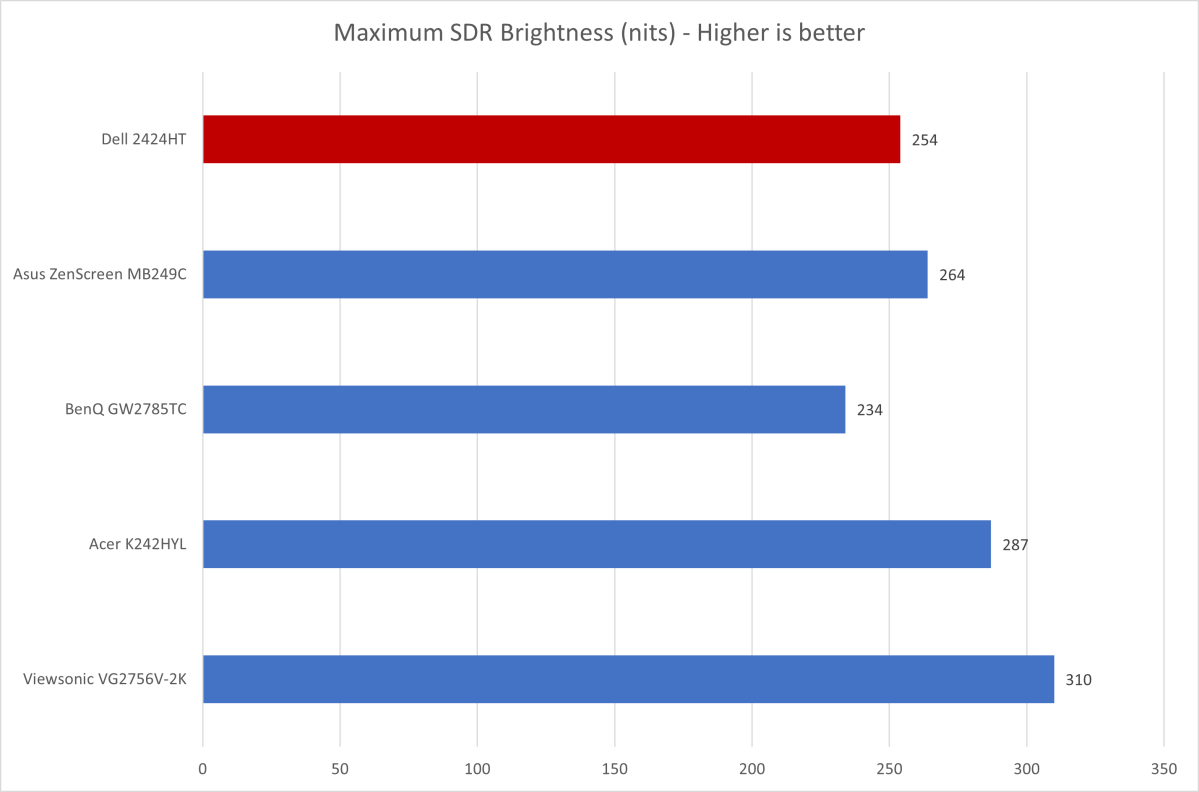 Matt Smith
We kick things off with brightness, where the Dell 2424HT delivers a mediocre maximum brightness of 254 nits. This is typical for an office monitor, though not excellent when compared to all monitors available — monitors that target content creators and gamers tend to hit 300 nits and beyond.
The Dell 2424HT's brightness is more than enough for use in a typical office, but it might look a bit dull in rooms that have little to no light control. This is a point shoppers should remember: The Dell 2424HT is the type of monitor you might buy if you want to easily move the display to share it with a colleague or client, and the 2424HT might not be ideal for that situation if you can't control light in the room.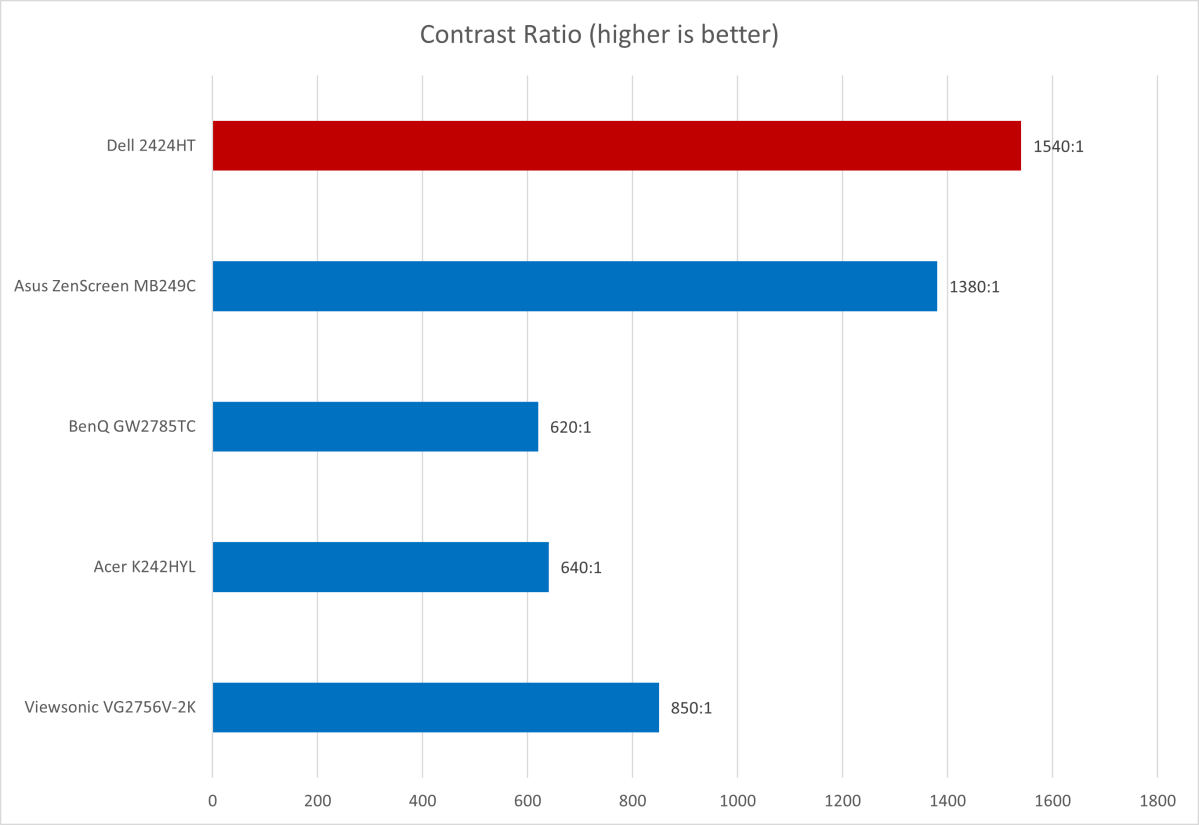 Matt Smith
The Dell 2424HT comes back swinging in contrast with a measured contrast ratio of 1540:1. That's an extremely good result for a budget monitor, and for IPS monitors overall—it's actually not that far off Dell monitors with the new IPS Black panel, which the Dell 2424HT doesn't have.
This result is thanks to the 2424HT's relatively good dark scene performance. The display may still look hazy and gray when viewed in a dark room, but the display's minimum luminance is often low enough to display convincing dark shades in movies and games, and shadow detail is well-preserved.
Matt Smith
Color gamut is another win for the Dell 2424HT, though the margin is slim. The 2424HT achieves 100 percent of the sRGB gamut, 85 percent of DCI-P3, and 79 percent of AdobeRGB. That's better than similar office monitors — but still not ideal for content creators, who will usually want a minimum of 90 percent of DCI-P3 (and the higher, the better).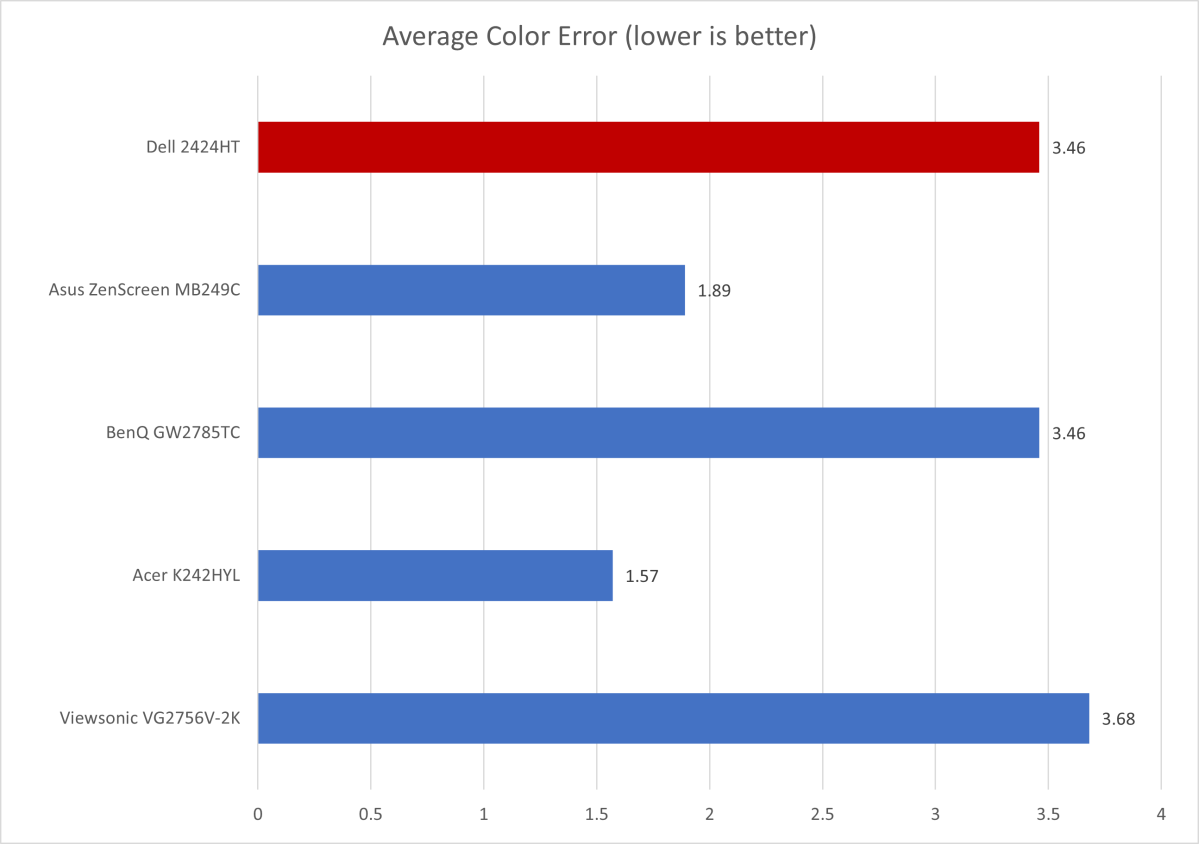 Matt Smith
I was disappointed by the Dell 2424HT's color accuracy. It's usable, to be sure, and most people won't notice anything wrong — but, given the price, better out-of-box color accuracy should be expected. I noticed the Dell 2424HT presented with a somewhat oversaturated look in reds and blues, which could make content look exaggerated.
The Dell 2424HT achieved an out-of-box gamma result of 2.3 (off a target of 2.2) and a color temperature of 6800K (off a target of 6500K). Content tends to look a tad darker and cooler than expected but, once again, it's a slim difference that many won't notice.
Sharpness is mediocre. The Dell 2424HT is a 1080p monitor with a pixel density of roughly 92 pixels per inch. That's good enough for crisp text in most situations, but small fonts can look pixelated and poorly defined against their background. Video and photos also look a bit soft — though, fortunately, the monitor's excellent contrast tends to make up for this, and video/photo content looks better overall than on most office monitors.
In summary, the Dell 2424HT looks fine — even good, for its category. It won't knock your socks off but delivers strong results across the board and avoids major errors. The monitor will also outperform less expensive 24-inch touchscreens such as the Viewsonic TD2423D, Philips 242B9T, and Dell 2418HT. While I haven't tested those monitors personally, results from other reviewers show they achieve a much lower contrast ratio and have a more narrow color gamut.
How is the Dell 2424HT's HDR image quality?
The Dell 2424HT doesn't support HDR. That's just as well, given its limited SDR brightness. HDR isn't important for office productivity, either, which is the 2424HT's focus.
How is the Dell 2424HT's motion performance?
Gamers are unlikely to find the Dell 2424HT appealing. Its image quality is better than many budget gaming monitors, but the display lacks Adaptive Sync and sticks to a humble 60Hz refresh rate. Games lack the buttery-smooth feel available on a display with a higher refresh rate.
Should you buy the Dell 2424HT?
The Dell 2424HT is a solid touchscreen office monitor with excellent USB-C connectivity and good image quality. It's undeniably expensive for its size and resolution, which makes the monitor difficult to broadly recommend. But if you want a 24-inch touchscreen monitor, the 2424HT delivers exactly what it promises: an intuitive, functional touchscreen experience.