At a glance
Expert's Rating
Pros
Excellent 1440p performance
16GB of memory and a wide bus
Beats RTX 4070 performance for $100 less
Sapphire's industrial design is impeccable
Whisper quiet and icy cold
Cons
Relatively high power draw
Behind Nvidia in ray tracing performance
FSR 3 hasn't launched yet
Our Verdict
AMD's Radeon RX 7800 XT trounces the GeForce RTX 4070's gaming performance for $100 less, albeit with higher power draw and slower ray tracing performance.
Ten long months after the launch of the high-end Radeon RX 7900-series, AMD is finally finishing its next-gen graphics card lineup with the launch of the $450 Radeon RX 7700 XT and $500 Radeon RX 7800 XT. And their arrival means that for the first time this generation, there are 1440p gaming options finally worth buying.
Nvidia's offerings in this price range flatly aren't compelling. The $400 8GB GeForce RTX 4060 Ti and $500 16GB version of the same GPU are better suited for 1080p gaming thanks to their ultra-nerfed memory configurations, meaning you need to spend $600 on the RTX 4070 to get compelling 1440p performance from Team Green — a steep price for that resolution.
Enter the Radeon RX 7700 XT and 7800 XT. AMD's new graphics cards deliver great 1440p gaming performance for a whole lot less than its Nvidia rivals, though they aren't as energy efficient or as good at ray tracing as the GeForce GPUs. If you're willing to bend on those aspects, AMD's new graphics cards are worth a long, hard look — though this much money for 1440p gaming still feels pricey.
We've put Sapphire's custom Nitro+ Radeon RX 7800 XT to the test against Nvidia's RTX 4060, along with the company's new all-white "Pure" Radeon RX 7700 XT. Let's dig in!
Radeon RX 7800 XT and 7700XT specs and features
We already covered the Radeon RX 7800 XT and 7700 XT's key technical features in our coverage of their announcement. Hit that link for our full analysis, or peruse the AMD-supplied chart of more in-depth specs below.
AMD
AMD clearly built these new graphics cards for 1440p gaming, unlike Nvidia's RTX 4060 Ti. The Radeon RX 7800 XT wields 16GB of fast GDDR6 memory and a wide 256-bit memory bus, while the cut-down Radeon RX 7700 XT drops to a still-respectable 12GB of memory and a 192-bit bus. By contrast, the RTX 4060 Ti packs just 8GB of memory and a 128-bit bus — a setup more ideal for 1080p gaming.
It's also worth comparing AMD's new graphics cards against their direct predecessors. The Radeon RX 6800 XT launched at $650 with 72 compute units back in 2020. The new Radeon RX 7800 XT is priced much lower — at $500, it's even less than the $550 Radeon RX 6800 non-XT launched at — but packs just 60 CUs, matching the 6800 non-XT's compute unit count.
Conversely, the $450 Radeon RX 7700 XT comes with 54 compute units, an improvement of 14 over its predecessor, the Radeon RX 6700 XT, while costing $30 less at launch.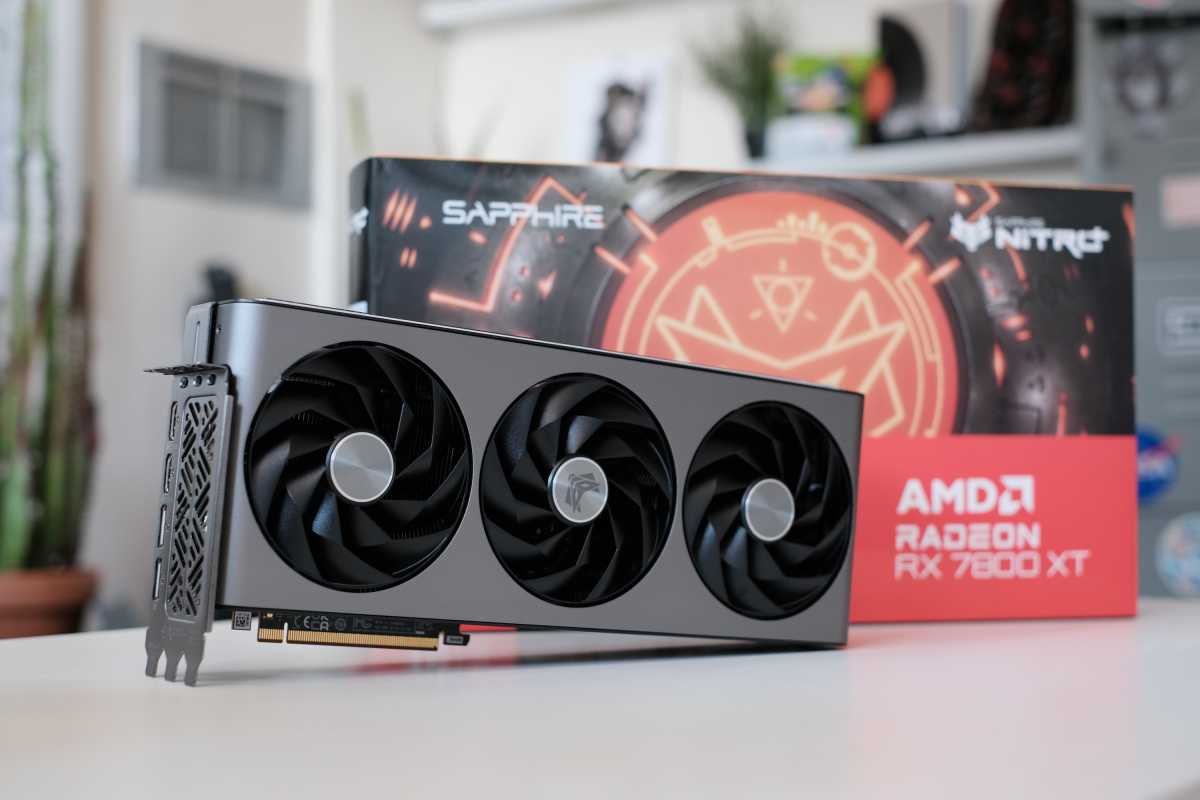 Adam Patrick Murray / IDG
The new Radeon 7000 GPUs are built using TSMC's 5-nanometer process, a leap forward from the 7nm process used in Radeon 6000 GPUs. The 7700 XT and 7800 XT also use a novel design introduced this generation, splitting memory controllers and the second-gen Infinity Cache off into discrete "Memory Cache Dies" built using the 6nm process. All Radeon RX 7000 graphics cards also support AV1 encoding and DisplayPort 2.1, a more advanced DP version than you'll find on competing Nvidia GPUs.
Modern hardware is supercharged by advanced software these days. In addition to the usual suite of killer Radeon features like FSR, Radeon Super Resolution, and Smart Access Memory, AMD is rolling out two new software features to bolster this launch. The AMD Adrenalin driver that adds Radeon RX 7700 XT and 7800 XT support also folds in Hypr-RX, a long-awaited toggle that can drastically boost gaming performance by flipping on several other AMD features all in one fell swoop.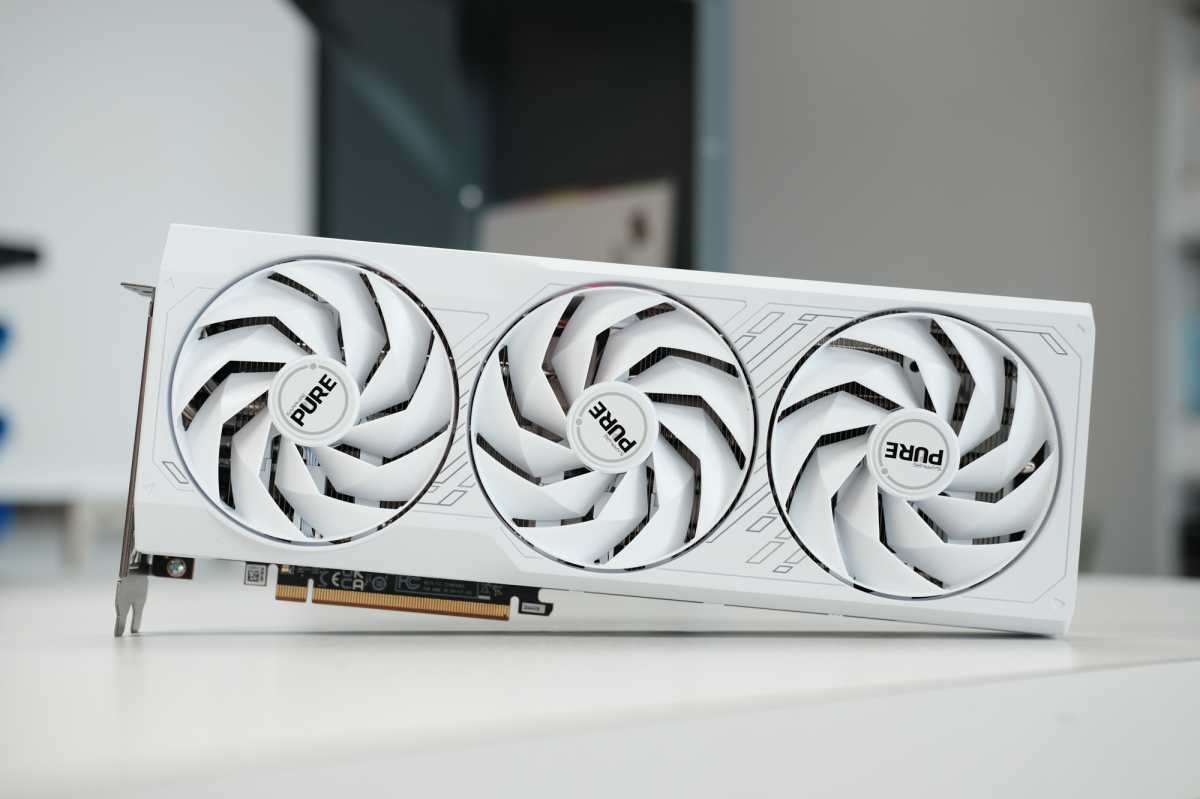 Adam Patrick Murray / IDG
Later this month, AMD's just-as-long-awaited FSR 3.0 technology will make its debut in Forspokenand Immortals of Aveum. It's pitched as a DLSS 3 alternative that can dramatically speed up visuals by inserting interpolated frames between rendered ones — but unlike Nvidia's tech, it doesn't need dedicated AI hardware and can run on any modern GPU, regardless of manufacturer. It remains to be seen how well FSR 3.0 actually performs but it looks mighty exciting on paper.
The Sapphire touch
Adam Patrick Murray / IDG
AMD built a reference design for the Radeon RX 7800 XT, though not for the 7700 XT. Rather than using that, however, we're conducting our initial evaluations using a pair of custom Sapphire cards: the Sapphire Nitro+ Radeon RX 7800 XT, as well as the all-new Sapphire Pure Radeon RX 7700 XT, the first entry in a fresh, all-white Pure series of Sapphire GPUs.
We got our first taste of this generation's refined Nitro+ design in the big, badass, and beautiful Nitro+ Radeon RX 7900 XTX. I fell in love with the sleek metal design, punctuated by a raised, illuminated full-length RGB light bar that's so vibrant it has to be seen to believed.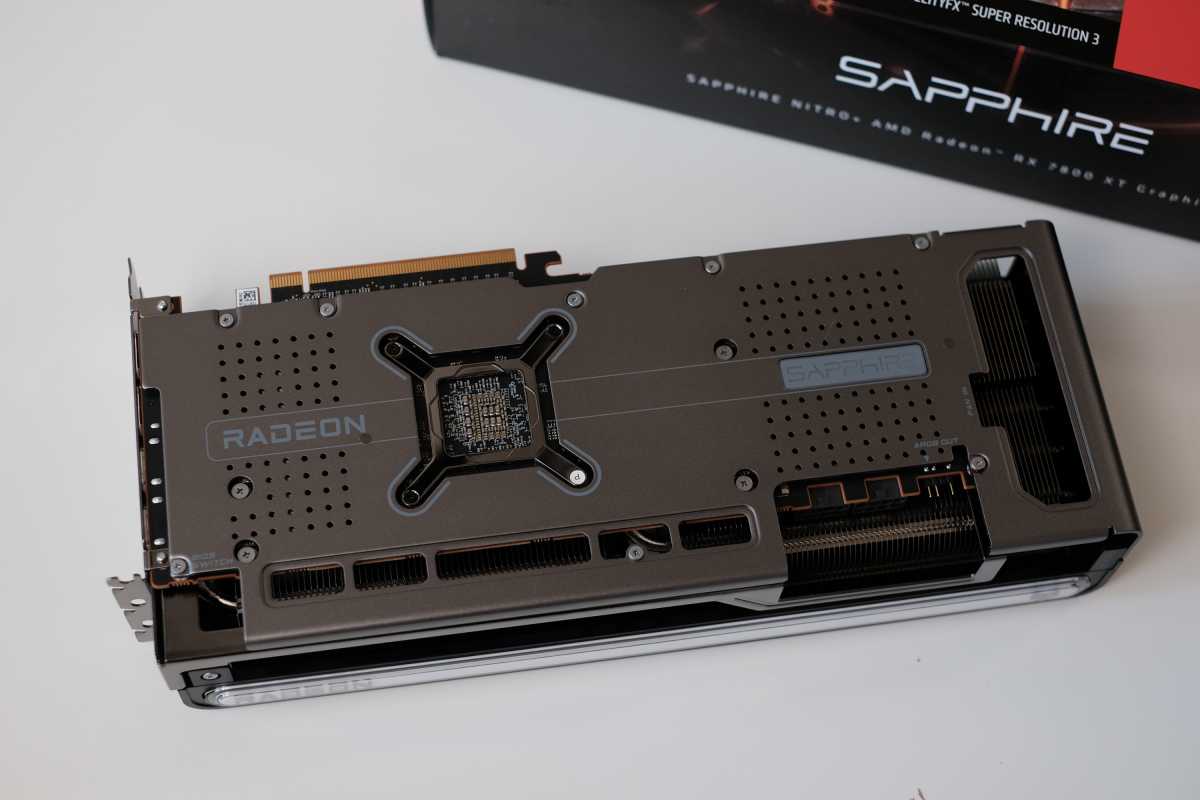 Adam Patrick Murray / IDG
Adam Patrick Murray tested these GPUs from PCWorld's San Francisco office. Here are his thoughts on the Sapphire Nitro+ Radeon RX 7800 XT and Sapphire Pure Radeon RX 7700 XT's designs:
Both graphics cards are the same length, but the Nitro+ is a thicker 'true' 3-slot card, with a full-length built-in bracket that screws into the PCIe slot for extra rigidity. Both have 2x 8-pin power but the Nitro+ also has PWM and ARGB headers and a 3-stage BIOS switch. The Nitro+ features a full-length RGB strip and RGB Sapphire logo on the back plate, while the Pure only has a light-up red Sapphire logo on the side with a hardware on/off switch in case you want to disable it.

Both cards are well-built, offer unique design aesthetics (more white builds please!), and are constructed with a mixture of metal and plastic. The Pure's white metal and white plastic match better than the steel shroud and the metal backplate of the Nitro+, but there is just more plastic on the Pure and it's obvious in the hand. Anti-sag brackets came with both cards, but the Pure was light enough and the Nitro+ was rigid enough that neither felt absolutely necessary to use. It's nice to have, though.

I never experience temps above the low 60s on either card and the fans never ramped up to high enough speeds to be noticeable. Both feel a bit overbuilt for the GPUs that are featured in them, which could limit their usefulness in smaller cases. Their premium definitely feels justified.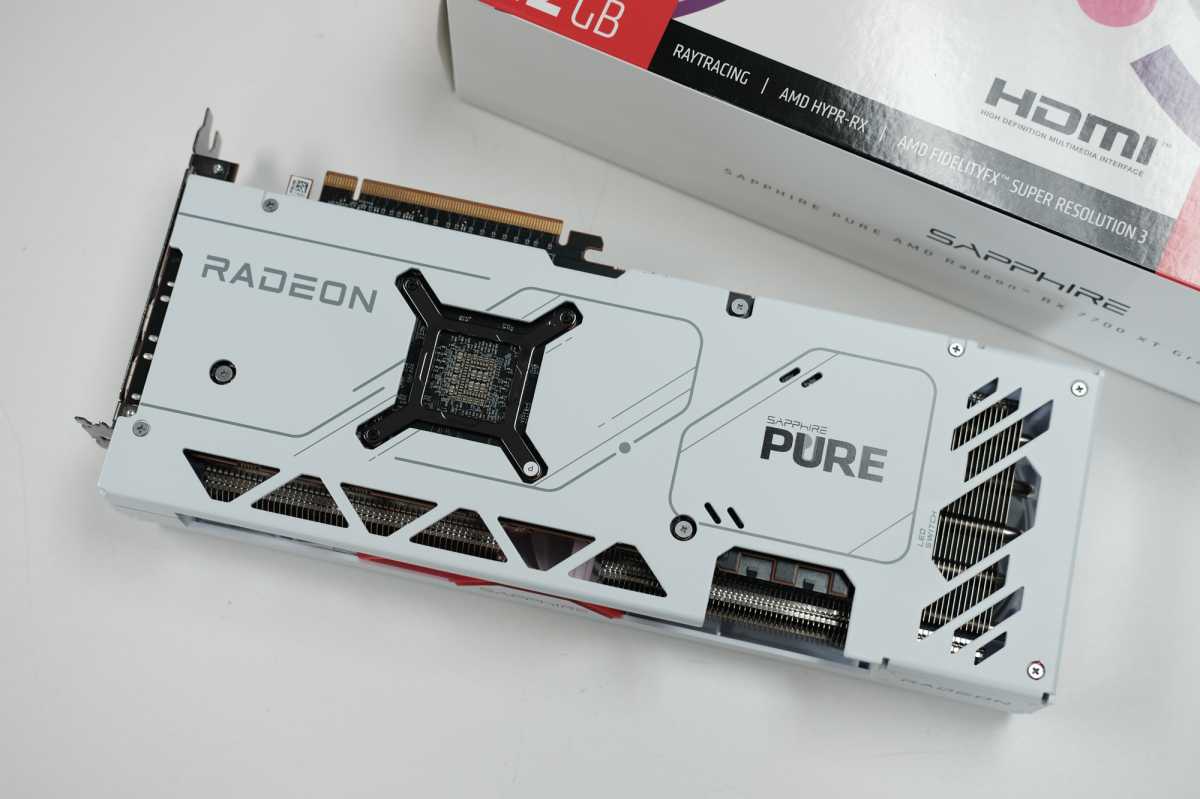 Adam Patrick Murray / IDG
We've said it before and we'll say it again: Sapphire makes great, highly custom graphics cards. Onto the benchmarks!
Our test rig
We're taking a break from our usual testing rig and full suite of games for this review. My house recently burned down and my GPU test machine, as well as its backup, were both destroyed — a fact I couldn't confirm until mere days before this launch. Fortunately, my pal and PCWorld lead video director Adam Patrick Murray had a high-end test system as well as an RTX 4070 on hand to help out.
AMD Ryzen 7 7800X3D
ID-Cooling IS-55 w/ Noctua fan
Asus ROG Strix X670-I Gaming WiFi
32GB G.Skill Flare X5
Solidigm P44 Pro 2TB
SilverStone Extreme 850R Platinum
Fractal Design Terra (all panels off during benchmarks)
How do the Radeon RX 7700 XT and 7800 XT perform?
Adam was only able to run half our usual games benchmark suite, and only at 1440p — the resolution AMD is targeting with its new Radeon GPUs. He ran each benchmark at least three times and averaged the score for each game, while also keeping track of maximum GPU temperature and power draw data for the runs. Per usual, all vendor-specific software features (like AMD's FSR and Nvidia Reflex) were disabled in game, and the highest possible in-game graphics settings were used for each title.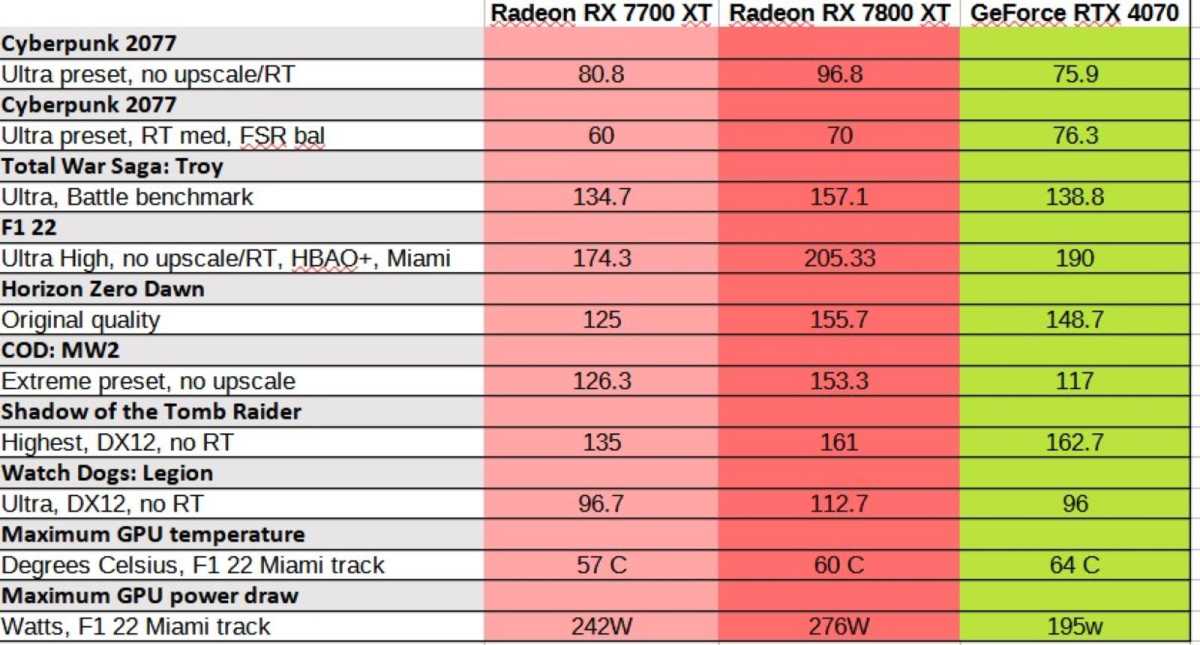 Adam Patrick Murray / IDG
Well, that's a win for AMD.
The $500 Radeon RX 7800 XT manages to solidly beat the $600 GeForce RTX 4070 in every game, at worst drawing even in Shadow of the Tomb Raider. The step-down Sapphire Pure Radeon RX 7700 XT battles admirably, going toe-to-toe with the 4070 more often than not and hitting excellent frame rates across the board. For graphics cards that cost $100 to $150 less than the RTX 4070, that's a resounding success — and remember that Sapphire's custom designs ran inaudibly as well.
It's not a clean sweep though. The GeForce RTX 4070 pulls ahead when you flip on Cyberpunk 2077's strenuous, gorgeous real-time ray tracing effects and FSR Balanced upscaling, though the 7800 XT only falls a step behind. AMD's duo also draws considerably more power than Nvidia's efficient 1440p GPU. Both were expected results given what we've already seen from the rest of the modern AMD and Nvidia lineups, though it's surprising how close the 7800 XT manages to get to the GeForce card in ray-traced Cyberpunk.
Should you buy the Radeon RX 7700 XT and 7800 XT?
Definitely, if you're looking for a modern 1440p graphics card that costs under $500. In that case, these are the only options around.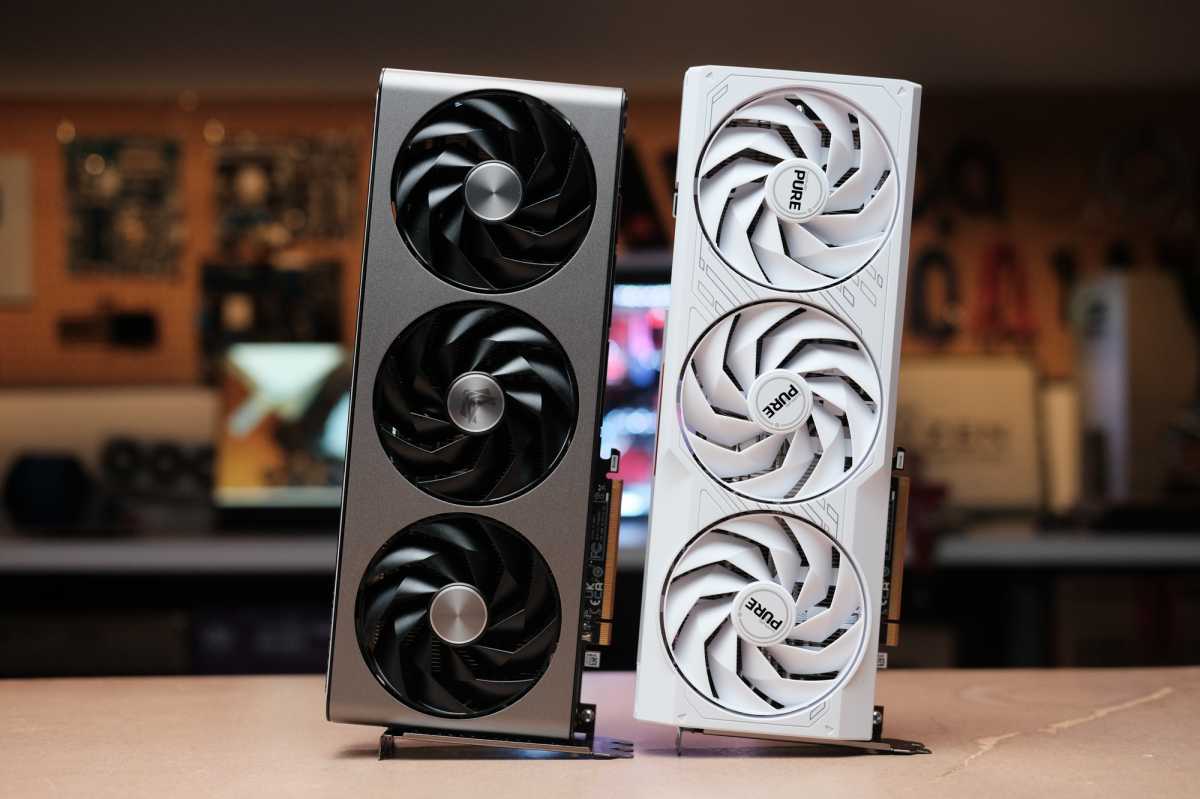 Adam Patrick Murray / IDG
Nvidia's $400 8GB RTX 4060 Ti and $500 16GB RTX 4060 Ti are best suited for 1080p gaming thanks to their pipsqueak memory configuration, while the RTX 4070 starts at $600. As you saw in our performance benchmarks, the Radeon RX 7700 XT meets or beats the 4070's rasterization performance for a whopping $150 less. We didn't test the RTX 4060 Ti on Adam's rig, but the 7700 XT would absolutely obliterate it, especially at 1440p. The Radeon RX 7800 XT is even faster, surpassing the RTX 4070 in all but one game (Shadow of the Tomb Raider), and by significant margins.
That said, there are valid reasons to consider the RTX 4070 (though not the 4060 Ti). Nvidia's more advanced ray tracing technology continues to outpace AMD's second-gen RT implementation, and the RTX 4070 consumes notably less power than both of the new Radeon cards — a key distinction in areas of the world where electricity prices are skyrocketing. That lower power use also enables smaller RTX 4070s to exist. Nvidia's arsenal of awesome software — like Reflex, Broadcast, DLSS, and DLSS 3 — also hold true appeal for people who tap into those features. FSR 3, AMD's DLSS 3 rival, is set to launch this month but DLSS 3 is already supported in dozens of games.
If you just want your graphics card to be really fast in games, AMD's Radeon RX 7700 XT and 7800 XT are a no-brainer. Nothing else compares in this price range.
That said, we aren't completely enamored with the pricing AMD chose. The Radeon RX 7800 XT should be just a few hairs faster than the last-gen RX 6800 XT, which already goes for about $500 on the street. So while AMD hammers the value proposition of Nvidia's RTX 40-series, the 7800 XT doesn't offer much of a price to performance advantage over what's already available. And if the Radeon RX 7700 XT was priced at $400, it would be hands-down the best value graphics card of this generation. As-is, at just $50 less than its bigger brother, the 7700 XT almost feels like it exists to upsell would-be buyers into opting for the 7800 XT, especially considering that the 7700 XT has 4GB less VRAM and a smaller memory bus (while still being great for 1440p gaming).
Adam Patrick Murray / IDG
As such, if you already have a Radeon 6000 or GeForce 30-series GPU, AMD's new offerings won't make for a compelling upgrade. But if you're using a 2-gen-old card or building new, the Radeon RX 7700 XT and 7800 XT are easily the best 1440p options available. AMD is really locking down the sub-$500 market this graphics card generation.
When it comes to third-party options, Sapphire's design excellence continues with the Nitro+ 7800 XT and new all-white Pure 7700 XT. Either would be an excellent fit for any 1440p gaming build, though their size might preclude them from small form-factor builds. They're beautiful, frigid, and whisper silent. Sapphire charges a mere $60 premium for the Nitro+, making it significantly cheaper than even basic RTX 4070 models. Its luxurious design and fierce performance makes it a worthwhile investment. You won't find an RTX 4070 card anywhere near its caliber for $600.