At a glance
Expert's Rating
Pros
Large, pleasant keyboard and touchpad
Excellent OLED display
Ryzen 9 processor delivers strong CPU results
RTX 4050 delivers respectable GPU grunt
Cons
Forgettable design and build quality
USB-C ports lack DisplayPort
Power brick uses barrel plug instead of USB-C
Mediocre battery life
Our Verdict
The Acer Swift X 16 has port problems, but strong performance and a beautiful OLED display make it a solid value.
Best Prices Today: Acer Swift X 16
$1399.99
Want a comfortable laptop with a large display that also packs great performance on a budget? Acer's Swift X 16 is worth a look. Though it makes a few unforced errors in its port selection and ho-hum design, it redeems itself with AMD's Ryzen 9 CPU with Nvidia RTX 4050 graphics—a powerful one-two punch that beats many competitors.
Looking for more options? Check out PCWorld's roundup of the best laptops.
Acer Swift X 16: Specs and features
The Acer Swift X 16 differs from many of its competitors due to its AMD Ryzen 9 7940HS processor. We've reviewed several Ryzen 7000-series laptops so far, but this is the first Ryzen 9 7940HS on our bench. Its performance relative to Intel's Core i7-13700H could make or break this laptop. Acer also packs RTX 4050 graphics, which is typical for a laptop of this size, but ups the ante with a high maximum graphics power of 100 watts.
CPU: AMD Ryzen 9 7940HS
Memory: 16GB LPDDR5
Graphics/GPU: Nvidia RTX 4050 (100-watt graphics power)
Display: 16-inch 3,200 x 2,000 120Hz non-touch OLED 
Storage: 1TB PCIe Gen4 SSD
Webcam: 1080p 
Connectivity:  2x USB-C 3.2, 1x USB-C 3.2 Gen 1, 1x USB-A 3.2 Gen 1, 1x HDMI, 1x 3.5mm combo audio
Networking: WiFi 6E, Bluetooth 5.2
Biometrics: Fingerprint reader
Battery capacity: 76 watt-hours
Dimensions: 14.02 x 9.81 x .7 inches
Weight: 4.2 pounds
MSRP: $1,599.99
Pricing leans in Acer's favor. The model I tested retails at just $1,599.99. That undercuts many similar laptops including the MSI Prestige 16 Studio, Lenovo Slim Pro 9i, and Dell XPS 15, to name a few. Shoppers can find similar hardware at a lower price in a handful of gaming laptops, but they're usually budget models that weigh several pounds more than the Swift X 16. 
Acer Swift X 16: Design and build quality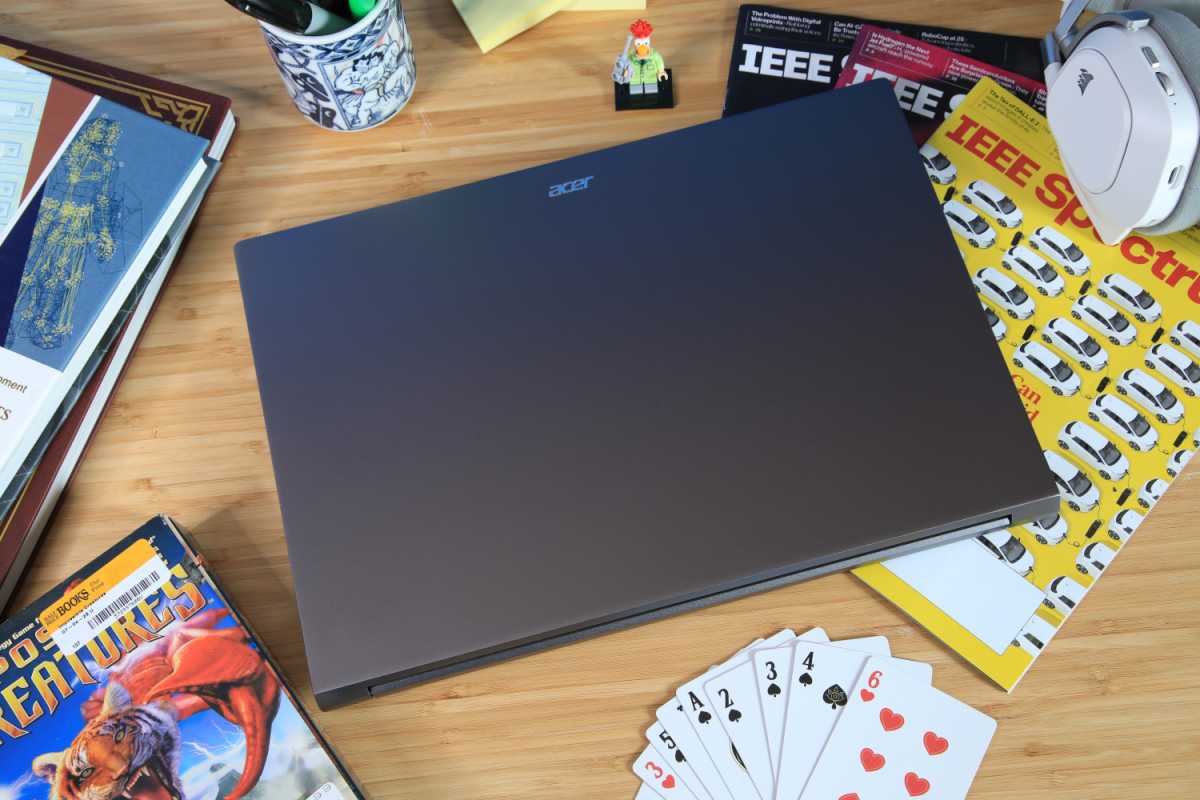 IDG / Matthew Smith
The Acer Swift X 16 is a simple metallic slab roughly 0.7 inches thick, 14 inches wide, and 10 inches deep. Like other Acer laptops, it has few design flourishes and is identified only by a small Acer logo on the back of the display lid. The Swift X 16 is only available in a dark gray color called "Iron."
At this point, it's fair to say understated simplicity is the Acer Swift line's defining characteristic. Whether this fits your preferences is a matter of taste. It's a good choice if you prefer a laptop that doesn't draw attention.
The Swift X 16 is compact for a laptop with a 16-inch display. The display bezels are small on all sides and the laptop's thickness of 0.7 inches is modest for the category. The same can be said for the Swift X 16's weight of 4.2 pounds. A few alternatives, like the LG Gram SuperSlim, are thinner and lighter, but most competitors are at least as heavy as the Acer.
Acer's build quality, much like its design, doesn't stand out. It feels sturdy when handled at first brush with only slight flex in the display lid and lower chassis. However, the materials used feel thin and bend under more direct pressure. It's fine for typical use and comparable to alternatives like the LG Gram SuperSlim and Asus VivoBook line, but not as luxurious as Dell's XPS 15 and Apple's MacBook Pro 16.
Acer Swift X 16: Keyboard, trackpad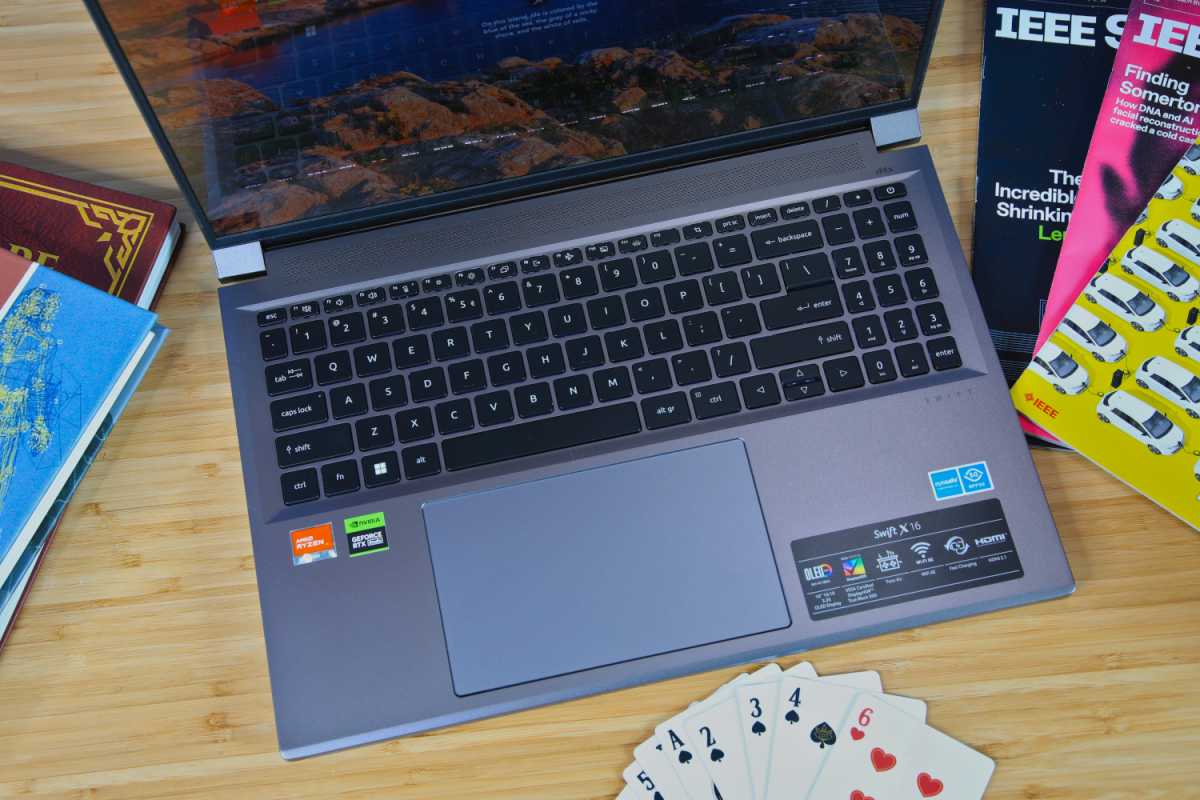 IDG / Matthew Smith
A roomy display allows for a large keyboard, and the Acer Swift X 16 takes full advantage of this with a spacious keyboard layout that includes a numpad. Most keys are large and easy to find although some, like the numpad keys, are smaller than usual.
Key feel is acceptable. There's ample key travel, but the bottoming action of each key feels vague and soft. Alternatives such as the Dell XPS 15 and Lenovo Slim Pro 9i offer a better tactile experience. The keyboard comes standard with a white LED backlight that offers two brightness settings.
A spacious touchpad stretches beneath the keyboard. It's roughly 6 inches wide and 3.5 inches deep, making it one of the largest touchpads on a modern Windows laptop: the Razer Blade 16 is the only Windows laptop we've tested in 2023 that delivers a significantly larger touchpad. 
There's plenty of room for Windows multitouch gestures, and the touchpad's surface is responsive. Due to its size, my palms occasionally touched the touchpad edges while typing, but I had no problem with unintended inputs.
My only gripe is the off-center touchpad layout, which shifts the touchpad towards the laptop's left side. It forces me to hunch slightly towards that side which, after a few hours, adds a pinch in my left shoulder. This is common on laptops with a numpad, however, so it's not a disadvantage compared to the competition.
Acer Swift X 16: Display, audio
IDG / Matthew Smith
The Acer Swift X 16 has a 16-inch OLED display with a 16:10 aspect ratio, 3,200 x 2,000 resolution, and 120Hz refresh rate. It's a common OLED display panel found in several Acer Swift laptops as well as Asus Vivobook and ProArt laptops. Some competitors provide a higher display resolution: Dell's XPS 15, for example, has a resolution of 3,456 x 2,160. It's a small difference, though, and not one you're likely to notice.
Image quality is outstanding. The OLED panel has an effectively infinite contrast level, a perfect minimum brightness of zero nits, and high color accuracy. It supports a wide color gamut, too, which spans 100 percent of sRGB, 97 percent of AdobeRGB, and 100 percent of DCI-P3. These are excellent results and translate to a vibrant, immersive, and lifelike image when viewing photos, movies, and games. 
Brightness is the display's weakness. The Swift X 16 hits a maximum SDR brightness of 377 nits. HDR boosts that to 534 nits, but HDR isn't available on battery power. The Acer's display is bright enough for use in a home office but can feel a bit dim in a room with sunlit windows and no light control (like a fishbowl corporate office or airport lobby).
The display's excellence returns in motion clarity, however, as the 120Hz panel provides buttery-smooth motion with minimal motion blur. Fast-moving objects show good detail and scrolling images are mostly readable, though some small details (like a roughly 12-point font or fine textures in materials) will remain hard to see. PC gamers will be pleased. 
Unfortunately, the Swift X 16's speakers don't live up to the display. They do fire upwards, which means the volume and tone of audio doesn't change significantly depending on the surface the laptop is placed on, but the laptop's maximum volume is low and audio sounds harsh. Less demanding media, like podcasts and YouTube videos, sound acceptable, but music can devolve into a buzzy mess. It's not the worst I've heard, but also a long way from the best. 
Acer Swift X 16: Webcam, microphone, biometrics
Acer packs a 1080p webcam in the Swift X 16's thin top display bezel. It provides good sharpness and decent color reproduction. Image quality is nowhere near adequate for YouTube or Twitch, but it's more than enough to handle video calls.
The same is true of the microphone array. It easily picked up my voice when I spoke at a normal volume at a distance three to four feet from the laptop. Some repetitive background noises, like a window air conditioner, were obscured. Less regular sounds, like typing on a mechanical keyboard, frequently came through. The microphone's overall performance is nothing special but again suitable for video or audio calls.
A fingerprint reader is baked into the Swift X 16's power button, but it didn't work well in my testing. The fingerprint reader frequently failed to register my fingerprint and rarely worked on the first try. Any amount of wetness or grit on my finger—even the sweat of a soda can—threw it off. I prefer to use facial recognition on Windows laptops for exactly these reasons, but the Swift X 16 lacks this feature. 
Acer Swift X 16: Connectivity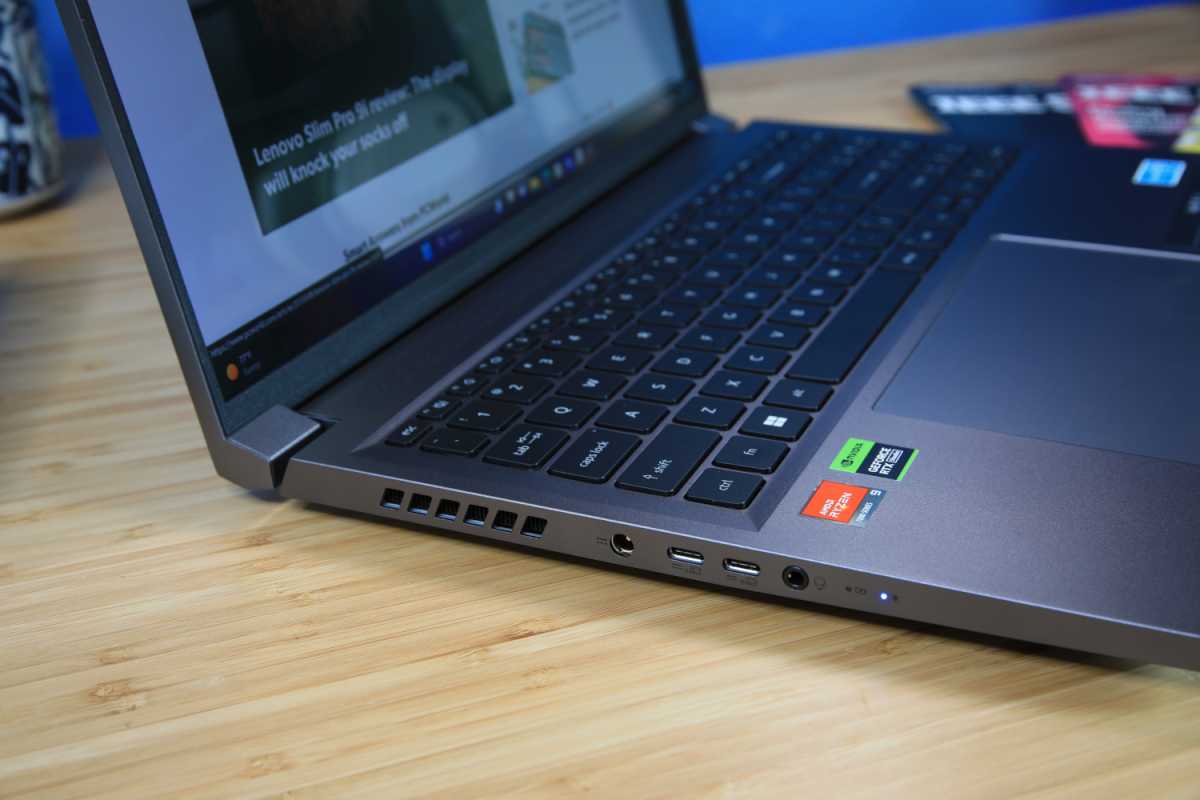 IDG / Matthew Smith
The Swift X 16 has a combination of modern and legacy USB connectivity. The left flank provides two USB-C 3.2 ports, while on the right flank you'll find two USB-A 3.2 ports, a full-size HDMI output, and a micro SDcard reader. The only notable absence is wired Ethernet, but most of Acer's competitors also ditch that port.
That's a healthy list of connectivity, but there's some issues. All the ports are situated relatively forward on the laptop's flanks, which means the wires from those ports are more likely to be in your way. 
While the laptop includes two USB-C ports, it ships with a 135W barrel-plug power adapter for charging. I would've preferred a USB-C power adapter, something nearly all of Acer's competitors provide. The USB-C ports can power the laptop, though, so you can replace the default power brick with a USB-C charger.
I also noticed the USB-C ports lack DisplayPort Alternate Mode. I confirmed this with two portable monitors. Both powered on but failed to receive a video signal. That's a problem if you own a USB-C monitor, portable or otherwise.
Wireless connectivity is great with support for Bluetooth 5.2 and the latest Wi-Fi 6E standard. Download speeds are excellent when connected to a Wi-Fi 6E router and generally match what's possible over wired gigabit Ethernet, at least at short ranges. Of course, those who need a wired connection can achieve it through a USB-C to Ethernet adapter.
Acer Swift X 16: Performance
Unlike the smaller Acer Swift X 14, which relies on Intel processors, the Acer Swift X 16 offers AMD Ryzen 7000-series hardware. The laptop I tested had AMD's Ryzen 9 9740HS, an eight-core, 16-thread processor with a base clock of 4GHz and maximum boost clock of 5.2GHz. It was paired with 16GB of RAM and a 1TB PCIe4 solid state drive.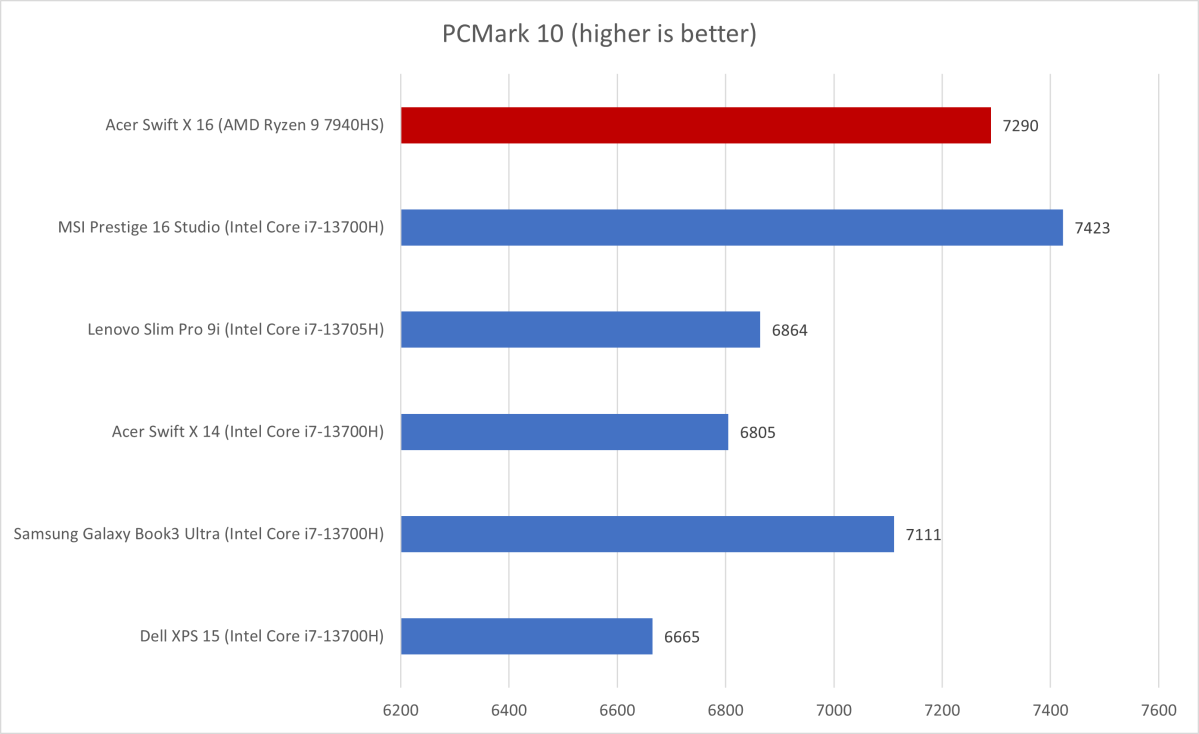 IDG / Matthew Smith
Our tests begin with PCMark 10, a holistic system benchmark. It reports a strong score of 7,290, which defeats most professional performance laptops. Only the MSI Prestige 16 Studio defeated the Swift X 16, and only by a small margin. Acer's strong performance in this benchmark hints at the respectable scores it receives in other tests.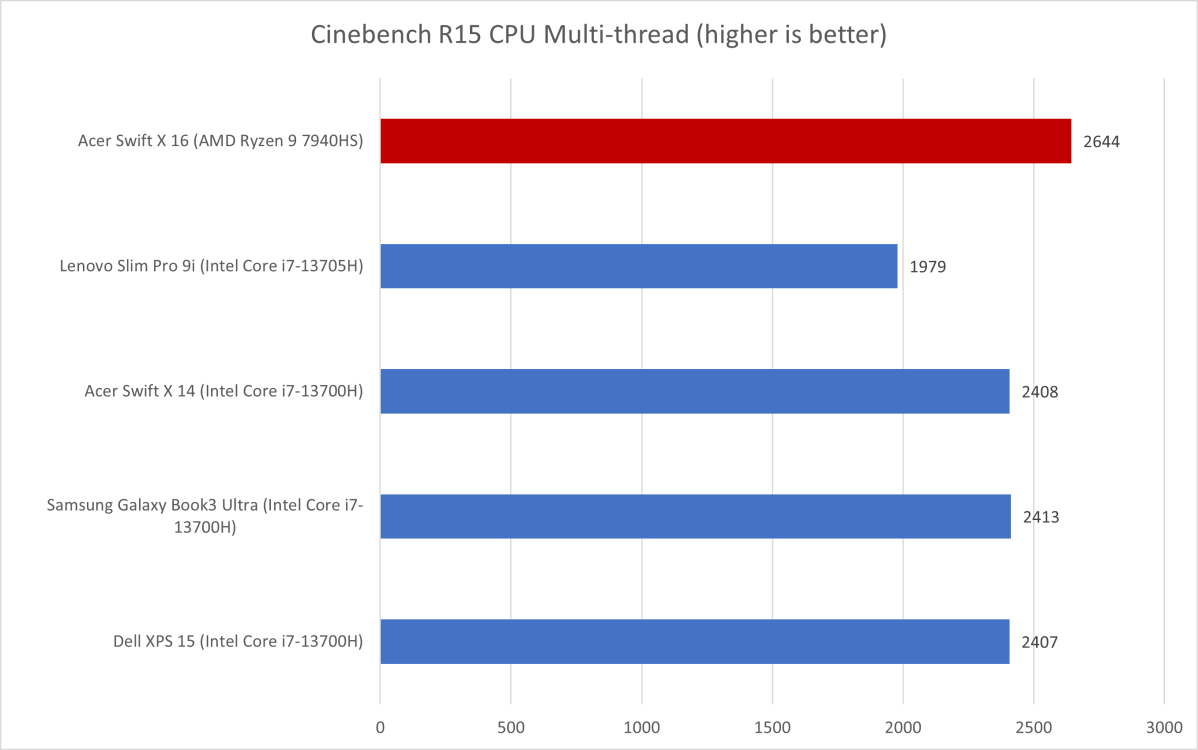 IDG / Matthew Smith
Cinebench R15 is a short-duration yet heavily threaded CPU benchmark. It hits an excellent score of 2,644, which slightly defeats similar Intel-powered laptops like the Samsung Galaxy Book 3 Ultra and Dell XPS 15. The margin of victory is small enough that it's unlikely to make-or-break your purchasing decision, but a win is a win.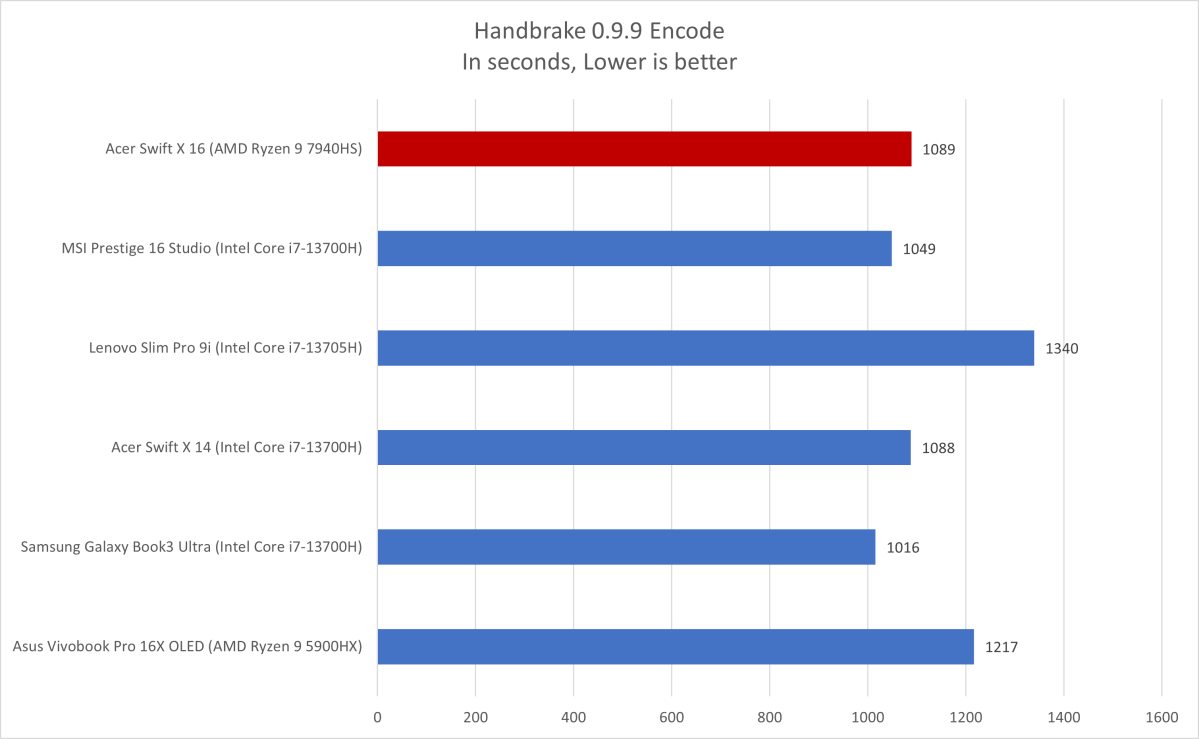 IDG / Matthew Smith
The Acer Swift X 16 continues to score well in Handbrake, a long-duration multi-core CPU benchmark. It completes our test, which converts a movie into an .MKV format for use on an Android tablet, in 18 minutes and 9 seconds. That's a solid result though, unlike the Swift X 16's performance in Cinebench R15, it doesn't break away from the pack.
Acer pairs the AMD Ryzen 9 processor with Nvidia's RTX 4050 graphics. While this is the least expensive, least performant RTX 40-series hardware available from Nvidia right now, the Swift X 16 keeps it well-fed with a maximum graphics power of 100 watts. That's significantly higher than most laptops in this category, which tend to target a maximum graphics power of 40 to 75 watts. 
IDG / Matthew Smith
Upping the watts provides an obvious benefit in 3DMark's Time Spy benchmark. The Swift X 16 beat comparable laptops with a score of 7,875. It even defeats the Dell XPS 15 with Nvidia RTX 4070. That's a bit of a shock, but the Dell XPS 15 limits the RTX 4070 by capping its maximum graphics power at 40 watts. MSI's Prestige 16 Studio, with an RTX 4060, is the only similar laptop that beats the Swift X 16.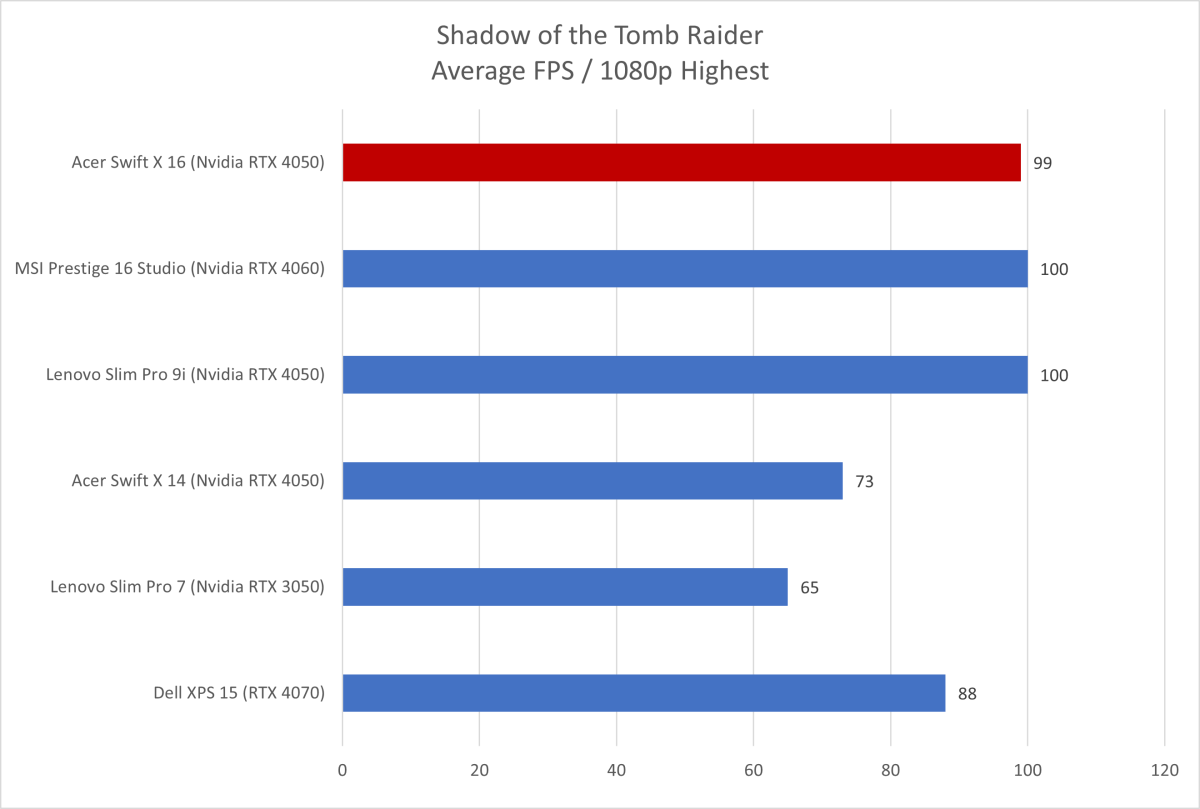 IDG / Matthew Smith
Shadow of the Tomb Raider also delivers favorable results for the Swift X 16. It achieves an average of 99 frames per second at 1080p resolution and the game's Highest detail settings. DLSS was left off for this test.
This is a great result for the category and proves a match for the Lenovo Slim Pro 9i, which also scores well in this game. It's a bit surprising to see the two laptops perform so similarly, as the Swift X 16 has a higher maximum graphics power and a larger chassis. It's plausible that the RTX 4050's limited video memory, which remains stuck at 6GB, is a factor, or that Acer chooses to throttle performance to keep thermals in check.
MSI's Prestige 16 Studio also averaged 100 frames per second. This too may seem surprising, but its RTX 4060 has a lower maximum graphics power of 55 watts. It goes to show how tricky laptop GPUs have become in 2023, as different laptops with the same model of GPU can differ significantly in performance, and in some cases a GPU with a lower model number can match or beat a GPU one or two tiers higher.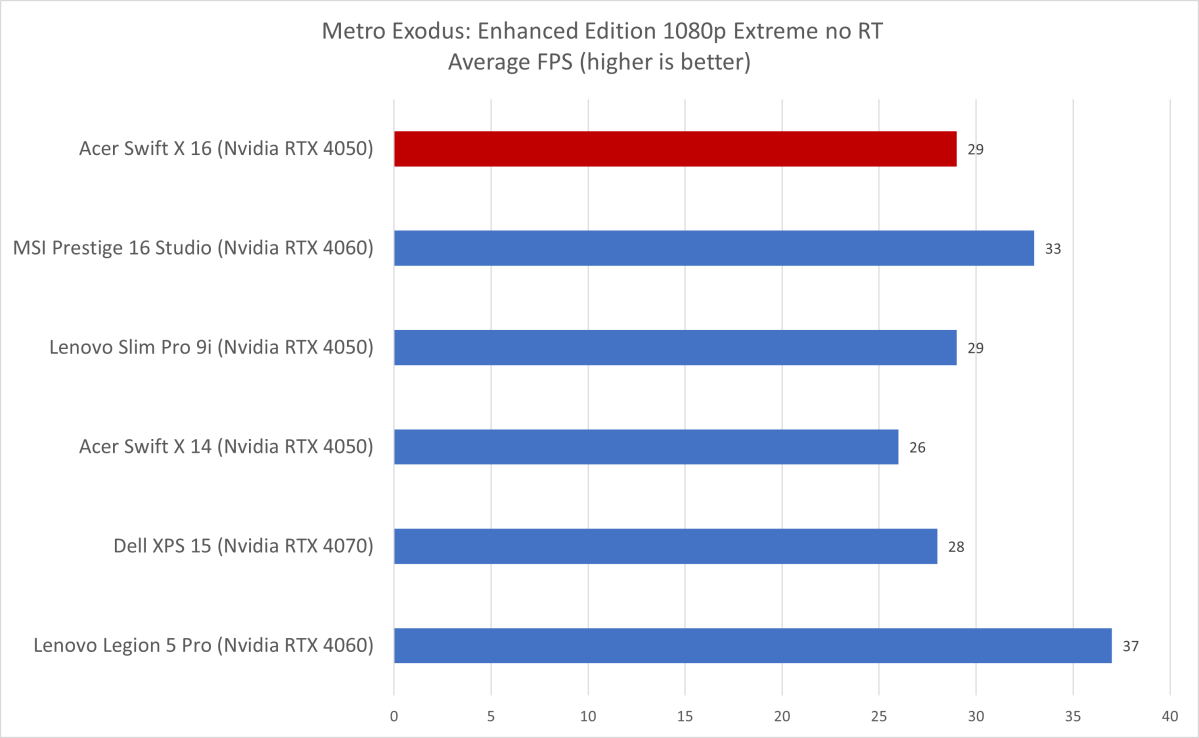 IDG / Matthew Smith
Metro Exodus also points to a bottleneck that limits the RTX 4050's performance. The Acer Swift X 16 averaged 29 frames per second in the game's benchmark at 1080p resolution and Extreme graphics detail. That's again no better than the Lenovo Slim Pro 9i. 
The Acer Swift X 16's overall performance is excellent for the category and for its price. It went toe-to-toe with more expensive laptops such as the Dell XPS 15 and Samsung Galaxy Book3 Ultra and even nips at the heels of the MSI Prestige 16 Studio, though it ultimately scores better in GPU performance. The Swift X 16 is a well-rounded machine for productivity, creativity, and gaming—it doesn't offer the very best in any one area, but it can handle most tasks with ease. 
Acer Swift X 16: Battery life
The Swift X 16's strong performance is good news if you need a powerful laptop, but it does come with a downside: battery life. Acer includes a 76 watt-hour battery, which is small for a laptop in this category. In fact, it's the same size as the battery in the Acer Swift X 14.
IDG / Matthew Smith
As a result, the Swift X16 lasted eight hours and eight minutes in our standard battery life test, which loops a 4K file of the short film "Tears of Steel." I saw 6 to 7 hours in my normal use, which includes writing in Word, editing large Excel spreadsheets, and surfing the web.
The Swift X 16's battery life is best summed up in one word: average. It's not the best, but not the worst, and should be fine for shoppers who don't need a laptop that can handle a full work day away from a power socket. 
Acer Swift X 16: Should you buy it?
Acer's Swift X 16 is an excellent choice for shoppers who want a 16-inch laptop and care more for performance than attractive design or long battery life. The Swift X 16's gorgeous OLED display, spacious keyboard, and big touchpad make it pleasant to use in basic day-to-day tasks. It also has an AMD Ryzen 9 processor and Nvidia RTX 4050 graphics, which combine to deliver good performance in a wide variety of productivity applications and games. A few minor mistakes, like poorly-placed USB-C ports that lack DisplayPort, will turn off some shoppers, but those who can accept its shortcomings will find the Swift X 16 a versatile daily driver.