At a glance
Expert's Rating
Pros
Slim and light for a 16-inch laptop
Sharp, high-contrast OLED display
Broad range of connectivity 
Strong processor performance
Cons
Design doesn't stand out
Touchpad could be larger 
Lackluster graphics performance
Our Verdict
Acer's Swift Go 16 is a slim, light 16-incher with solid processor performance and a gorgeous OLED display, but its lackluster graphics performance hurts. 
The tidal wave of new 16-inch productivity laptops hitting store shelves has turned the laptop arena on its head. Small laptops are out—big laptops are in. Acer's Swift Go 16 has trouble standing out from this competitive field, but it's a good choice if thin design, a quality display, and strong processor performance are your top priorities. 
Looking for more options? Check out PCWorld's roundup of the best laptops available right now.
Acer Swift Go 16: Specs and features
Acer's Swift Go 16 is effectively a slim, light wrapper for a high-resolution OLED display and Intel Core i7-13700H. It lacks discrete graphics, however. That proves a problem in benchmarks, though it's partially excused by the laptop's mid-range $1,199.99 MSRP.
CPU: Intel Core i7-13700H
Memory: 16GB LPDDR5
Graphics/GPU: Intel Iris Xe
Display: 16-inch 3,200 x 2,000 120Hz OLED
Storage: 1TB SSD
Webcam: 1080p 
Connectivity:  2x Thunderbolt 4 / USB-C, 2x USB-A 2.1, 1x HDMI, 1x MicroSD, 1x 3.5mm audio jack
Networking: WiFi 6E, Bluetooth 5.2
Biometrics: Fingerprint reader
Battery capacity: 65 watt-hours
Dimensions: 14 x 9.6 x .59 inches
Weight: 3.64 pounds
MSRP: $1,199.99
Shoppers should note that Acer sells a less expensive model, the Swift Go 16 SFG16-71-52SD, starting at $799.99. The $400 price cut is paired with significant downgrades including an Intel Core i5-1335U processor, half as much RAM and storage (8GB and 512GB respectively), and a 1,920 x 1,200 display. However, the budget model's physical design appears identical. 
Acer Swift Go 16: Design and build quality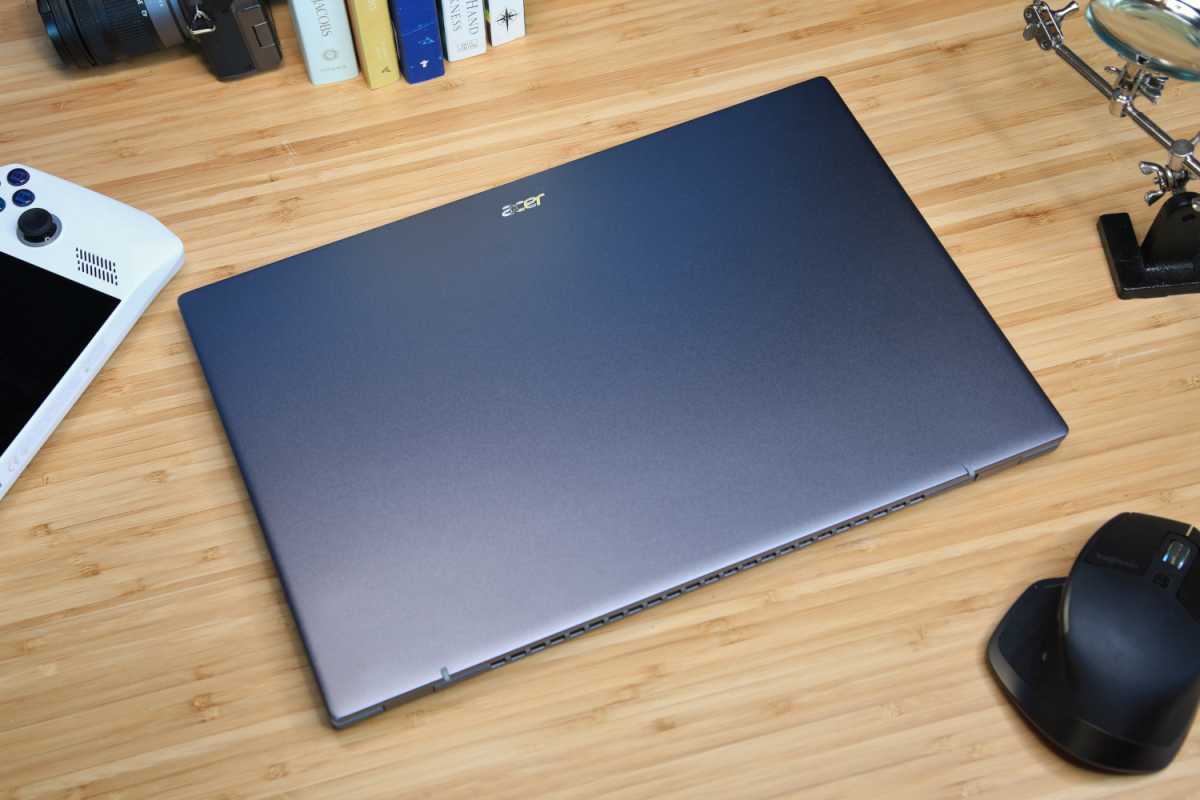 IDG / Matthew Smith
The Acer Swift Go 16 doesn't deviate from the brand's typical minimalist design. It has a simple, silver-gray body with a slight metallic luster that's adorned with just one tiny Acer logo on the lid. There's otherwise no distinctive marks of any kind, which might be a perk or a problem depending on how fashionable you prefer your laptops. The Swift Go 16 is a good choice if you want a laptop that doesn't stand out.
Build quality is rather good. It lacks the slate-like feel of an Apple MacBook or Surface Laptop, but its body panels fit snuggly and put up a fight when the laptop is handled roughly. The display lid will flex when moved, but only a bit. The same can be said when picking up the laptop from one corner. A bit of chassis flex is visible, but it's not excessive. It's a respectable showing given the laptop's performance and price tag. 
The Swift Go 16 isn't small, but its footprint is compact for a laptop of its size. It measures just 14 inches wide and 9.6 inches deep, which makes it smaller than a MacBook Pro 16 or Asus Vivobook 16X OLED. It's only a tad larger than the LG Gram 16. Compared to Dell's XPS 15, the Swift Go 16 is roughly half an inch wider and deeper.
Acer's laptop is thin and light, too, measuring just .59 inches in profile and weighing just 3.64 pounds. LG's Gram 16, which weighs 2.66 pounds, is the only competitor that significantly beats the Acer Swift Go 16 on weight. Most alternatives weigh as much, or more, and measure a tenth to two-tenths of an inch thicker. 
Acer Swift Go 16: Keyboard, trackpad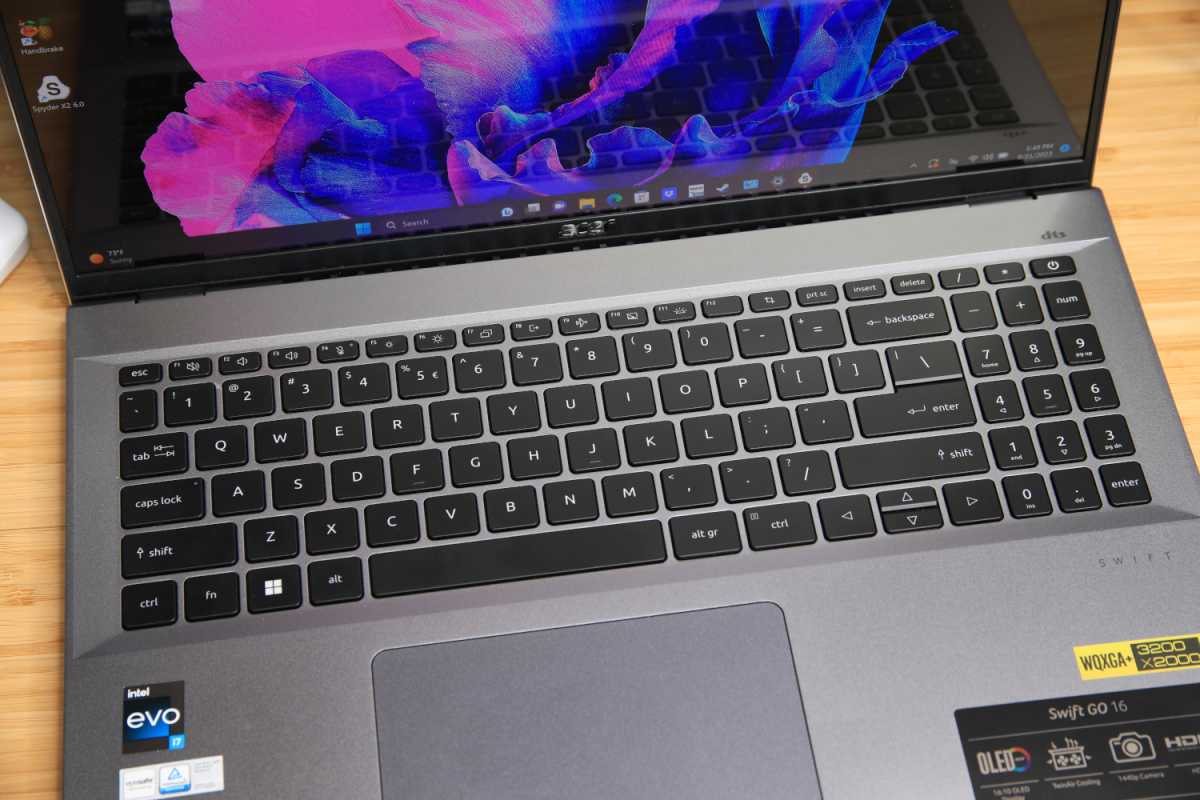 IDG / Matthew Smith
Acer provides a large keyboard in the Swift Go 16. The keyboard layout is spacious and most keys are "full-sized" or close to it, though the function keys and a few keys on the left side, such as Tab and Shift, are a bit small. 
A numpad squeezes along the right flank by shaving a few millimeters off the width of each numpad key. It was comfortable in my testing, though I admittedly don't use the numpad frequently.
Adding the numpad makes the entire keyboard a bit more cramped than it would otherwise be on a 16-inch device. It's still comfortable, but similar laptops that ditch the numpad are even more so. This boils down to user preference. Those who use a numpad will obviously prefer its inclusion, and those who rarely use a numpad won't. 
Layout aside, the keyboard is similar to many mid-range Windows laptops. It provides a good key feel with acceptable travel, but key activation can seem slightly vague. I also noticed flex along the middle of the keyboard during especially vigorous typing. Still, I found the keyboard functional and comfortable over long typing sessions. 
The touchpad is a minor disappointment. It feels responsive and snappy, but measures roughly five inches wide and three inches deep. That's small for a modern 16-inch laptop. Windows multi-touch gestures are usable but some (like the five-finger pinch which minimizes all active windows) feel a bit cramped. 
Acer Swift Go 16: Display, audio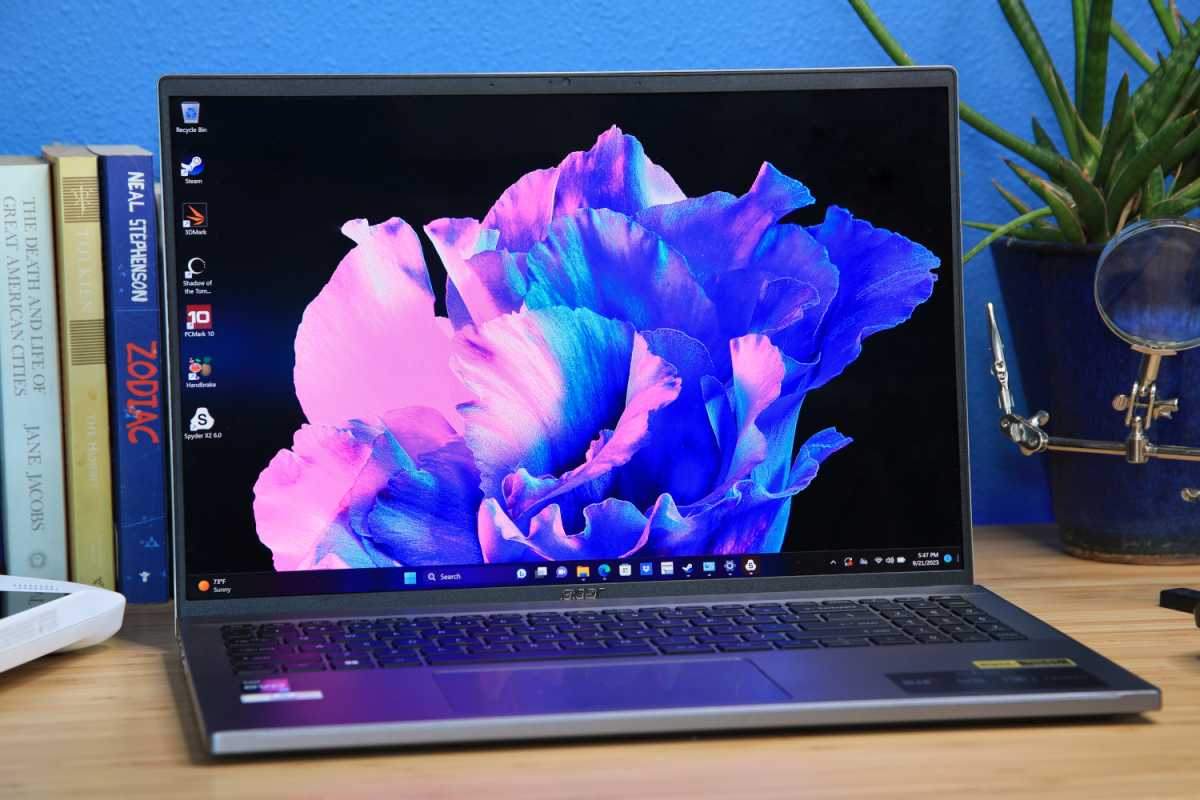 IDG / Matthew Smith
The Swift Go 16's display is arguably the star of the show, as Acer serves up a gorgeous 3,200 x 2,000 non-touch OLED display with a refresh rate of 120Hz. It's a beautiful screen that's well suited to any task thrown at it.
OLED benefits from an infinite contrast ratio, as it can reach a minimum luminance of zero nits. Dark, shadowy scenes and images appear deep and immersive, drawing your eye into the display. It's a big upgrade over LCD displays with an LED backlight. Color performance is excellent, too. The color gamut is wide and color accuracy is respectable. The best LCD displays can match OLED here, but most don't. 
Acer does well in brightness, providing a peak SDR brightness of 385 nits. That rises to 541 nits in HDR. Both results are strong for any laptop and great for a laptop with an OLED display. Glare can be an issue due to the display's glossy finish, but it's only a serious problem when attempting to use the laptop outdoors or near large, sunlit windows.
Sharpness is another win. The display's 3,200 x 2,000 resolution works out to 235 pixels per inch (ppi). That's much higher than a 27-inch 4K monitor, which has 163 ppi, and generally higher than Apple's MacBook laptops, which tend to hover around 220 to 230 ppi. A 4K display would be sharper, of course, but at this display size the advantage would prove difficult to notice at a normal viewing distance. 
If there's any problem, it's this: the proliferation of OLED displays in modern laptops makes the Swift Go 16's performance less notable. I've reviewed more than a dozen laptops this year with near-identical performance across a variety of price points, including some (like the Asus Vivobook 14X OLED) which are several hundred dollars less expensive. The Swift Go 16's display is at the top of its class—though it's a rather crowded classroom.
What about the speakers? Well…they're not great. The downward-firing speakers can sound muffled when used on your laptop and have a hollow, raspy quality that's thoroughly unpleasant when listening to music. They're fine for podcasts and most YouTube videos, but that's it.
Acer Swift Go 16: Webcam, microphone, biometrics
A 1080p webcam sits in the Acer Swift Go 16's top bezel and provides a sharp, clear image with good color reproduction. The default field of view is wide, which means it will display more of your home office when in use. That's annoying if you're not religious about keeping a clean workspace. Thankfully, most video conferencing apps provide a way to reduce the field-of-view. 
I was impressed by the laptop's microphone array. It picked up my voice easily even when I spoke in a hushed tone or turned away from the laptop, yet many repetitive and unwanted noises, like the sound of the keyboard, a nearby fan, and the rustling of papers on my desk, were rejected. 
Biometric login is available through a fingerprint reader hidden in the power button. It works well when your finger is dry and clean, but even the slightest dampness or grime can throw it off. And I mean slight—even the condensation from a sip of iced latte can render it useless. This is typical of most fingerprint readers, which is why I prefer facial recognition. Unfortunately, the Swift Go 16 doesn't support it. 
Acer Swift Go 16: Connectivity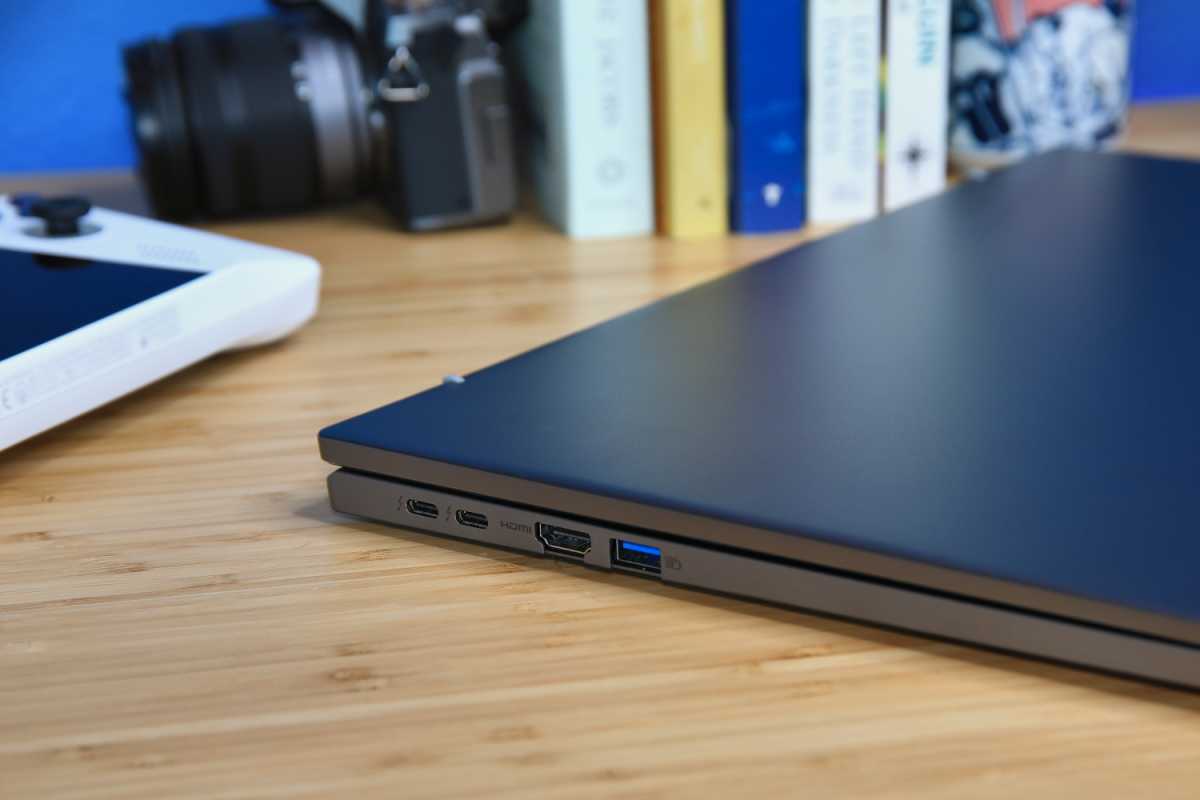 IDG / Matthew Smith
The Swift Go 16 has a slim profile, but it's not slim on ports. It packs two Thunderbolt 4 / USB-C ports, two USB-A ports, one HDMI, one microSD card reader, and a 3.5mm combo audio jack. 
That's an excellent array of connectivity for a slim laptop which covers both modern and legacy devices. The only missing port is Ethernet, but its absence is hardly unusual—many modern laptops have ditched that port. 
Acer doesn't skimp on the Thunderbolt 4 / USB-C ports, either. Both are capable of charging the laptop and both include DisplayPort Alternate Mode, which means they can be used to connect an external display. This flexibility is key to USB-C's appeal. 
Wireless connectivity is boilerplate, but strong, with support for Bluetooth 5.1 and Wi-Fi 6E, the latest Wi-Fi standard. I saw excellent Wi-Fi performance that matched other laptops and desktops in my home. Download speeds peaked at up to 900 Mbps when close to my Wi-Fi 6E router and were likely restrained by my Gigabit home Internet connection. 
Acer Swift Go 16: Performance
The Acer Swift Go 16 is skewed towards processor performance, as it packs an Intel Core i7-13700H but lacks discrete graphics. The model I reviewed also had 16GB of DDR5 memory and a 1TB PCIe Gen4 solid state drive.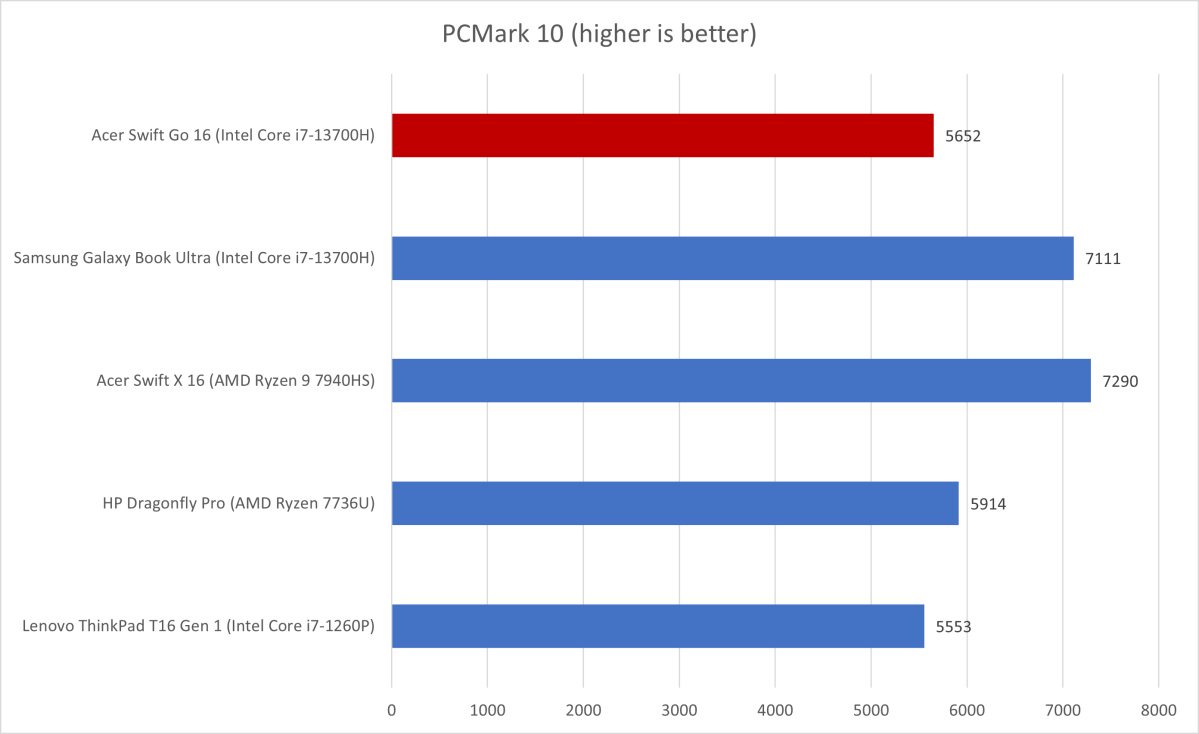 IDG / Matthew Smith
PCMark 10, a holistic system benchmark, produces a mediocre result of 5,652. That's the second-lowest of the five laptops chosen for comparison, which may come as a bit of a surprise. However, the Acer Swift Go 16's lack of discrete graphics is a major factor here, dragging its overall scores down relative to laptops with better GPUs.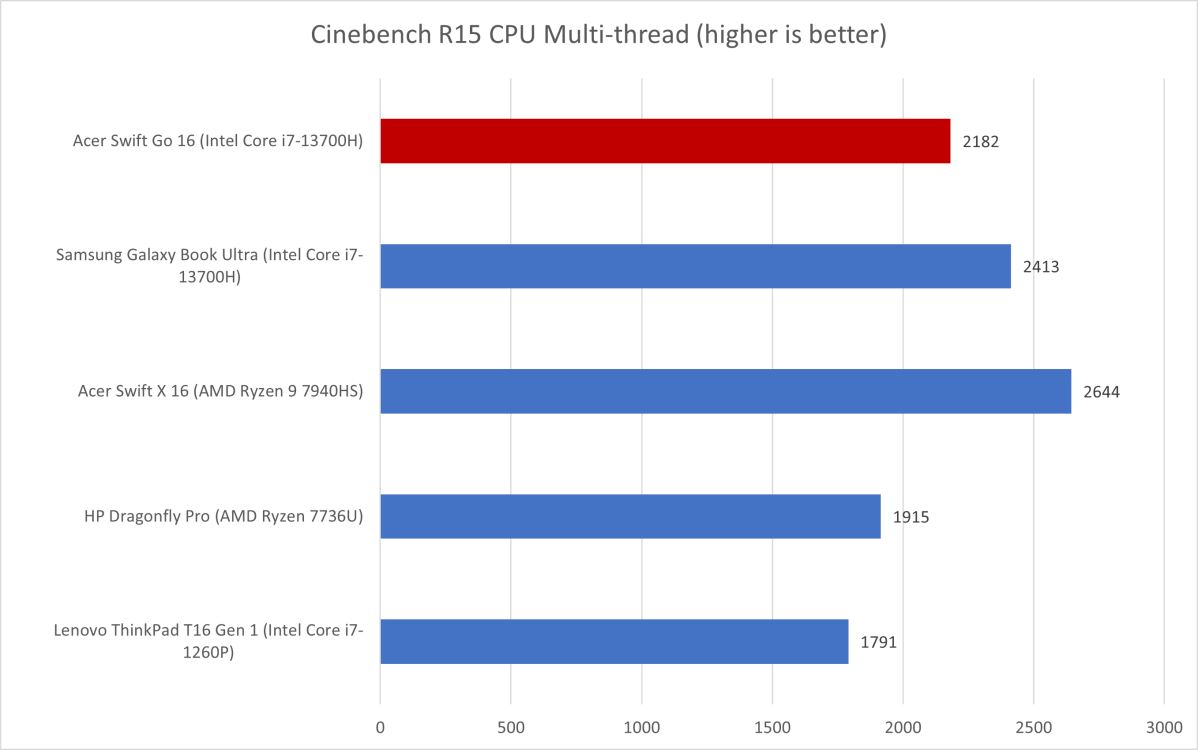 IDG / Matthew Smith
The Acer Swift Go 16 surges to a more favorable position in Cinebench R15, a short-duration, heavily multithreaded CPU benchmark. Here it achieves a result of 2,182, which places it just behind larger, heavier laptops like the Samsung Galaxy Book3 Ultra and Acer's own Swift X 16. The Swift Go 16's result is very respectable in light of its slim profile and low weight.
IDG / Matthew Smith
A similar story plays out in Handbrake, a long-duration, heavily multithreaded CPU test that strains a laptop's ability to maintain high clock speeds as it heats up. The Swift Go 16 once again does well, coming in behind thicker laptops like the Samsung Galaxy Book3 Ultra and Acer Swift X 16, but ahead of laptops with less performant processors like the HP DragonFly Pro and Lenovo ThinkPad T16.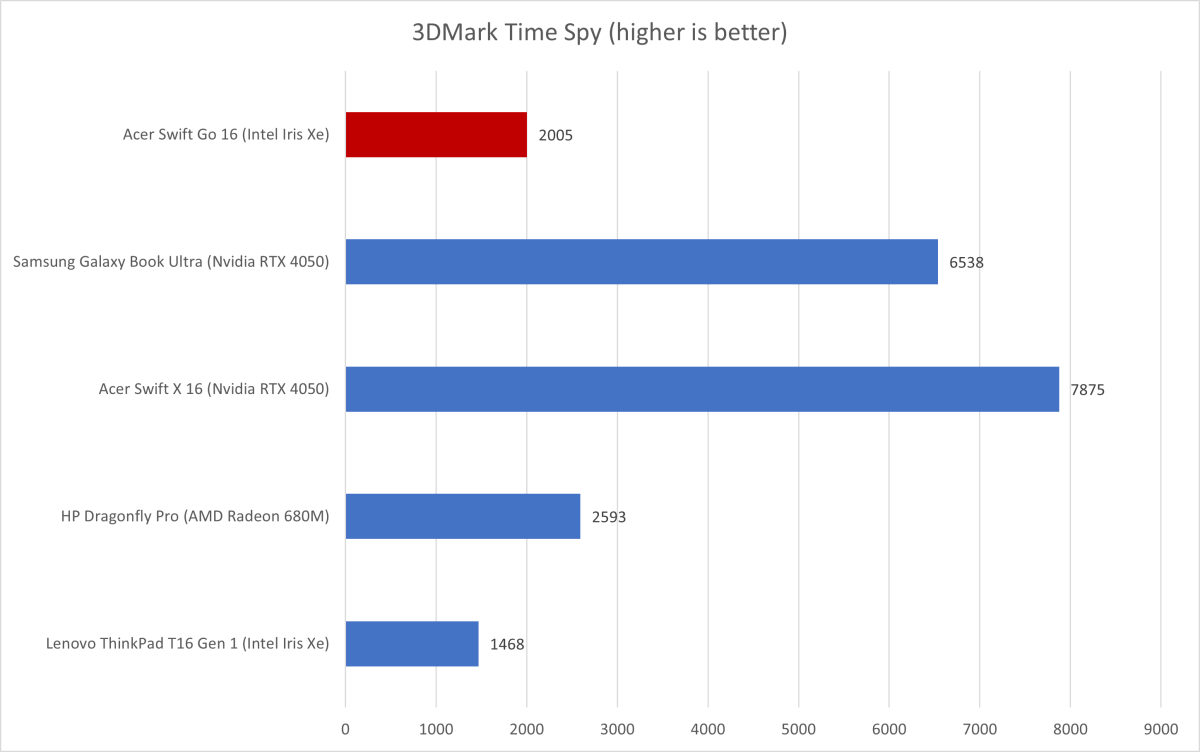 IDG / Matthew Smith
Moving on to 3DMark, though, reveals the Swift Go 16's most obvious flaw: graphics performance.
Intel's Iris Xe integrated graphics puts up a strong fight with a score of 2,005, which exceeds most laptops with Iris Xe graphics. Yet it's ultimately far too little to fend off laptops with Nvidia's RTX 4050 discrete graphics which, to be fair, are more expensive. However, as the HP Dragonfly Pro demonstrates, laptops with AMD Radeon 680M or Radeon 780M graphics also deliver improved performance.
The Acer Swift Go 16 has a clear focus on basic day-to-day tasks, productivity, and content creation apps that lean on the CPU. The Intel Core i7-13700H is a common processor, but mighty, and it delivers good results in CPU tests. The laptop's lackluster graphics performance hurts, though—gamers and content creators who rely on GPU compute need not apply. 
Acer Swift Go 16: Battery life
Acer provides a 65 watt-hour battery in the Swift Go 16. That's not a large battery for a laptop of this size, but the laptop makes the most of the modest wattage on tap.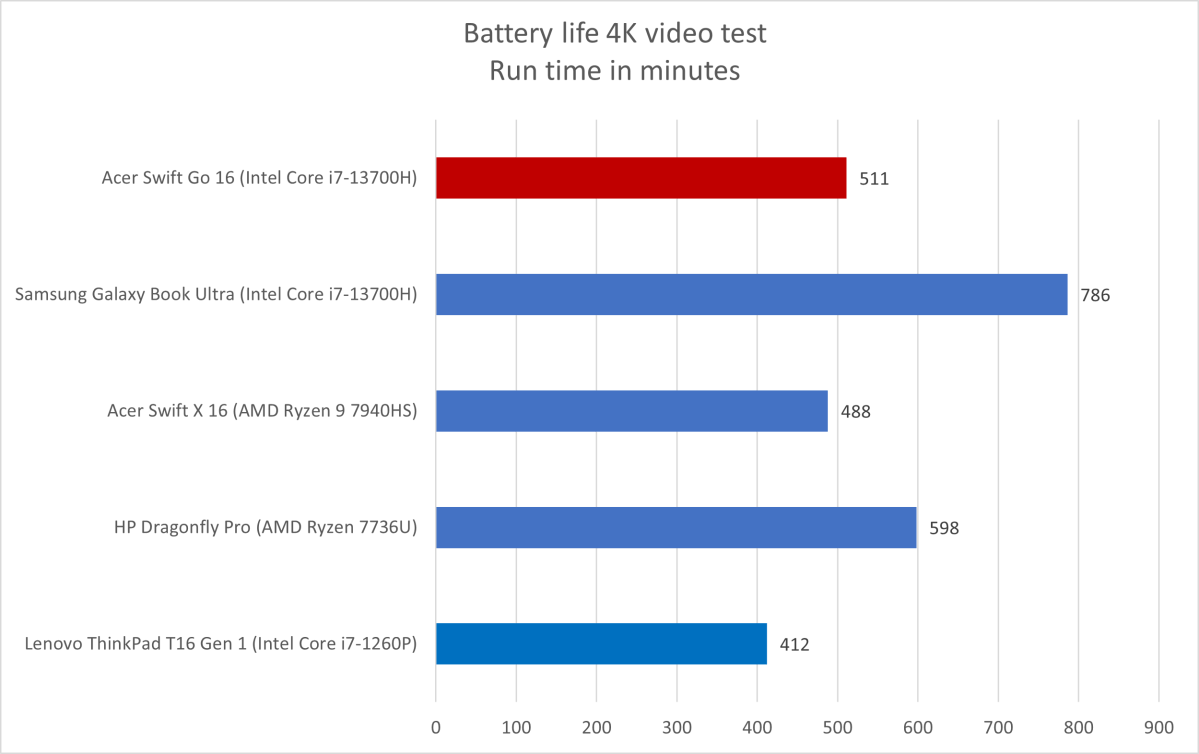 IDG / Matthew Smith
I saw eight hours and 31 minutes of battery life in our standard battery test, which loops a 4K clip of the short film Tears of Steel. That's an average but usable result which falls mid-pack when compared to similar laptops. 
Real-world battery life seemed slightly south of the benchmark result when subjected to my usual workflow, which includes browsing the web, writing in Word, and occasional photo or image edits in GIMP. The battery should endure an eight-hour workday with a few precautions, like lowering the display brightness or avoiding power-hungry apps. 
Acer Swift Go 16: Should you buy it?
The Acer Swift Go 16 is a solid laptop, though one built for a particular buyer. Its lackluster GPU performance means it can't handle games or GPU compute tasks, so it's only suitable for basic productivity or apps that only tap the CPU's resources. If that sounds like your workflow, the Swift Go 16 could prove a respectable value, as it undercuts the price of alternatives the LG Gram 16 and Lenovo ThinkPad T16, and Samsung Galaxy Book Ultra.