Intel's 14th-gen mobile processor, code-named Meteor Lake, represents a dramatic shift from the chips Intel has shipped for years — and Intel has provided us with a ton of information. If you don't have time to wade through it all, however, we've summed up the most important points here.
Here's what you need to know about Meteor Lake. For a much more detailed examination of what this new generation of processors offers, please see our deep-dive into Meteor Lake.
Intel will brand Meteor Lake as the Core Ultra, and it will launch on Dec. 14, Intel chief executive Pat Gelsinger said at its Intel Innovation conference.
1.) Big power for half the power
Intel traditionally has evolved its processors along a "tick-tock" model, where an older chip was first migrated ("tick") onto a new process technology, and then redesigned and sped up ("tock"). Michelle Johnston Holthaus, executive vice president and general manager of the Client Computing Group at Intel, was blunt: with Meteor Lake, Intel is targeting the performance of its 13th-gen mobile Raptor Lake chips, but at half the power (whoa). Any performance boost will be left to the graphics block, where Intel is expecting double the performance of the Raptor Lake integrated GPU with its new XeLPG integrated graphics core.
It reminds us of Qualcomm's older messaging with its Snapdragon PC processors, actually: similar performance as an older Core chip, a big graphics boost, and always-on connectivity. Intel is actually offering both WiFi 7 and WiFi 6E in Meteor Lake, but without the big marketing push Qualcomm has made.
2.) Intel builds Meteor Lake drastically different than past CPUs
Traditional Intel "microprocessors" included both a CPU and a supplementary chip called a PCH inside the same package. Now, Intel is moving to four chiplets or "tiles": a CPU, "SOC," graphics, and an I/O tile all within the overall Meteor Lake package. Intel calls this a "disaggregated" approach, allowing it to plan each tile on its own development roadmap and improve the overall yields.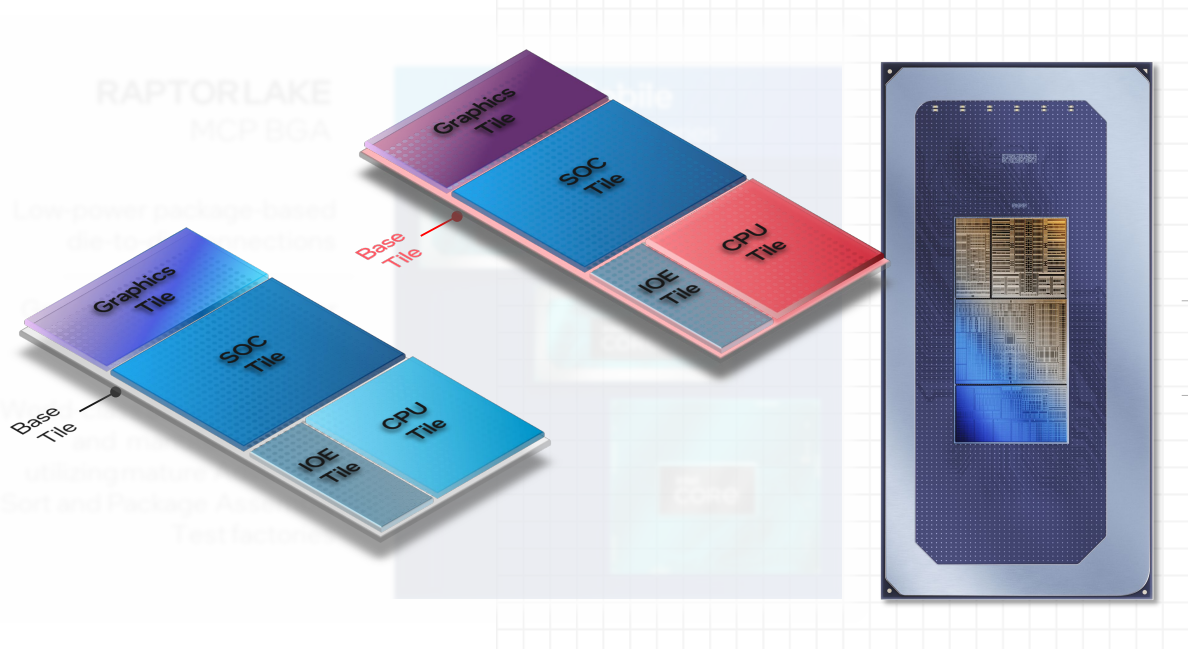 Intel
But the graphics and SOC tiles are made by rival TSMC. Only the CPU and (maybe) the I/O tile are made by Intel, with the CPU tile specifically made on Intel's Intel 4 process. Intel, feeling the sting of years stuck on a 14nm node, has committed to rapidly stepping through five process technologies in four years.
3.) Meet Meteor Lake's new low-power E-cores
With the 12th-gen Alder Lake, Intel moved from one type of processor core to two: beefy performance cores (P-cores) and smaller efficiency cores (E-cores) for background tasks. Now there's a third type of processor core. In addition to the new "Redwood Cove" P-core and the new "Crestmont" E-core, there's a low-power version of the Crestmont E-cores that will be used as the first landing spot for tasks that are assigned to the CPU.
Intel isn't saying how much faster the P-cores are compared to those found in Raptor Lake. The Crestmont E-cores are between 4 to 6 percent faster, clock per clock. But here's something: Intel played back a 4K video using just the low-power E-cores alone in the image at the top of this story. That's going to make a huge difference in your laptop's battery life.
4.) No, seriously, Meteor Lake is optimized for low power
We're not kidding. Intel's Thread Director, the "butler" of the processor, takes tasks that the operating system assigns and routes them to the appropriate cores. You may be aware of how Thread Director worked in Raptor Lake: it would take tasks or threads and push them to any performance cores (P-cores) that were free. Raptor Lake pushed performance. In Meteor Lake, it's exactly the opposite.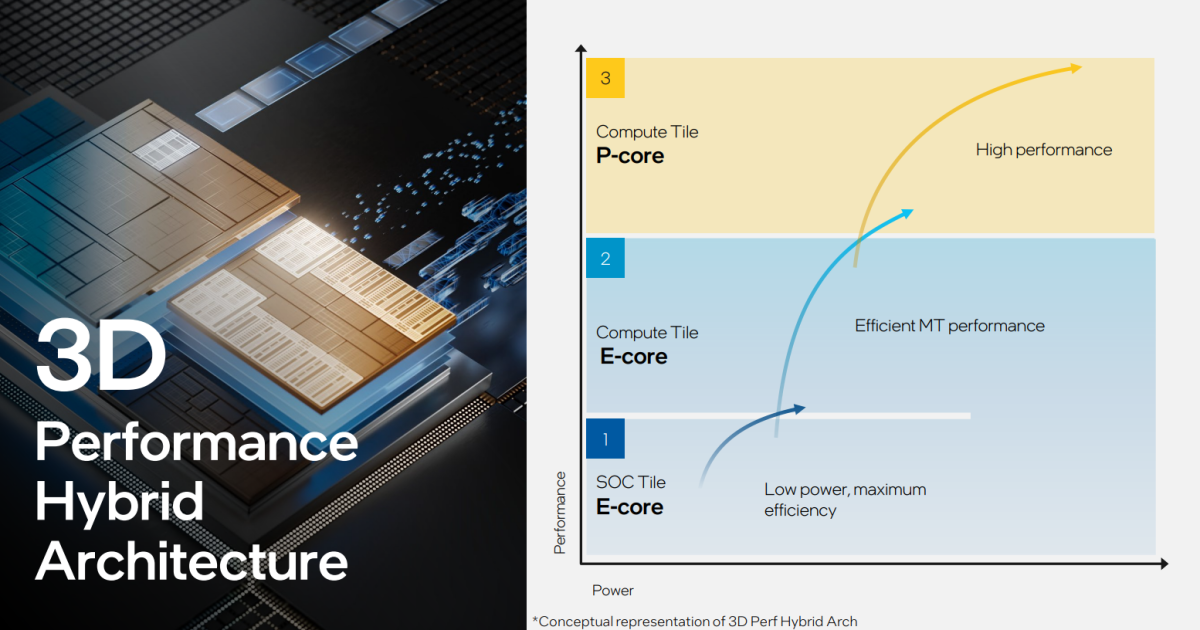 Intel
In Meteor Lake, new threads are routed to the low-power E-cores first, then the conventional E-cores, and then to the P-cores themselves. It's a policy change, and it's a big one. Even in a "performance" scenario, new threads will be routed to the conventional E-cores first, then the P-cores. Will it affect the overall performance of the chip? We don't know.
5.) Welcome to the AI PC
The SOC tile is where Intel's NPU resides as the literal AI "brains" of the Meteor Lake chip. Intel's NPU reminds me of the early days of GPUs: somewhat basic, as both Intel, its customers, and developers figure out what exactly AI is good for. (Remember, this is local AI — Bing Chat, Google Bard and other AI engines reside in the cloud. Why even have local AI on your PC? Privacy and speed, Intel says.)
The NPU, though, is going to power what Intel calls the "AI PC." Expect to hear a lot more about that this week at Intel's Innovation conference.
In AI, Intel's really just trying to accelerate what it can: Windows functions, plus APIs like the OpenVINO API that some developers use. Intel outlined what's inside the NPU at Innovation, but it won't make much sense — yet — even for most enthusiasts who are intimately familiar with threads, cores, TDPs, cache hierarchies and the like. Over time, we'd expect Intel will figure out what customers need and accelerate it.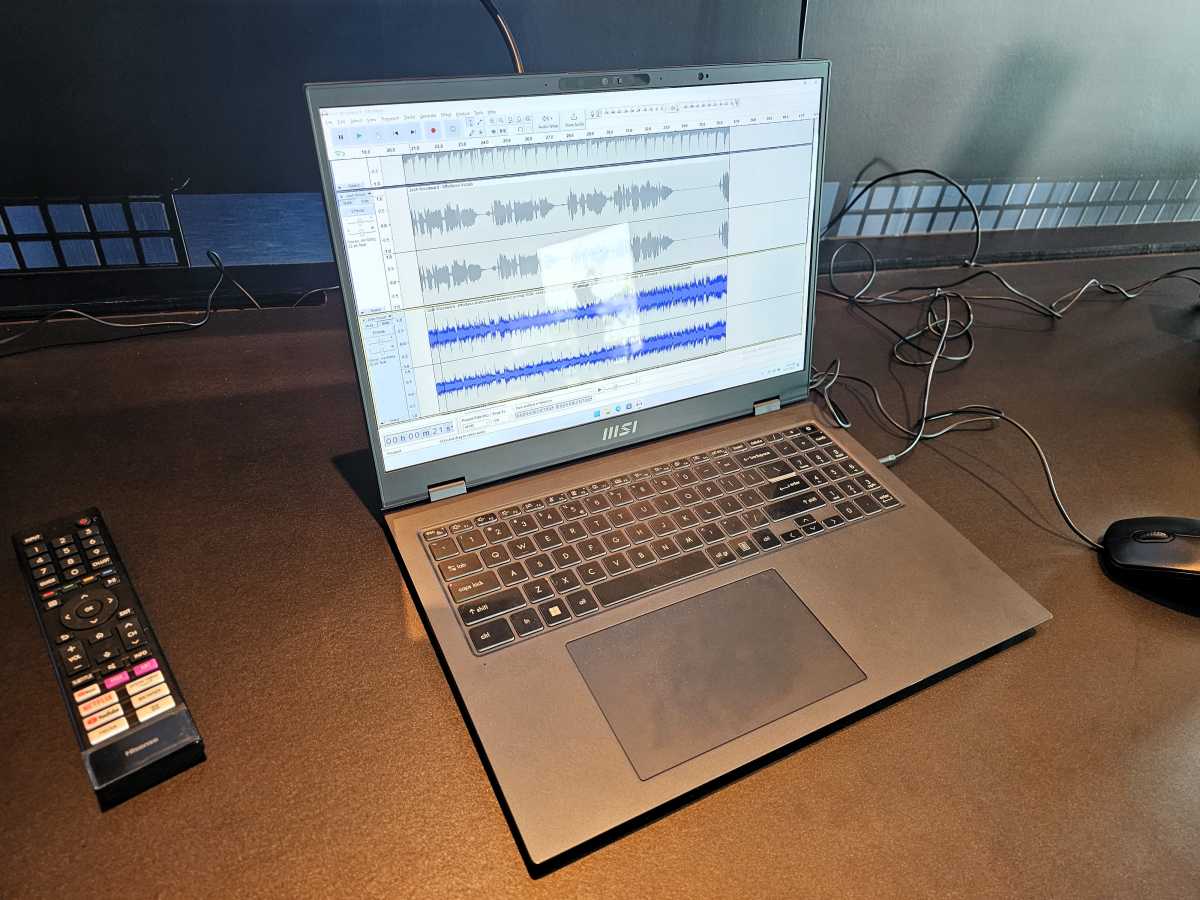 Mark Hachman / IDG
One interesting point: accelerating AI with an NPU may be the most efficient in terms of power consumption. But in terms of raw speed, a combination of CPU, GPU, and NPU makes the most sense, Intel says.
6.) Meteor Lake's graphics provide a ray-tracing boost
According to Intel, Meteor Lake takes the best parts of the XeHPG graphics technology found inside Intel's Arc graphics cards and puts it inside Meteor Lake's GPU. That means, in short, a doubling of the integrated graphics performance from Raptor Lake to Meteor Lake, as well as integrated ray tracing support.
While Intel isn't releasing benchmarks yet (and we don't have the chip available for testing), Intel shared some of its "micros," or internal benchmarks: triangle draw rate improves 2.6X over Raptor Lake, with pixel blend rates improving by 2.1X. While comparing the depth test rate, however, Intel saw a 6.6X improvement.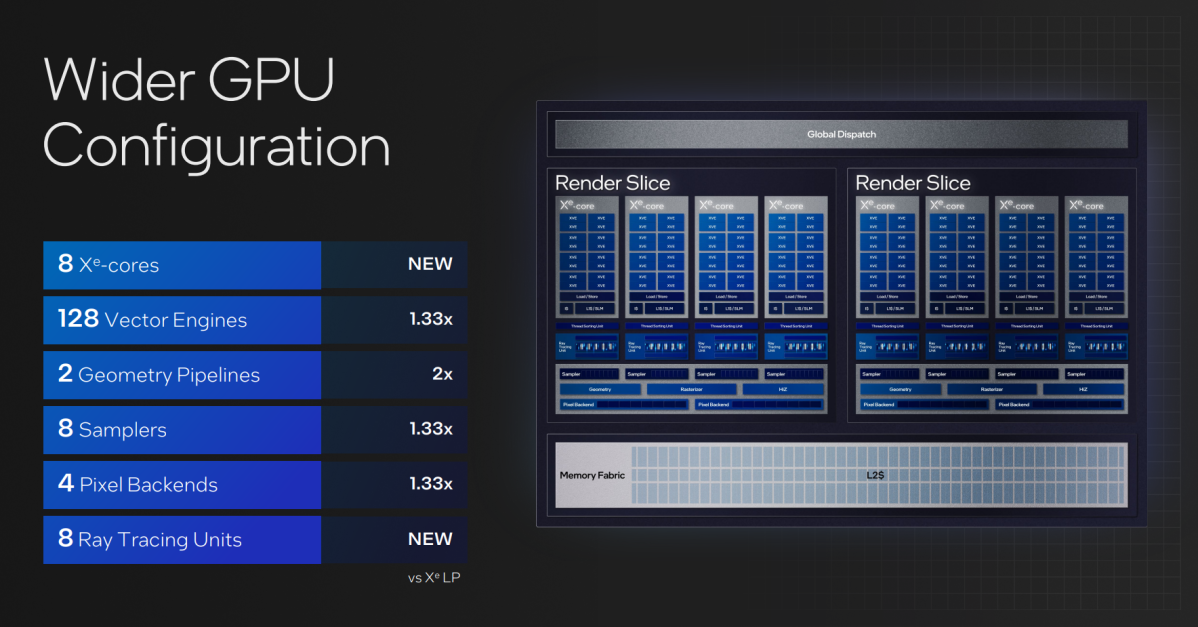 Intel
The Meteor Lake GPU also supports XeSS, Intel's answer to the AI-powered DLSS technology that upsamples a lower-resolution image to improve image processing. And there's something new in terms of low-power (there's that word again!) gaming, too: Endurance Gaming, which will allow gamers on the go to extend their laptop's battery life dramatically. According to Intel execs, the Meteor Lake GPU can render Rocket League at less than 1W of power.
What are Meteor Lake's specs?
They're not here yet, at least officially. Intel typically explains how its processors work first, then offers all the important buying information you'll need, later. Unfortunately, you'll have to wait until closer to the official launch (typically at the CES show in Las Vegas in January) for the official speeds and feeds.
We do know that Intel showed off a six P-core, eight E-core implementation of Meteor Lake in Malaysia. Unfortunately, Intel is saying only that it was for "demonstration purposes" and more information will be shared closer to launch.
In the meantime, we'll wait for AMD's Ryzen 8000 series chips to roll out next year, and news of Qualcomm's Oryon series (based upon its Nuvia processor technology) to hopefully be disclosed in October.
(Disclosure: while we expected Intel to launch Meteor Lake at its Intel Innovation conference, it instead flew journalists and analysts to its assembly and test facilities in Penang, Malaysia. Intel paid for PCWorld to attend, including airfare, hotel and meals. To gain access to this information, PCWorld accepted, though it maintained editorial independence throughout and does not affect our Meteor Lake coverage. This story was updated at 9:29 AM on Sept. 19 with additional details.)